With all the kitchen knives on the market, it can be tricky to pick the right one for you. Even the seemingly simple chef knife has several varieties to choose from, including the Serbian chef variety. So what even is this knife?
The Serbian chef knife is a carbon steel kitchen knife that originates from Serbia. It has design elements from a meat cleaver and Japanese santoku to make an effective tool for most cutting tasks. It is versatile, low-maintenance, and offers great value for money.
The Serbian chef knife is great for beginner chefs, though its excellent cutting performance will satisfy the most skilled cooks. We will now look at the design and background of this knife more closely, as well as its strengths and weaknesses. We will also reveal the leading brands that produce these knives so that you can decide which is best for you.
What is a Serbian chef knife?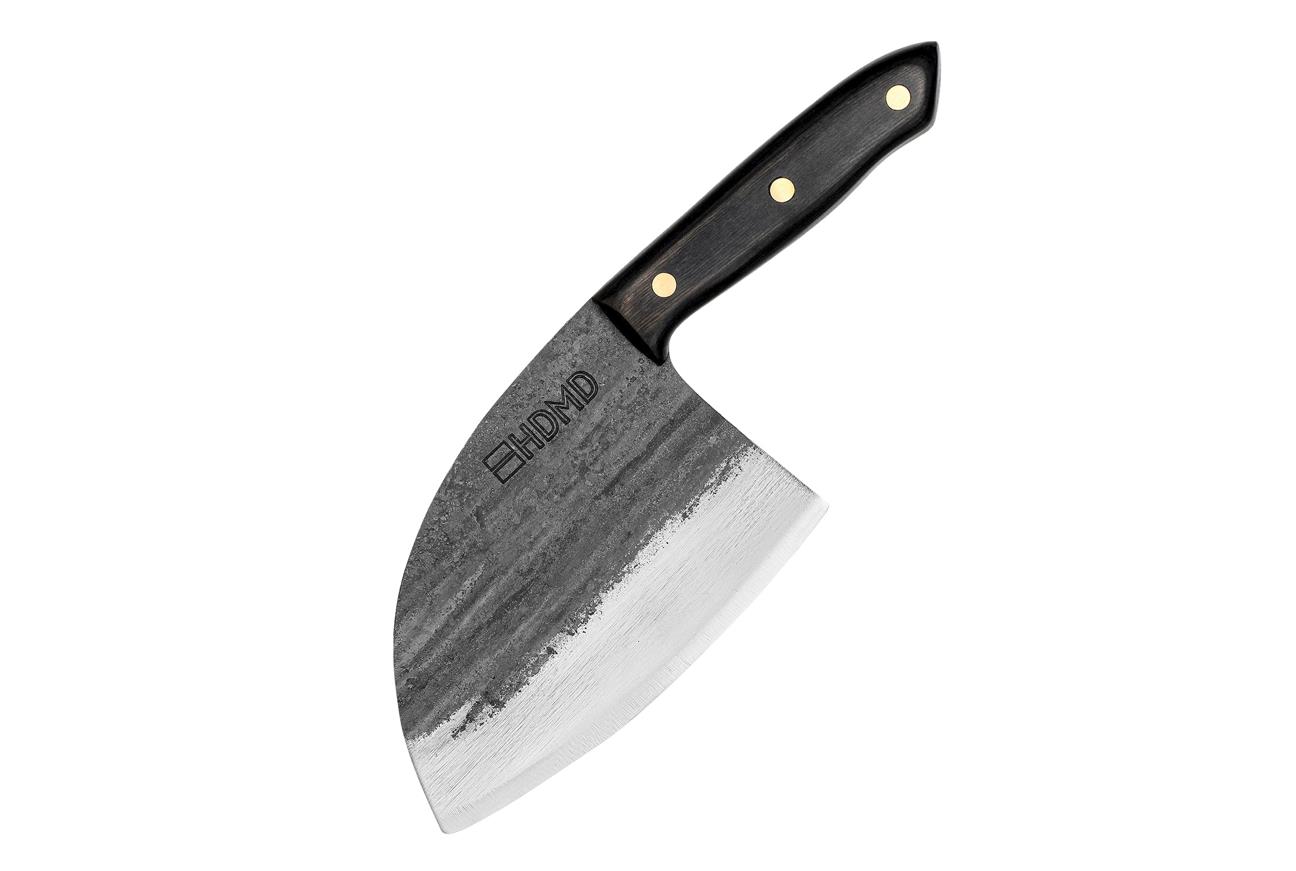 The Serbian chef knife is a type of kitchen knife that has become increasingly popular in recent times. Blacksmiths create this knife using traditional European forging techniques. The exact origins of the name are unclear, but one successful company that produces this knife is Almazan Kitchen, which is based in Serbia. This could explain where the knife got its name from.
This chef knife is renowned for its high-quality blade material and engineering. Forged by hand from carbon steel, the Serbian chef knife is hefty, durable, and well-balanced. A carbon steel Serbian chef knife has an edge that stays sharp long after you purchase it. Also, it has a full tang construction which pushes the knife's center of gravity further back. This will save your hands from unnecessary fatigue.
In terms of shape, the Serbian chef knife is a hybrid of a santoku and a meat cleaver. It has the curved spine and flat, sharp cutting edge of a santoku, combined with the wide and sturdy build of a cleaver.
What is all the hype about?
The popularity of the Serbian chef knife is largely down to its versatility ― it can perform a wide range of tasks proficiently. Instead of owning a dozen different kitchen knives for specialized tasks, a single Serbian chef knife handles most of them without issue. It can chop, slice, and mince many ingredients including meat, fish, vegetables, cheese, bread, and others.
For a beginner chef, a Serbian knife may be a worthwhile investment. With this tool in hand, you can practice many cooking techniques effectively. If you discover later that the Serbian chef knife is not ideal for certain jobs, then you can invest in more specific tools. Nonetheless, even for advanced chefs, the Serbian knife is a great backup option in case a specific knife in their collection gets lost or damaged.
Overall, the functionality of the knife coupled with its heavy-duty design and material properties make it desirable for cooks of all abilities.
Product recommendations
HDMD Serbian chef knife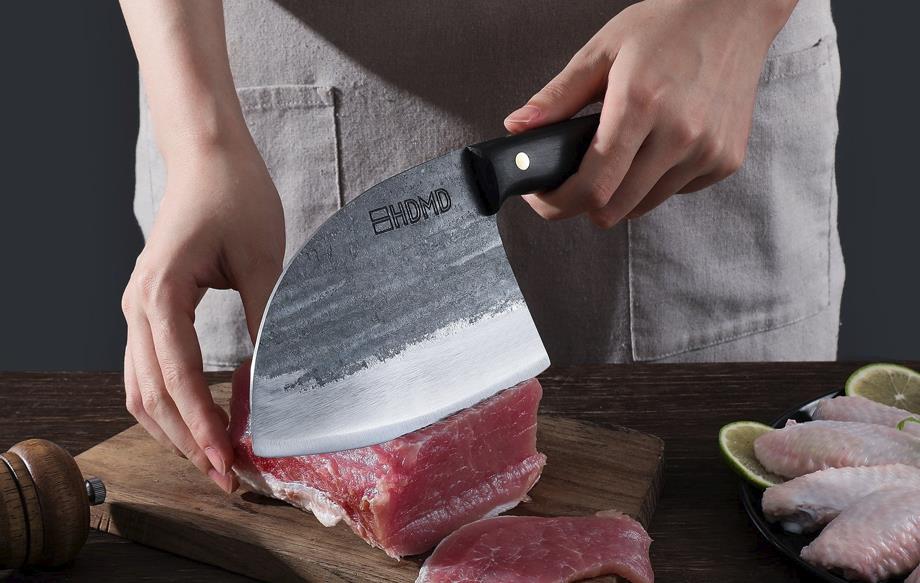 HDMD's version of the Serbian chef knife is an affordable and solid choice for everyone from beginners to seasoned cooks. It combines the best design features of a standard chef knife and a cleaver and can handle most challenges your kitchen will throw at you. The knife's expert assembly and premium materials mean it can last for many years.
Features
A hand-forged blade made with high-quality carbon steel measuring 6.3 x 3.7 inches (16 x 9.5 cm)
A total length of 11 inches (28 cm)
A handle featuring scales made from black pakkawood
A full tang handle with rivets
The knife weighs 0.73 pounds (331 grams) and has a hardness rating of 56-58 on the Rockwell scale
The blade is engraved with HDMD's logo which symbolizes the dedication and expertise in each knife
Pros
The mostly flat cutting edge enables smooth vertical chopping motions and can slide along your cutting board with ease.
Despite having a large surface area, the blade is very slim (only 0.1 inches/0.3 cm) and razor-sharp.
The full tang handle moves the knife's center of gravity nearer to your hand so you can use it for longer without feeling tired.
The handle material (pakkawood) is impregnated with resin to prevent it from rotting or cracking.
Expert craftsmen hammer the blade to increase its hardness, so it won't bend or flex while cutting through tough foods.
Like other carbon steel knives, this Serbian chef knife will keep its sharp edge for a long time.
Cons
A high carbon steel blade has its drawbacks: though it is less likely to flex, it is more likely to crack and develop rust.
The large blade of the Serbian chef knife is not very agile and therefore not suitable for very delicate cutting tasks.
The large surface area of the blade increases the friction it experiences, so you may need to push harder to cut than with slimmer knives.
Top brands to consider
Almazan Kitchen is thought to be one of the original manufacturers of this knife style. Two men in Serbia started the company. Their philosophy is to produce handcrafted knives that can prepare good food in the kitchen and the wilderness. Almazan sells both carbon and stainless steel chef knives. They show how to make many delicious recipes using their own products.
Imarku is a Japanese knife brand that is based in a few countries. They sell many kinds of Japanese knives and have even started making western styles. Their Serbian chef knife is made with German stainless steel, with carbon added to increase the edge's hardness
XYJ is a Chinese knife provider that has been operating since 1986. XYJ sells kitchen knives with numerous blade materials, plus other kitchen utensils. Their Serbian chef knives are available in both carbon and stainless steel.
Buyer's guide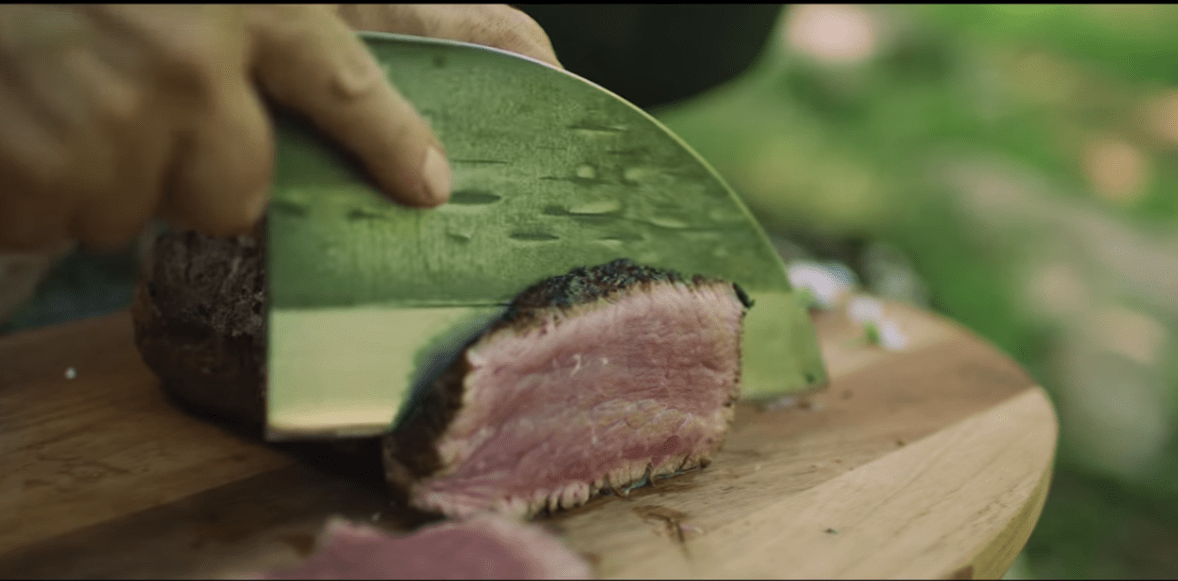 Do I need a Serbian chef knife?
If you want to cook long-term, you will benefit hugely from having some kind of chef's knife in your kitchen. The sharpness and comfort of a well-designed chef knife are second to none.
A Serbian chef knife is just one type of chef knife. Other common varieties include the Western styles (French and German) and Japanese styles (santoku and gyuto). Each of those can be made with different materials, including carbon steel, stainless steel, ceramics, and more.
No cook needs a Serbian chef knife specifically, but every cook needs a chef knife to do their job well. A Serbian knife can perform a diverse range of tasks, which makes it a wise choice for inexperienced chefs to practice their craft. It is also a fantastic tool that skilled cooks can rely on in case they are missing any specialized knives.
Things to consider before buying a Serbian chef knife
A true Serbian chef knife has a carbon steel blade. As we mentioned, this material has strengths and weaknesses. If you prefer a stiffer blade that will stay sharper for longer, this is a good knife for you. Otherwise, you can opt for another style made with stainless steel.
The blade's shape has features of both a santoku and a meat cleaver, so can do the job of both decently. However, it cannot replace either perfectly. For optimum meat cutting, you need a dedicated meat cleaver. To prepare Japanese food properly, your best choice is a real santoku.
Despite its versatility, a Serbian knife's geometry is not great for every task. If you plan to cut delicate items like soft fruits, vegetables, pastries, and cheese, you may have trouble preparing them elegantly. The blade's large surface area can generate high friction that could damage ingredients. In that case, you may prefer a slimmer French or Japanese chef knife.
Yet, this knife offers great value for money. Professional chefs need to know a wide range of techniques. As a beginner, the cost of buying a big knife set can be daunting. The Serbian variety allows you to save money and learn most fundamentals without needing every type of knife.
How to use a Serbian chef knife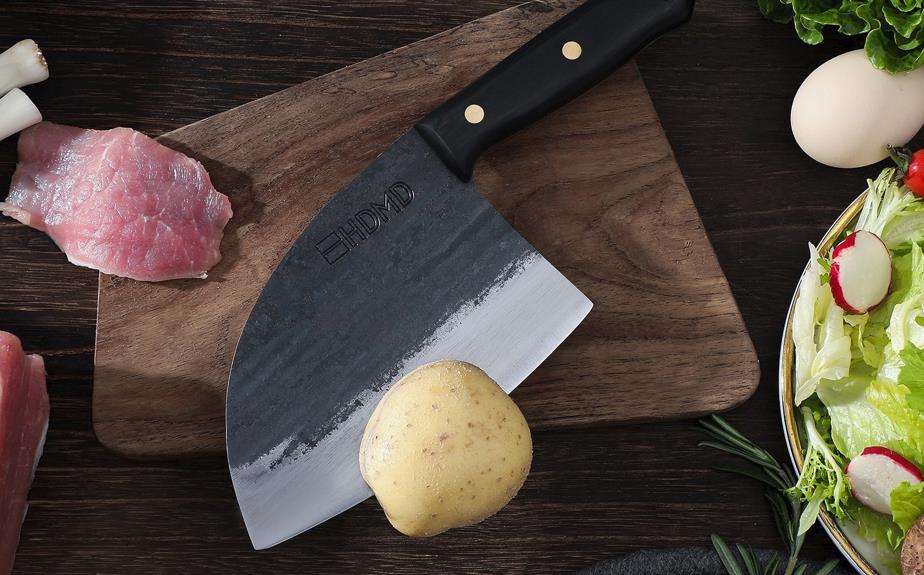 Grip
The easiest place to grip the Serbian chef knife is near the top of the handle. Your thumb and index finger should grip the lower part of the blade firmly. Your other three fingers should wrap around the handle to provide stability, but the main part of the grip comes from your first two fingers.
You could use the other standard grip as well. That involves wrapping all of your fingers around the handle. However, you might find the previous grip more comfortable since your hand is closer to the knife's balance point.
While cutting, your non-dominant hand can hold down and stabilize your ingredients. Your non-dominant hand is also very useful for guiding the knife as it moves. While pushing down on your ingredients, curl your fingers so that the knife's flat face can rest against your finger joints. By doing this you can precisely control the width and placement of your cuts.
Cutting technique
The Serbian chef knife is sharp enough that you do not need to push down very hard to cut foods. Even with tougher ingredients, you should feel the blade glide through without using too much force.
The sharpness of the edge means that you do not have to saw back and forth excessively to cut. Instead, when you cut with the Serbian chef knife, the motion should be mostly vertical. Once you make a cut, the edge should land flat on the chopping board.
Aside from standard slicing, this knife can finely chop both meat and vegetables. For example, you can produce minced meat, garlic, or onions. To do so, place the palm of your non-cutting hand on the spine of the knife. Then, make a series of fast, controlled, vertical cuts by pushing down on the spine. Keep the knife low and vary the cutting direction to mince evenly.
How to care for a Serbian chef knife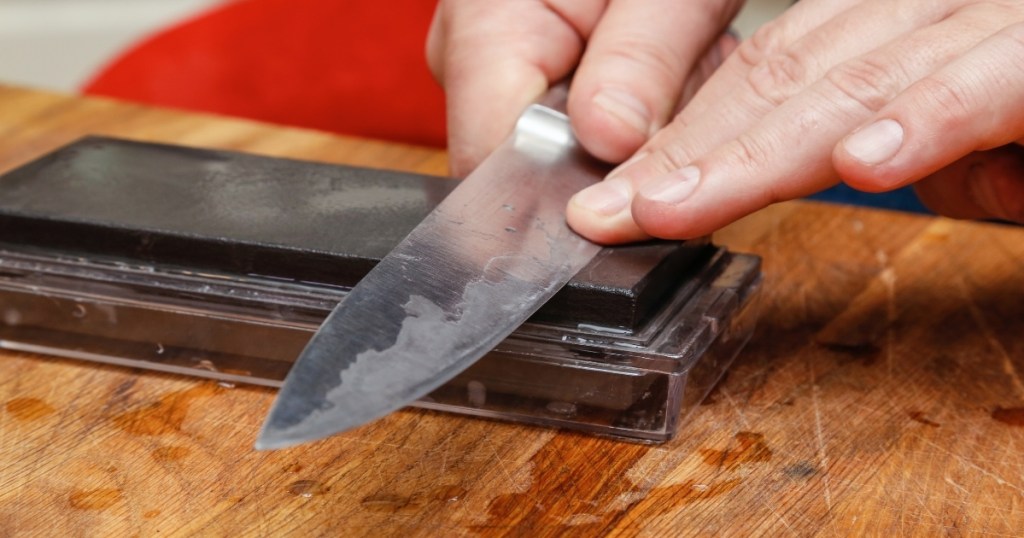 Sharpening
Because Serbian chef knives have strong carbon steel blades, they tend to stay sharp for a while. Hence, you should not have to worry about sharpening your knife too often.
To give the edge of your knife some new life, you could hone it first. This will improve the performance by straightening the edge, but will not sharpen it since it doesn't remove any material.
To hone your knife, grip a honing rod with your non-dominant hand and the knife with your cutting hand. Tuck all of your fingers in. Then, place the honing rod at the bottom of the blade at the correct bevel angle. Apply pressure between the two tools and slide the honing rod gradually up to the knife's tip. Keep the knife still. Serbian chef knives have a double bevel edge, so you need to repeat the honing steps for both sides.
If you are still unhappy with your knife-edge, you can sharpen it with a whetstone. These sharpening tools consist of very hard minerals that can even grind down the edge of a high-carbon blade. Grab the handle with all the fingers of your dominant hand and grip the end of the blade with your other hand (near to the spine) for extra control.
Place the knife at the correct bevel angle on the edge of the whetstone and slide the blade along. You should push the knife in the direction of its tip, but never towards yourself. Repeat this multiple times for both sides of the bevel. Note that if your whetstone has two different grits, start with the coarse grit and finish with the finer side. For more information, see our guide on this topic.
Cleaning
You will enjoy slicing meat with a Serbian chef knife but must remember to clean it properly afterward. This is the only way to protect yourself and others from the harmful bacteria in raw meat. Rinse the blade in hot water and scrub the surface with a clean, soapy sponge. Take care when cleaning the edge and never touch it with your bare fingers.
The blade's high carbon steel is not very corrosion-resistant, hence it's unwise to leave it to dry naturally after washing. Protect it from rusting by drying it with a towel or tissue.
Storage
There are many clever storage methods that look great in your kitchen and keep your knives in top condition. For a metal knife like this Serbian model, a magnetic rack is one possibility. If you have no wall space, a knife block is a good alternative. If you are eager to store your knives in a drawer, then you must find a good sheath to protect your knife's blade.
You cannot go wrong with a Serbian chef knife
Considering the build quality and versatility, few people would not benefit from having a Serbian chef knife in their kitchen. Whether you are searching for your first chef knife or looking to add another to your collection, our model is the place to start.