When it comes to knives, it's all in the tang. Knife enthusiasts look out for this particular feature when buying their blades, as it greatly impacts their culinary task performance.
You may even call it the backbone of your fixed blade knife, as your knife would easily give in without it. While there are different types of knife tangs out there, the most ideally used, particularly in big and bulky knife giants, is the full tang.
A full tang knife is one where the knife blade extends to the entire length of the knife handle. Being one of the strongest tang constructions, it gives the user better leverage and balance especially whilst conducting heavy duty tasks.
This guide gives you a low-down on the best full tang knives out there in the market for you to choose from.
What is a full tang knife
In a knife with a full tang, the back portion of the metal follows the shape of the handle and extends all the way into it. Next, the handle material is fastened to the tang by means of adhesives such as epoxy or rivets.
Full tang knives are the strongest tang construction made from a single piece of metal. Honing the most amount of metal than any other tang construction, it resists bending or breaking during use. Toughest of tasks are performed with full tang knives such as cutting beef, hacking bone, etc.
This guide gives you a low-down on the best full tang knives out there in the market for you to choose from.
Product recommendations
HDMD™ – Serbian chef knife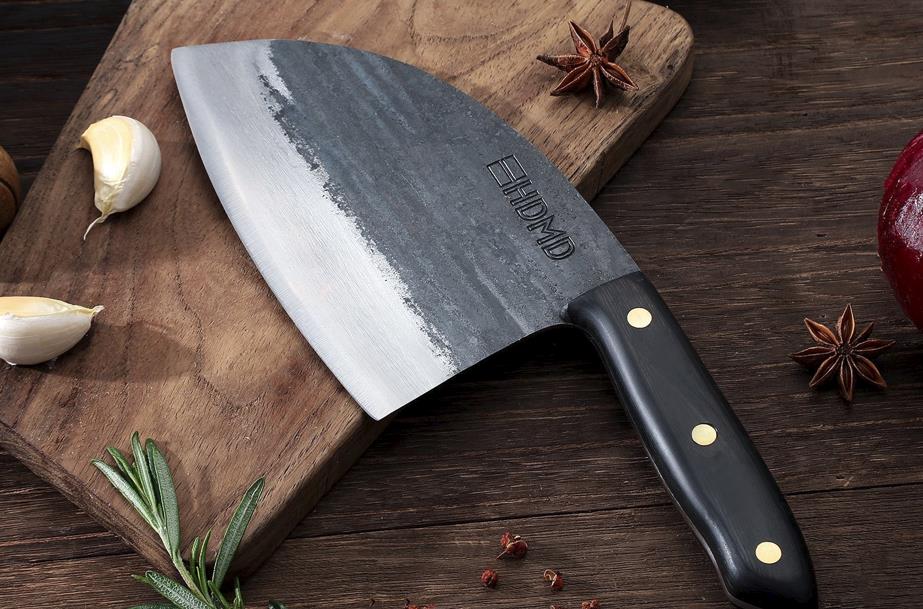 The HDMD Serbian chef knife tops our list of recommendations due to the amazing versatility and strength it offers for your culinary needs. This hand-forged sturdy built tool will suffice for most of your kitchen tasks, handling fruits, vegetables, and even meat and soft bone.
Forged from the finest high-carbon steel, this 6.3" chef knife is not only aesthetically pleasing to look at, but also a breeze to work with. The slightly curved, full-tang knife blade has been carefully constructed to handle all kinds of tasks which makes it the ultimate workhorse of your kitchen.
Main Features
The HDMD Serbian chef knife is one of the best full tang chef knives featuring fixed blade strength at an amazing value. Its razor- sharp cutting edge retains for a long time so the user spends more time using rather than sharpening it.
What's more – It offers durability and strength more than its conventional counterparts, thanks to the repeated hammering process it undergoes. Honing a hardness level of 56-58 HRC, this is the only sturdy tool you'll be needing for your everyday kitchen tasks.
Pros
Full-tang knife that provides greater maneuverability, leverage, and balance.
Highly versatile chef knife at an affordable value
Highly durable, razor-sharp blade that can resist cracks and chips
Hand-forged with a thin blade design for precision cuts
Durable and water-resistant handle that provides firm, comfortable grip
Cons
Sharpening requires practice and control
Need to maintain for prolonged use
May feel heavier than conventional chef knives
HDMD™- hand-forged chef knife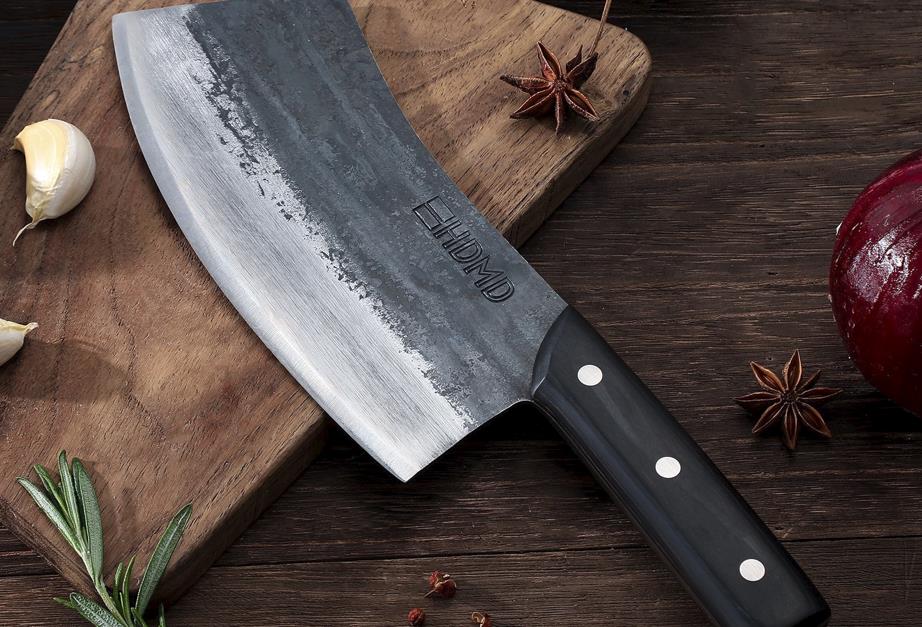 The HDMD hand-forged chef knife is more than just your conventional, everyday chef knife. Bearing the strength and versatility of both a chef knife and a cleaver, you don't need to use any other tool when you have this beauty to work with.
It's curved blade and pointed tip allows all kinds of chopping, dicing, mincing and slicing tasks to be handled with ease. Itt offers the highest form of durability, strength, and resistance that you can get from highest quality chef knives.
Main features
The HDMD hand-forged 7.3" chef knife is just the right length, full tang knife that one needs for both indoor and outdoor use. Hand-forged from a single piece of high carbon steel, it's the most enduring knife one can get offering just the right balance and heft for your cutlery endeavors.
The full tang ensures you make those blows without bending or breaking your knife, and offers the weight to drive down blows with just the right momentum. The black pakkawood handle is an added feature that provides a durable, water-resistant, yet comfortable hold.
Pros
Full-tang, fixed blade knife that provides the right heft and balance for all cutlery tasks
Razor-sharp cutting edge that can retain for long period of time
Versatile use as a chef knife as well as a cleaver
High durability- can resist slight cracks and chips
Can tackle dense, tough ingredients such as butternut squash
Cons
Isn't dishwasher safe
Sharpening may be a difficult task
Top brands to consider
HDMD: HDMD is one of the best knife makers that make hand-forged pieces from the finest high-carbon steel.
Global: Global is a Japanese knife maker crafting professional, premium quality knives in unique designs and varieties.
WÜSTHOF: Wusthof is one of the oldest German knife makers making premium quality knives.
Zwilling J.A. Henckels: Another German knife making brand crafting premium quality knives of different varieties.
Dalstrong: Premium quality, aesthetically pleasing knives at competitive prices.
Buyer's guide
Full tang vs. half tang
There are many types of knife tangs found in various knives. Out of the many, two major categories are the full knife tang and the partial knife tang.
| | |
| --- | --- |
| Full tangs | Partial tangs |
| Offers greater strength and durability | Weaker than full tangs |
| Weigh more; better for heavy duty tasks | Weigh light; better for light-weight tasks |
| Better balance, leverage and stress distribution | Uneven balance and stress distribution |
| Difficult to maneuver | Easy to maneuver |
| Use more metal; expensive to manufacture | Use less metal; cheaper to manufacture |
| Used for cleavers, butcher knives, chef knives etc. | Used for decorative knives, folding knives etc. |
Full tang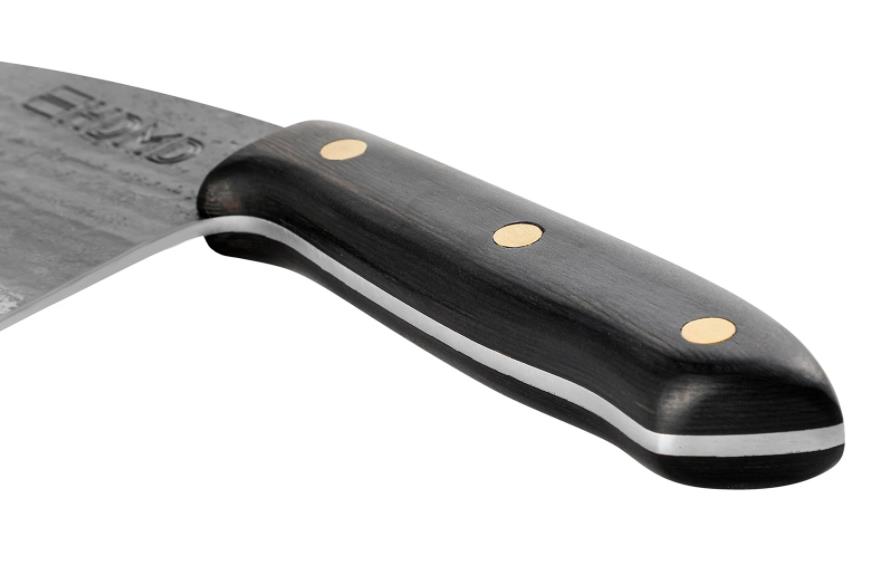 The strongest of all knife constructions is the full tang knife. This knife tang encompasses a knife blade that extends down the entire length of the knife handle. A full tang knife, however, may not extend entirely in width.
Since full tangs extend down the entire length of the handle, putting pressure on the knife ensures even stress distribution and makes for more durable knives. They are better balanced due to the even weight distribution, and can handle heavy duty tasks with ease.
Here are some variations of the full tang knife:
Hidden tang
A hidden tang extends to the knife handle in a manner that it's not visible. The knife tang is thinner than the knife blade in a hidden tang. Such a tang is lighter in weight and requires complex manufacturing. Moreover, they aren't as strong as a full tang.
Skeletonized tang
In a skeletonized tang, the amount of material is removed from the center of the structural framework to imitate a skeleton form of a tang. This is done in order to reduce weight of the tang whilst retaining the strength and leverage of a full tang.
Comparatively, they are better than hidden tangs in strength and balance.
Encapsulated tang
Where other tangs are pushed inside the knife handle, the encapsulated tang encompasses the knife handle material being molded around the tang of the knife. Similar to a hidden tang, this type of tang bears the strength of a full tang knife but cannot entertain all sorts of handle materials.
Extended tang
The extended tang is essentially a full tang with the end portion of the tang extending beyond the handle of the knife. This portion forms a thin pommel and is often seen to contain a lanyard hole. This knife tang offers superior strength and the extended portion can even be used as a hammer pommel.
Following are the variations found in half tangs:
Rat-tail tang
The rat-tail tang is an extremely thin knife tang similar to a rat's tail and extends to the butt of the knife handle. This is the weakest of all tangs and lacks durability and strength. However, it is cheaper to manufacture and can be used in lightweight knives such as decorative ones.
Push tang
Push tang gets its name from the way the tang is fixed into the knife handle. The tang in a push tang is pushed into the knife handle and affixed with an adhesive such as an epoxy. It may or may not extend down the full length of the handle.
Tapered tang
If you can't decide between a full tang knife and a partial one, you may consider a tapered tang. This is because this knife tang contains the strength and durability of a full knife tang whilst containing the light weight and ease of use of a partial knife tang. In such a tang, the blade tapers off as it reaches the end of the handle.
Other elements to consider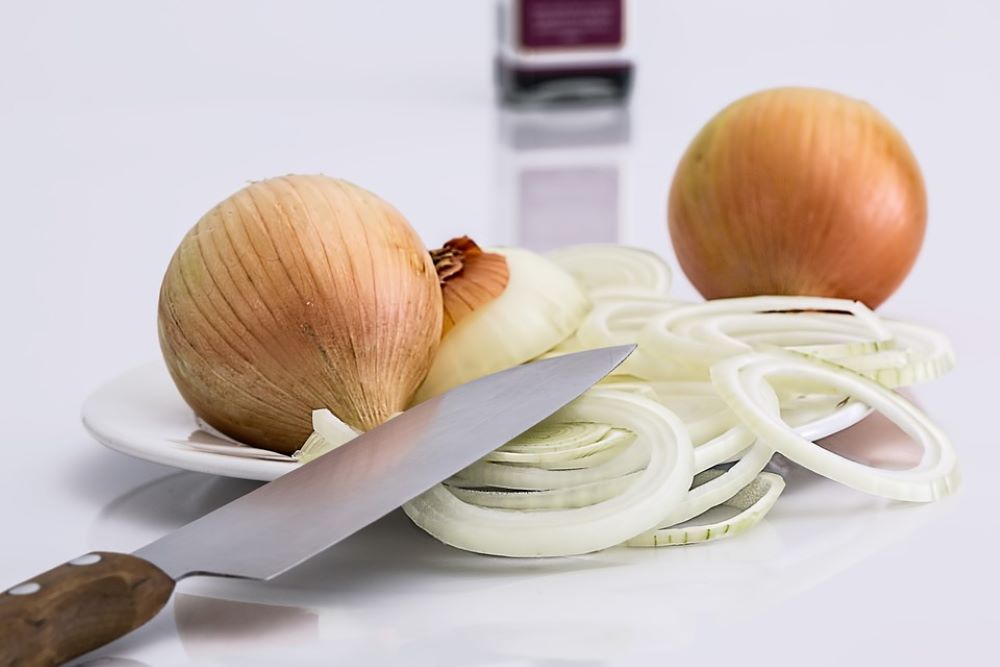 While the knife tang is an important feature to look out for when choosing a knife, there are some other elements to consider as well. For instance, choose a blade material that can give you considerable sharpness, durability and edge retention. High carbon steel is a good option used in many knives today.
Moreover, choose a blade construction determining whether you'll be needing it to cut more vegetables, chicken, or even raw meat and bone. When cutting, the knife handle material must feel comfortable and balanced in your hands as well as allow prolonged use without fatigue. Lastly, you should also consider how much maintenance the knife would require.
Considering all these elements would help you pick just the right knife for your cutlery tasks.
FAQs
In conclusion
We hope that by now you know what kind of a tang you require for your culinary requirements. For full tang knives, HDMD offers the best knives at affordable prices. What are you waiting for, go ahead and make that purchase now!