On your road to becoming the ultimate culinary master chef, you may consider buying the mighty meat cleaver at some point. This bulky splitter makes working through certain meats feel like a breeze, and also claims versatility with fruits, vegetables and other ingredients.
Adding a meat cleaver to your knife collection is a wise call, as it will allow you to tackle hefty kitchen tasks with great ease. For making this cutlery decision easier, we have listed down some of the best cleaver knives that you can buy this New Year!
From considering the material of the blade to the comfort of the handle, our research will allow you to make a wise decision regarding your cleaver. This way, you can buy the best cleaver knife for your cutlery endeavors.
What is a cleaver?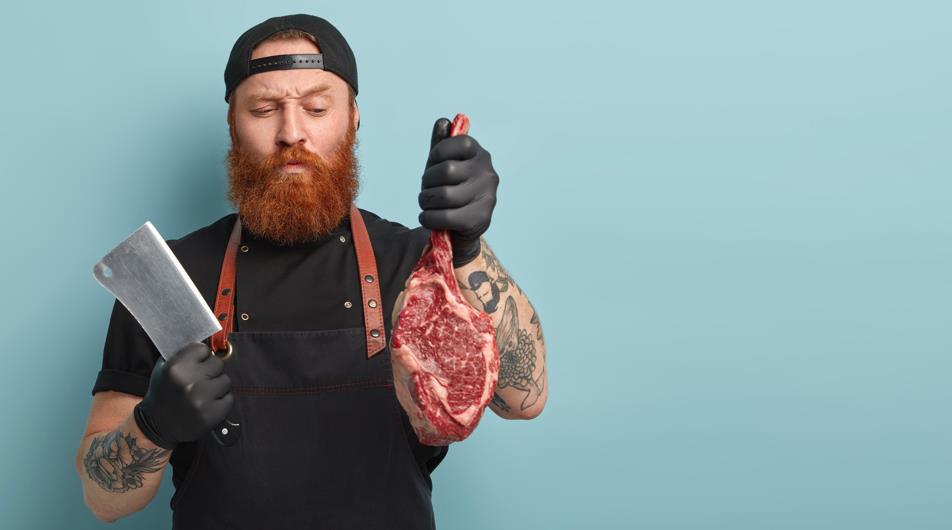 A cleaver is a square or rectangular shaped, heavy duty tool that resembles a hatchet. The sturdy knife is ideally used for splitting through meat and bones, but can also work its way through other ingredients such as fruits and vegetables.
The cleaver is a useful tool to have in the kitchen, characterized by its heavy weight and bulky build. The weight and momentum helps drive down classic, precise culinary cuts on any meat that comes its way.
Besides this, they can also perform mincing, slicing and dicing tasks, if you can't spot your utility knife or chef knife in the midst of your meal prep.
Cleaver recommendation
There are tons of meat cleavers out there in the market. You have to search for the one that best suits your needs. Here is our choice of the ultimate meat cleaver of the New Year:
HDMD™ – Hand Forged Chef Knife
Our HDMD Hand Forged Chef Knife is one of the ultimate hand-forged 7-inch meat cleavers in the market. Made out of high carbon steel, the knife is a reflection of exemplary durability and hardness that makes it stand out from other meat cleavers. What makes this tool a great choice is that the knife is a versatile tool that can be used both indoor and outdoor.
This knife can accomplish all sorts of tasks that otherwise feel impossible with smaller knives. Surprisingly, it isn't as heavy as other bulky cleavers in the market. This means that it can be used by a novice as easily as the ultimate chef in the kitchen. Ferocious efficiency, exemplary sharpness, and durability are the trademarks of this star product.
Main features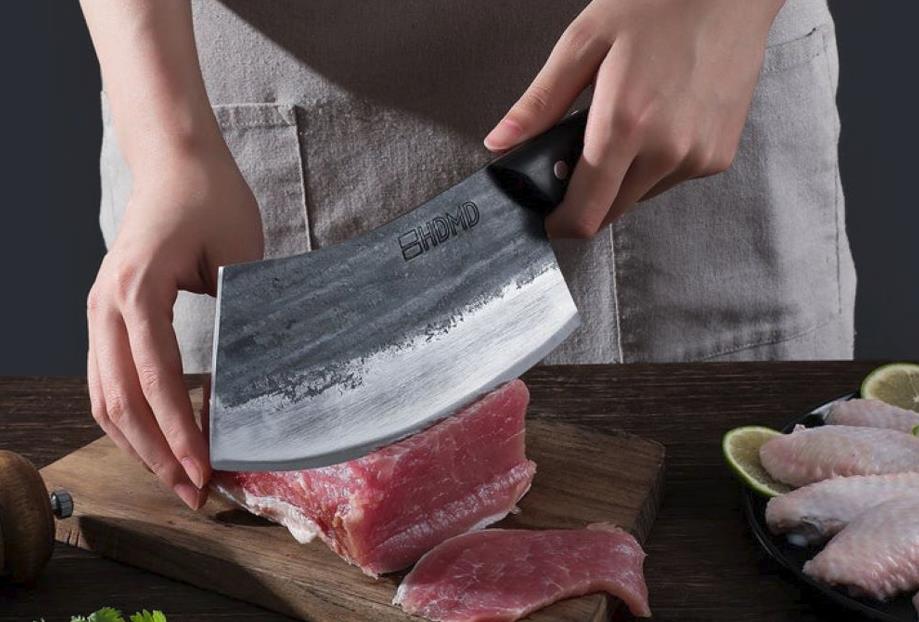 The hand-forged chef knife is as good as it gets. Its ultimate features include being a highly versatile knife that can be used interchangeably as a cleaver and a chef knife. It comes with a wooden black pakkawood handle, handling all sorts of culinary tasks with comfort and ease.
Forged with high carbon steel, the knife exemplifies durability at its best. There's more, it also hones exemplary sharpness, all thanks to the artisan hammering technique it undergoes. Rest assured, this knife will last you for a really long time.
Advantages
The HDMD hand-forged chef knife is forged with high carbon steel to provide ultimate durability whilst resisting cracks and chips to the blade.
Crafted with the artisan blacksmith hammering technique, the knife features an intensely sharp blade that requires minimal sharpening throughout its entire lifespan.
The knife is game enough to be used as a cleaver but can also perform the duties of a chef knife, exemplifying versatility at its best.
Forged by the hand, this knife will guarantee the user with the most intricate of cuts through its precision made, extra strength blade.
Disadvantages
This knife requires hand washing and drying after each use, so the user must be careful in its maintenance to prevent it from oxidation.
Honing this knife may not feel like a breeze due to the shape of the knife blade. Thankfully, this task doesn't need to be performed that often.
Smaller hands may feel difficulty at first holding the knife due to its bulky build.
Top brands to consider
HDMD Knives: HDMD knives has made itself a name in the arena of hand-forged knives made out of high-carbon steel, guaranteeing superior quality at an affordable price.
Wusthof: Wusthof is a Germany-based knife manufacturer that has a variety of good quality, hand-crafted meat cleavers to choose from at different price ranges.
Zelite Infinity: Zelite Infinity makes some of the most visually appealing knives in the market and that too, at affordable prices.
Zwilling: Zwilling makes premium quality knives and manufactures some of the most blunt and heavy cleavers in the market.
Dexter-Russel: Dexter-Russel is another brand featuring a range of proprietary steel, heavy duty cleavers that provide good balance, heft and superior efficiency.
Dalstrong: Dalstrong is also a big name in the knives arena making hand crafted cleavers with ergonomic handles along with a number of options to choose from.
Messermeister: Messermeister is a renowned name in kitchen knives and tools that make premium, hand crafted knives and feature various stamped meat cleavers.
Utopia: If you're looking for a cleaver but don't have much to spend on, the Utopia 7 inch cleaver is probably your best bet that is both rust resistant and ergonomically designed.
Buyer's guide
If you're still feeling unsure of whether you should buy the big bulky giant or not, this part of the article will help you clear your mind:
Do you need a cleaver?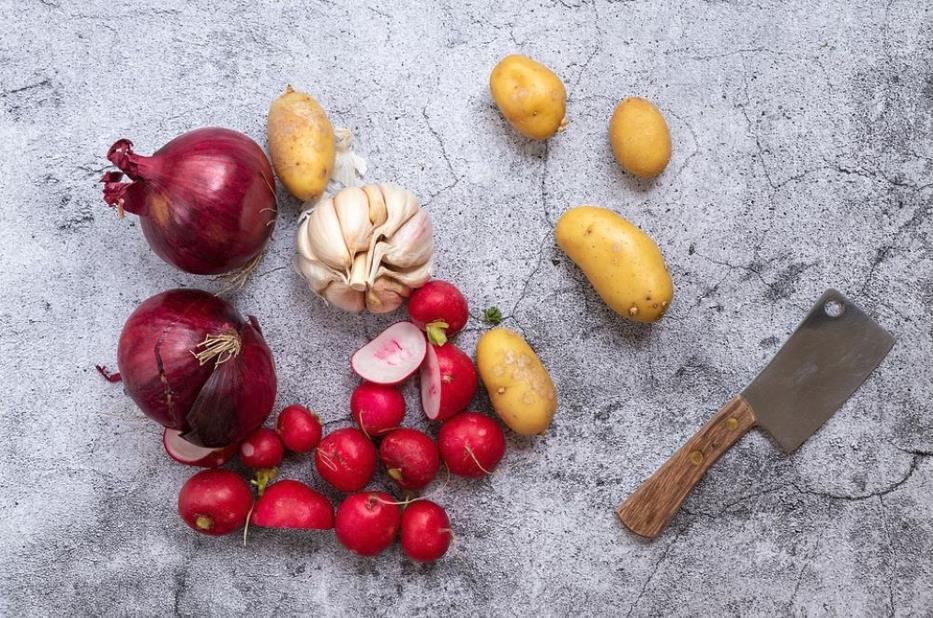 Your kitchen arsenal might hold a number of good quality knives already, such as a chef knife, a serrated bread knife, and maybe even a santoku knife. This might make you wonder why you should proceed to invest in a cleaver.
Here are a few cleaver uses that will help you make up your mind:
Using a cleaver for mincing and slicing
While a utility knife and a paring knife are great options for peeling and preparing fruits and veggies, you might need to get a hold of that cleaver for ones that are particularly tough skinned. In turn, you can also use your cleaver for chopping, slicing, dicing and even mincing fruits and vegetables.
To perform these tasks, simply hold the cleaver close to the blade with your index finger and thumb placed on either side and proceed to cut in a smooth downward motion.
Using a cleaver for crushing
Why waste time meticulously cutting out ingredients such as ginger and garlic, when you can crush your way out? Crushing ginger and garlic is possible by using the wide, flat side of the cleaver and smashing the ingredient with the top of the blade side.
Using a cleaver for transferring
By now you must know that a cleaver is a square or rectangular shaped tool. It is big enough for the user to scoop up ingredients on top of the blade and transfer them to the stove, in a bowl, or wherever desired.
Who knew transferring ingredients would be so easy with a cleaver? Simply slide the cleaver blade under the ingredients while pushing them over the blade with your free hand and you're done.
Using a cleaver for sectioning meat (and bone)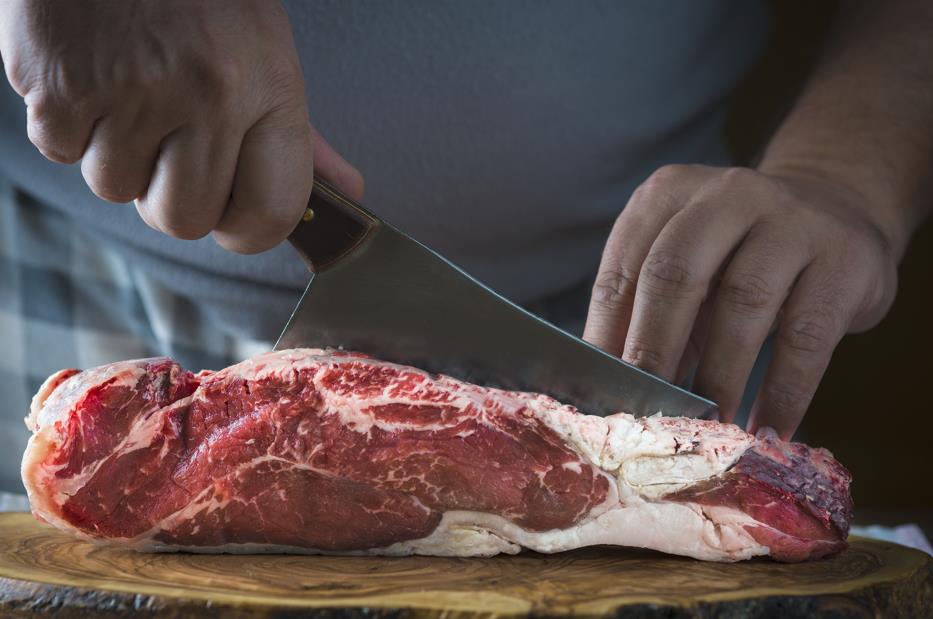 Finally, this is the task a meat cleaver is actually designed for. Handling meat and bones is a breeze with this handy tool, this is why it is known as a true splitter. To begin with, the knife blade is specially designed to be large and sharp so that it can easily cut away skin and fat.
Next, the thickness of the blade is thick enough to handle tough tasks. This is why you are able to make those hefty blows that would crack or chip any other knife otherwise. Making sections of meat and bones is very convenient with this tool. Moreover, it is also cheaper once you have mastered the entire process of skinning and sectioning poultry with this tool.
Using a cleaver to scale fish
A lesser known use of a cleaver is that it can also be used to scale a fish. Even though this task needs a bit of practice to be done successfully, it is still achievable. Simply run your meat cleaver over the fish at a slight angle until the entire fish has been descaled successfully.
Things to consider before buying a cleaver
When selecting the right meat cleaver for your arsenal, here are a few factors that you must consider:
Blade width
The most common blade width for a cleaver ranges between 6 to 8 inches. Blade width is an important factor to consider as it determines the effort required to chop down slabs of meat. Longer widths allow chopping with a single downward stroke instead of several ones.
Blade thickness
Meat cleavers work better with thicker blades. This is because they are able to make striking blows without chipping and are considered to be more durable. The ideal blade for a cleaver sports thickness from the spine to the cutting edge, with an edge ranging between 13 to 25 degrees.
Blade length and height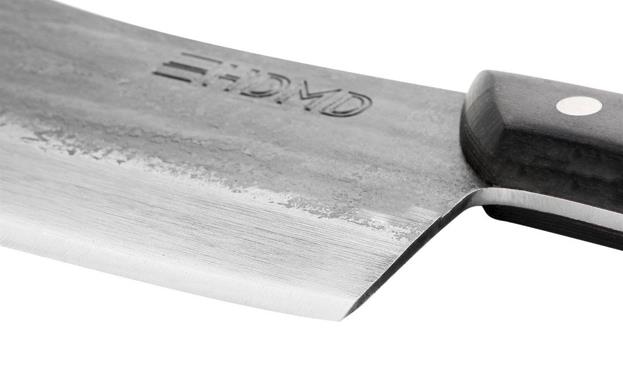 For working through large ingredients, you must have a cleaver with an adequate length. Moreover, adequate height is also important to allow the cleaver working in a straight pane whilst providing enough knuckle clearance.
Balance
You can't work with a hefty cleaver if it doesn't feel balanced in your hands. This is why the weight of the blade must be well-adjusted with the weight and length of the handle. A well balanced cleaver will allow the user to make smooth and accurate blows with every chopping action.
Weight
The weight itself of the cleaver also plays an important role in using it. This is because a cleaver that is too heavy will prove strenuous on the hands of the user and will keep them from effectively using it.
Alternatively, it must be bulky enough to make hefty blows so that it can carve meat, bones, and even cartilage with smooth efficiency. Cleavers that are close to 1 pound are ideal, heavy enough to make precision cuts while being easy on the hands.
Handle
Since cleavers are heavy duty tools, they must be equipped with handles that are comfortable to grip, are anti-slip, as well as easy to clean. This is why wooden handles are the best option. You may also choose between straight handles or those with ergonomic contours.
Cutting edge
Lastly, the cutting edge is also an important determinant of your cleaver purchase decision. This is because blade design determines the number of repeated blows needed to make through cartilage, meat and bone.
This is why the cleaver must sport a blade and cutting edge with a resilient steel. The ideal resilience required for such cutting edges demand forging the steel to a hardness between 54-58 HRC. This range guaranteed holding the cutting edge sharper and durable for longer without chipping or breaking.
Commonly, meat cleavers sport an edge having a flat grind, and are also found to have straight or slightly curved bellies.
FAQs
In conclusion
We are confident that by now, you must have made up your mind on what sort of cleaver you are looking to buy and from which brand.
So what are you waiting for? Click on that shop link and order away!