With so many different types of knives used in the kitchen, finding a place to store them can get quite hectic. There are many ways to store knives as you would with any other item in your household, but not all of them will serve the purpose right and be convenient for your kitchen.
Though there isn't a single best way to store kitchen knives, there is undoubtedly one that's the best for you. In this article, we will list pretty much all the ways you can utilize to store knives in your kitchen. From the different storage methods, you can find the one that suits your kitchen, life circumstances, and likings the best.
Why is properly storing knives important?
Cuts and injuries in the kitchen are the second leading knife-related injuries treated in the United States. It seems like taking some of the necessary precautions from keeping your knife sharp to holding it properly to using the right knife for the task isn't enough. A good portion of these kitchen knife-related injuries occurs due to incorrect storage methods. 
Tips on how to store knives
Store your knives in a secure place that won't fall off.
Keep them visible to everyone in the household.
You might want to keep knives away from children and out of reach.
Store your knives along with all the other utensils in a way that suits the arrangement of the kitchen.
As kitchen knives often get very sharp, it's essential to store them in a safe manner that won't lead to accidents, but safety isn't the only thing you should have in mind. Here is what you should consider when thinking of the best storing method.
What to consider when choosing a storage solution?
Everyone is different, and so are their kitchens, preferences, and life circumstances. There is a lot to consider when choosing the proper knife storage method for your kitchen. Below are some of the things you should keep in mind before settling down on a specific knife storage method.
Knife storage location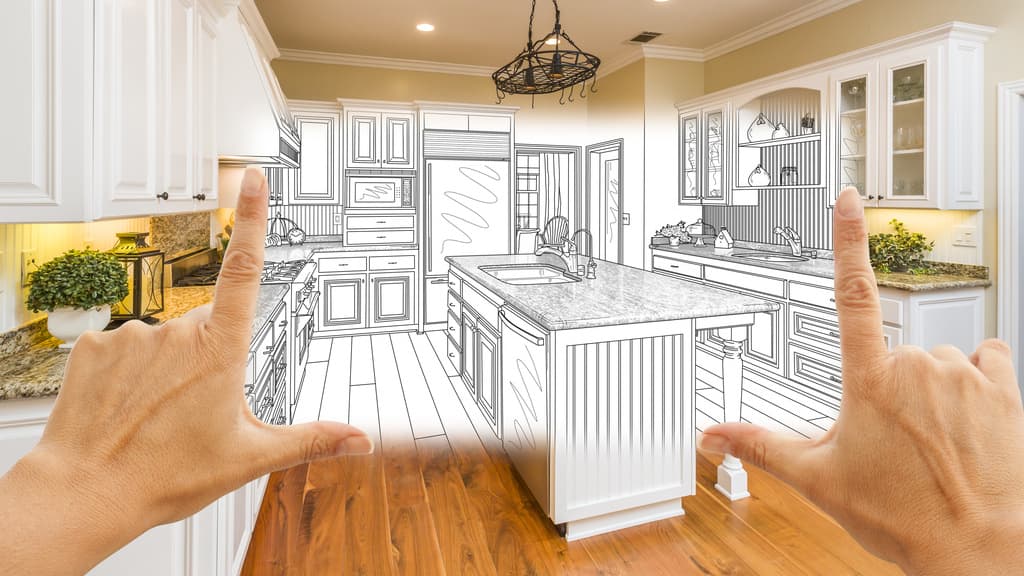 Where do you want to keep your knives? Most cooks who spend hours in the kitchen prefer countertop storage methods for easy reach to their knives. Whether it's a magnetic strip or a knife block, they all do the trick.
Some knife sets even come with their own blocks. If you're not reluctant to keep your knives on the countertop to save space, consider other options like keeping them in a drawer or under cabinet storage.
Cleanliness and protection
The point of most kitchen knife storage methods is often to protect the blades and keep them sanitized. Since most things you eat will contact knives, you want to make sure they are kept clean to prevent bacterial growth.
Safety of children and elders
Take a look at who lives with you and potentially spends time in the kitchen. If there are children or elders in the household, you might need to sacrifice aesthetics and think more about safety. The accessibility and convenience of storing methods are undoubtedly important, but safety comes first.
Price of knife storage
The price is another thing to consider when thinking of a knife storage solution, just like any other product you're planning to purchase. There are different kinds of knife storage ways for every budget. If one stretches your budget, look for alternative methods rather than buying the cheapest you can get.
Best ways to store kitchen knives
There isn't a one-size-fits-all for storing knives. Every kitchen is configured differently, and what's proper in a friend's kitchen may not be fit for yours. Here are the most common ways to store knives.
Traditional knife block/dock – best for large countertops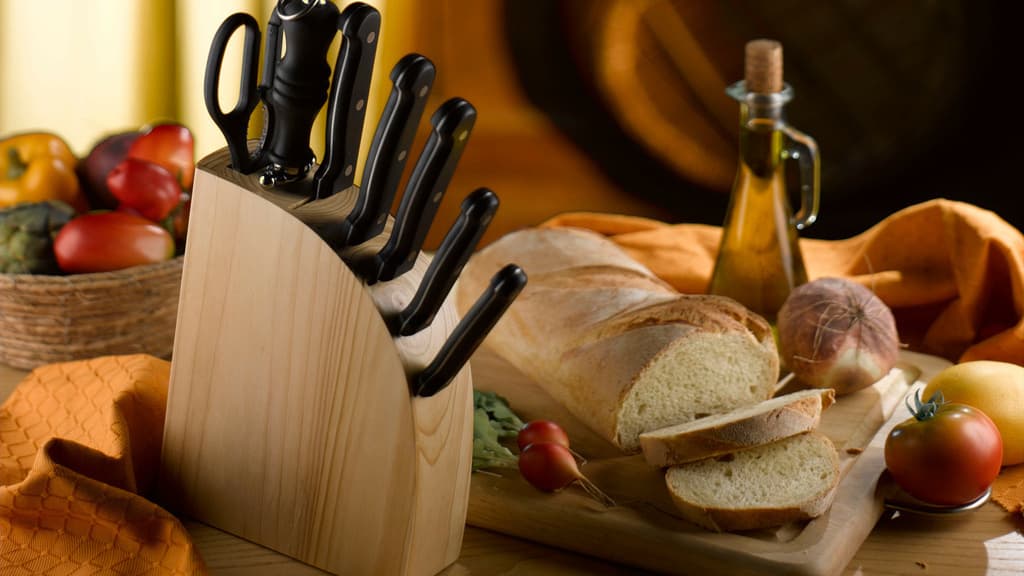 Pros
Easy to store knives
Protects the blades
Cons
Takes up precious countertop space
Slots can build up dust and moisture
Can't store larger knives like cleavers
Hard to find a perfect one unless buying a set
Also referred to as docks, knife blocks can be a convenient knife storage approach for kitchens with enough countertop space. However, finding the right type of knife block for your kitchen knives isn't going to be an easy task. It's next to impossible to find the knife block that matches all your individually-bought kitchen knives perfectly. That's why most kitchen knife sets come with dedicated blocks to store them. Another downside is that the slots can collect dust and moisture over time and lead to bacterial growth.
While a knife block makes your set of knives look tidy as there is a specific place to store them, it's mostly only good if you're buying a set. Though sets of kitchen knives provide good value as you get many different knives with different lengths and purposes, it's not always a good idea. Unless you put every knife into use, we recommend not purchasing a set and buying the knives you need individually instead.
Recommended product: Any universal knife block/dock with horizontal slots (vertical slots are more prone to hurt your knife's edge)
In-drawer knife tray – best for most kitchens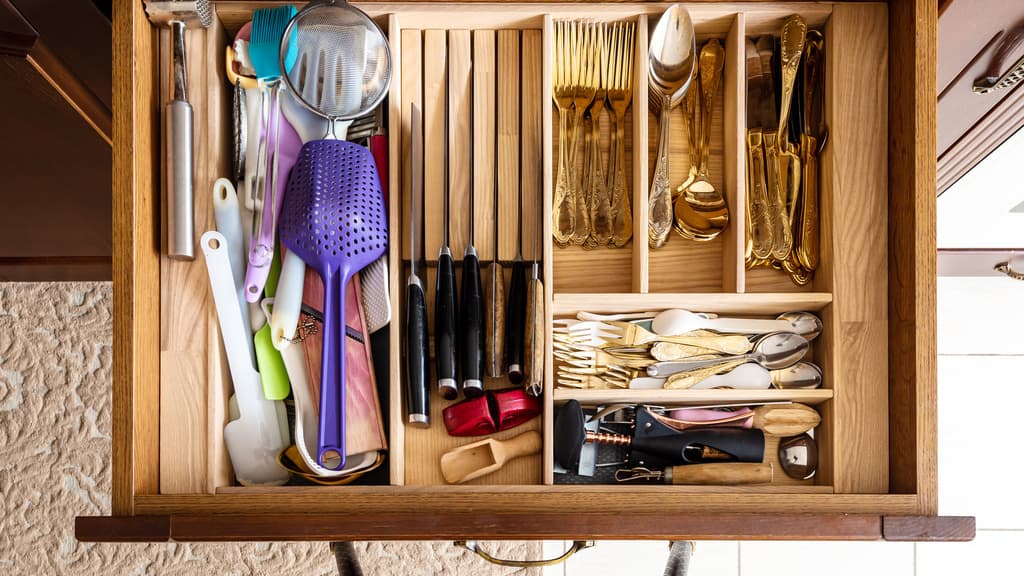 Pros
Saves countertop space
Out of children's reach
Cons
Kitchens have no shortage of drawers. It's the most preferred way of storing utensils, including knives. An in-drawer knife tray with the right holder can help you save up countertop space while having a proper place to keep all of your knives.
The best in-drawer knife trays are the ones that fit your kitchen drawer perfectly. Look for a tray with a divider to prevent the blades from rubbing each other, which can cause undesirable cuts as a result, and you'll need to hone the edges often.
Additionally, knives touching each other can create microchips, which will require you to sharpen them more often. We recommend storing ceramic knives away from other blades if you have any. The extreme brittleness in ceramic knives opens the doors for damaging the knife.
Recommended product: Deluxe KNIFEdock
Magnetic strip – best for easy access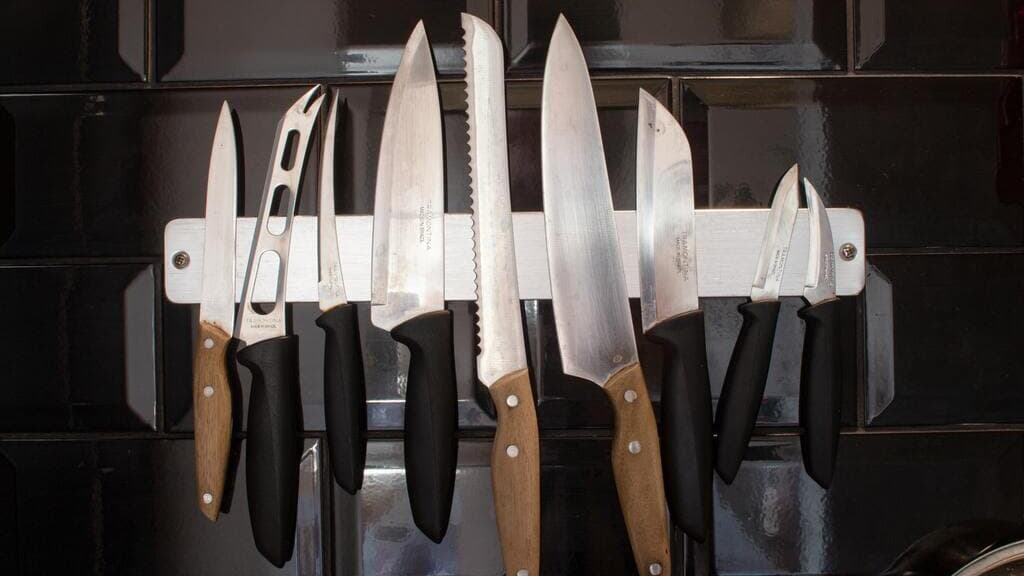 Pros
Saves space in the whole kitchen
Easy to take knives in and out of the strip
Cons
Exposed blades
Requires a proper place to hang them, and not everybody has it
Doesn't work with non-metal knives like ceramic knives
A magnetic strip will be your best friend if you have many kitchen knives and use them often. It's easy to take the knives from the magnetic strip and put them back in their place. The magnetic strips also save countertop space and are a favored option to store knives for people who spend hours in the kitchen.
A quick tip – when putting knives in the magnetic strip, always place the spine (blunt, backside of the blade) first. Doing this will protect the blade's edges, extending the longevity after every sharpening session.
Although magnetic strips are a convenient storage option, they may not be best for you if there are a couple of curious hands in the kitchen. The exposed blades may pose a safety risk for small children and pets, especially cats that like to roam around. Lastly, they are not an option with ceramic kitchen knives.
Recommended product: Fridge applicable magnetic strip
Magnetic block – an alternative to magnetic strips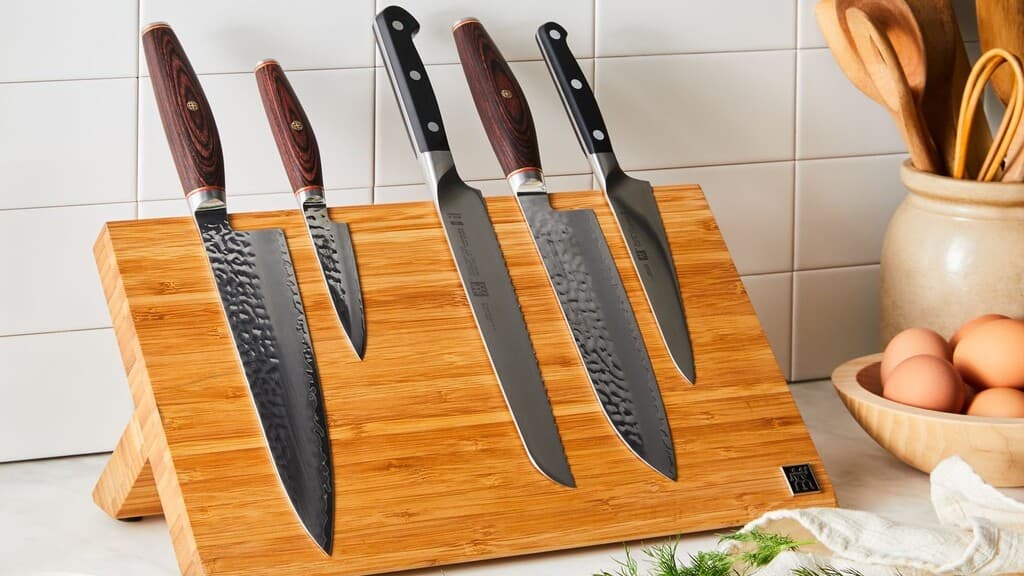 Pros
Provides easy access to all knives
Easy to stick and remove knives
Cons
Larger knives take up too much space
Doesn't work with non-metal knives
Takes up countertop space
The magnetic strips can be pretty lengthy, and not every kitchen has a place to hang them. A magnetic knife block is an excellent alternative to the strips where you can keep it on the countertop for easy access. If you're looking for a similar storage solution to knife blocks or don't have a place to hang strips, a magnetic knife block is going to be the best choice.
The magnetic knife blocks give the convenience of magnetic strips without a place to mount them. They will take less space than a magnetic strip as a block is more compact. Plus, they don't require any installation. You can start using them right after unboxing.
Recommended product: Secura double-sided magnetic block
Under-cabinet knife storage – safest way to store knives
Pros
Saves up space
Keeps knives safely away from small children
Adaptable to every kitchen with different sizes
Cons
A bit more expensive than other knife storage ways (racks)
Installation can be tricky
Difficult to clean
The under-cabinet knife storage is a great way to save up maximum space in the kitchen. The knives won't be in the drawer, on the countertop, or wall. Yet, they will have a dedicated, private place. It's a safe way to store all knives of different sizes and shapes and keep them out of small children's reach.
This knife storage solution is very versatile with different sizes, finishes, designs, and more. There are drop-down racks with magnets and under-cabinet knife blocks. We recommend not picking drop-down racks without magnets as knives won't stay firmly in place and pose a safety hazard due to the chance of falling.
There are also under-cabinet knife blocks, which can be either stationary or movable in different directions. Like countertop knife blocks, both of these can collect dust and moisture, and cleaning them is more challenging.
Recommended under-cabinet holder: Drop Block under-cabinet knife rack
Knife case/roll – best for traveling cooks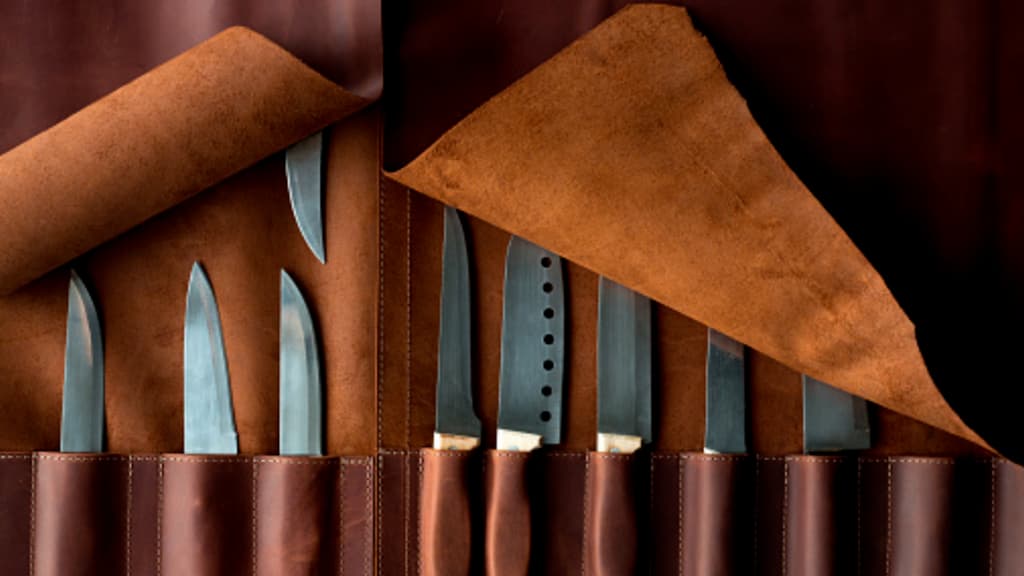 Pros
Best storage method for traveling cooks
Organizes all types of knives in a mobile way
Cons
Tip of the blades can pierce through lesser tough fabrics
Not convenient for kitchen use
If you travel often and are sick of the kitchen equipment that comes with daily rented flats or Airbnb's, a dedicated knife case or roll is the way to bring your favorite set of kitchen knives in an organized way. Also, a knife bag is a must for professional cooks who jump from one job to another.
It's the best and safest mobile knife storage solution to carry your knives in your car or subway. We highly suggest using a dedicated knife bag that will serve its designated purpose right rather than something else like a brush roll. Otherwise, you will end up with cuts considering your knife won't have a problem cutting through the bag.
There are all kinds of different bags and rolls. If you often travel with your knives, a bag made from a tough, sturdy fabric is what you need to look for in mobile knife storage.
Recommended product: Noble waxed canvas chef knife bag
Knife sheaths – best for individual knives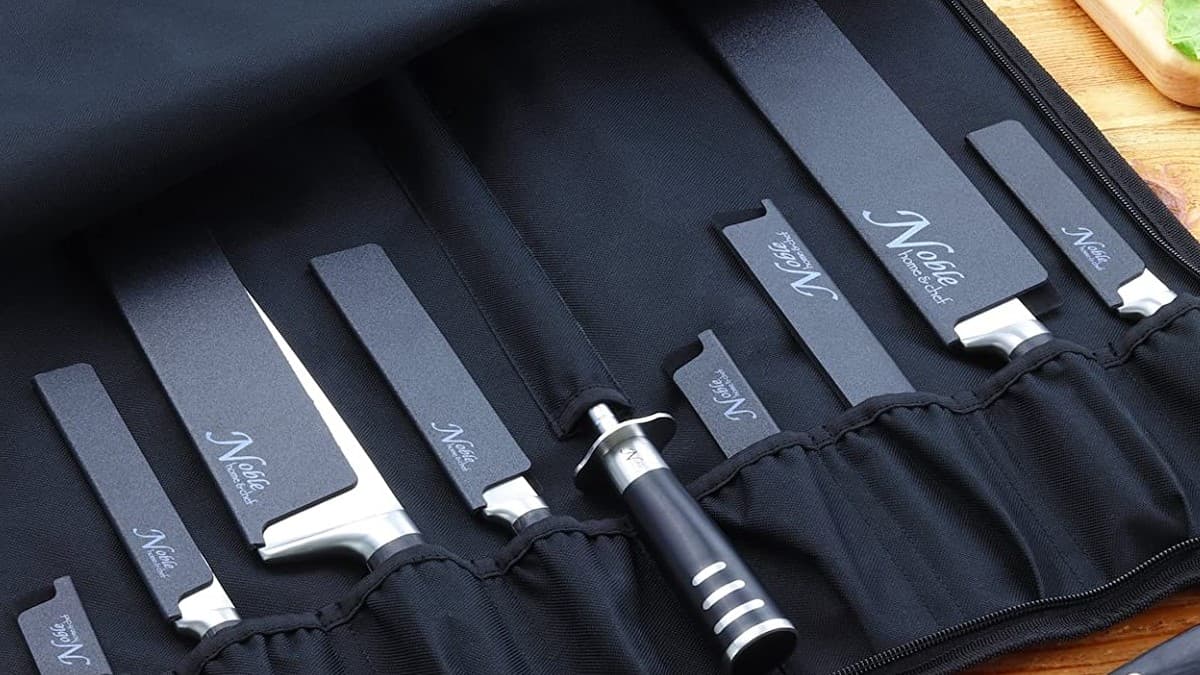 Pros
Great for protecting blades when carrying
Takes up significantly less space
Cons
Overall, not a very convenient and lasting solution to store knives
Dealing with many individual sheaths can get hectic
Sheaths can build up moisture quickly
Knife sheaths can be a storage solution if you have a handful of knives, but it isn't a convenient permanent solution even then. We recommend individual knife sheaths only when you're going outdoors for picnics or something similar. It can be an alternative solution to knife bags/rolls. When, coupled with a knife bag and individual sheaths for every blade, you will have the maximum protection for your beloved knives.
Having a bunch of sheaths lying around in the drawers or rewrapping and unwrapping every time you use your kitchen knives is going to be time-consuming and a task you don't like doing. Additionally, sheaths might build up moisture, leading to corrosions. Regardless of how you're storing knives, make sure they are always completely dry before putting them away.
Recommended product: Asaya universal blade sheaths
How to choose the best knife storage solution?
We've explained the important things to consider when choosing a knife storage solution, and now it's your turn to find out which one is best for you. Take a look at your kitchen and picture each and every knife storage method explained above. Some will fit right into your kitchen; some won't.
Additionally, the number of knives you have is very important. If you have plenty of knives at your disposal and want them in a single place, something like a traditional knife block won't be the right way to go. Your kitchen and life circumstances are undoubtedly the main things to consider, but keeping all of your kitchen knives in one place also matters.
The bottom line is examining your kitchen, countertop space, type of knives you have, and life circumstances will help you figure out which is the best way to store and organize your knives.
Frequently asked knife storage questions
No matter how well-built your knife is, it needs a safe storage method to maintain its sharpness. Now that you have a better understanding of ways to store your knives, get yourself a proper kitchen knife to start your culinary career.