The quality of a kitchen knife is paramount to the success of any cook. Forget the rules of fashion and style; you want a knife that feels good in your hands, cuts well, and doesn't break the bank. While we can dedicate an entire lifetime to searching for the perfect kitchen knife, some brands and models rise above the rest.
The best kitchen knives combine balance, durability, and sharpness. Ideally, those that come with a lifetime guarantee, designed with high carbon steel, and made by a company with a reputation for quality and value. A knife that can multitask, master most kitchen tasks with relative ease, and is attractive in design and feel, is always welcome.
While a high-priced blade isn't always superior, certain options outperform the rest in value and quality. We've examined the top kitchen knife brands in the world to save you time and effort.
What defines the best kitchen knife?
Ever wonder what makes one kitchen knife better than another? While several attributes define the best kitchen knives, many of the best brands blend several elements into their design.
When it comes to kitchen knives, blade sharpness is one metric that separates the good from the great. A truly sharp blade glides through food without any effort or pressure added by the chef.
Another essential element is balance. This ensures safety and comfort when using a knife for extended periods. While some chefs claim that the best kitchen knives are lightweight, finding a knife with a balance point somewhere on the handle is always important.
The best kitchen knives also perform well when exposed to extreme temperatures, humidity, and moisture. We can't all afford a range of kitchen knives for varying purposes. So it's helpful when the best-rated models meet various needs and still last longer than expected.
Product recommendations
Below are our top recommendations for the best kitchen knives on the market today.
HDMD Serbian chef knife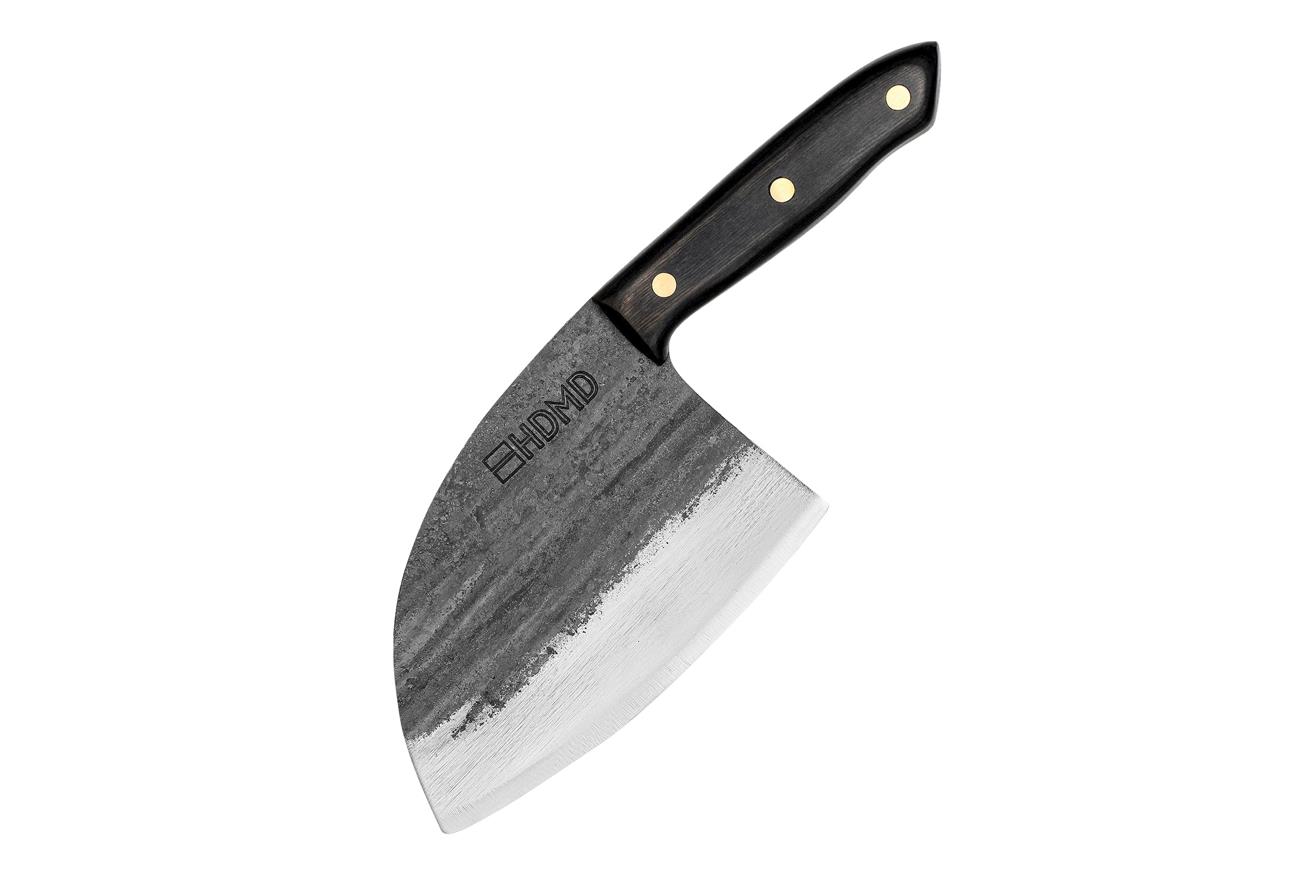 The HDMD Serbian chef knife is a versatile choice designed to take on tougher kitchen tasks without flinching. It features high carbon steel with a sharp edge for fine cutting and chopping, a well-balanced design that reduces fatigue during use, and an ergonomic black pakkawood handle.
If precision in design, strength, and durability are what you're after, then the repeated hammering and hours of forging used to create this knife are a testament to its quality. Indeed, its ruggedness and ability to hold its edge under pressure make it one of the best kitchen knives on the market today.
Main features
The HDMD Serbian chef knife is forged from high carbon steel, hammer-forged for increased density and durability. It comes with a 6.3 inches blade length and an 11-inch overall length.
At 0.73 pounds, the HDMD Serbian chef knife has a weight that is just right for its length. It features a tough black pakkawood handle for extra grip and safety and an ergonomic design that reduces hand fatigue without compromising its strength.
Pros
Hand-forged with a thin sharp edge
Ergonomically designed for comfort and ease of use
Quality material and construction
Affordable pricing
Superior balance
Designed with a black pakkawood handle that ensures a secure grip
Cons
Heavier than other options on the market
Not dishwasher safe
Requires maintenance for extended use
HDMD hand forged chef knife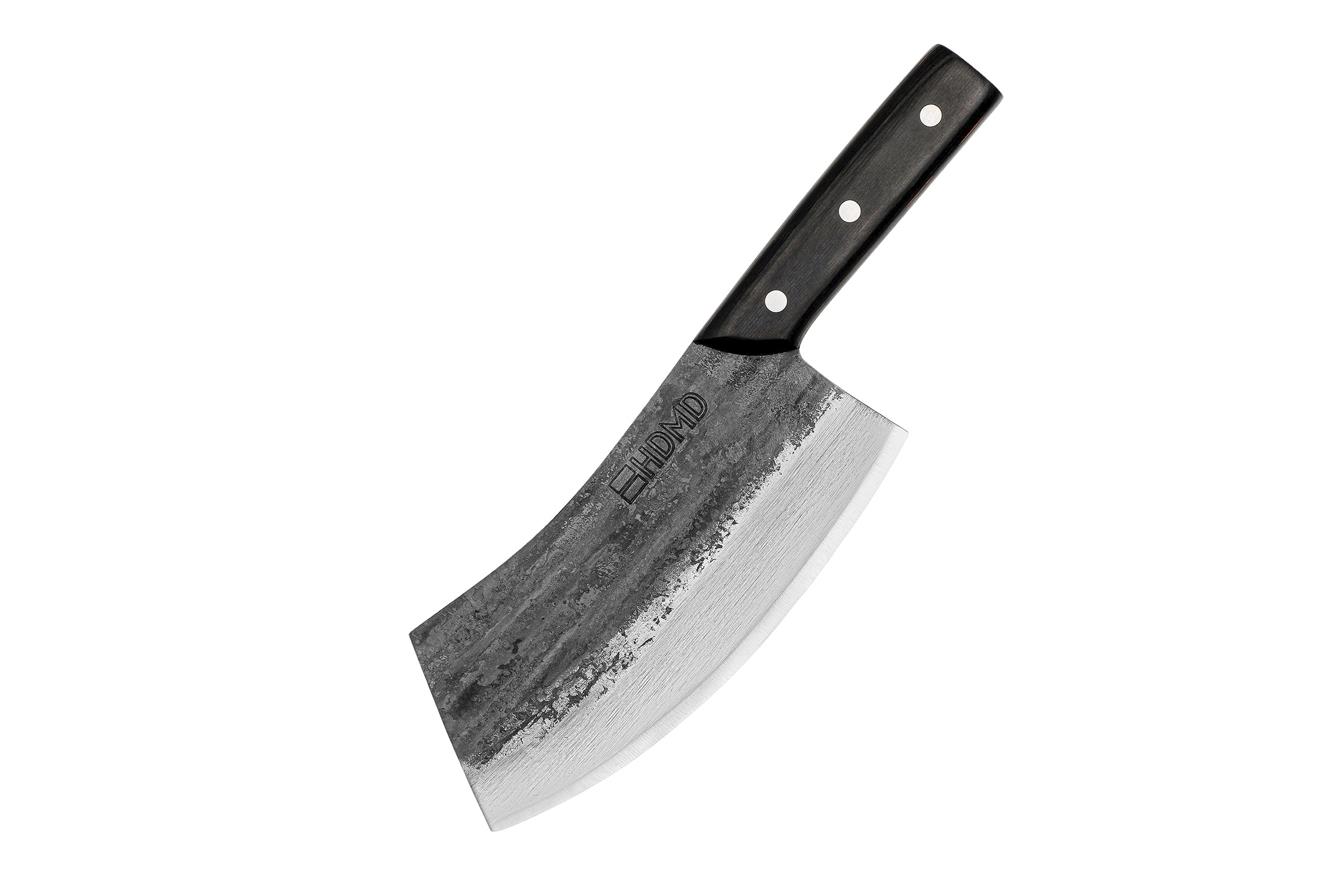 The HDMD hand forged chef knife is another fine choice for chefs who are serious about the quality of their blades. Designed to resist cracks and chips and ideal for indoor and outdoor use, this 11 inches high carbon steel knife is just what you need for a lifetime of dependable service.
Any culinary chef, knife expert, or local knife enthusiast would agree that the HDMD hand forged chef knife is a unique addition to your kitchen cutlery set. Each knife is hand-forged from high carbon steel and hammered to perfection by skilled blacksmiths to give it prolonged sharpness.
Main features
The HDMD hand forged chef knife features high carbon steel hammered for strength and durability. It also has a sharp edge curved specifically for delicate chopping and cutting. The black pakkawood handle doesn't just provide a secure grip but is ergonomically designed to reduce fatigue while you work.
You can use it as a cleaver or simply as a kitchen knife for everyday use. The blade is thick enough to endure heavy-duty tasks, but it is also thin enough to give you fine control for your more delicate work. At 11 inches long and 0.73 pounds in weight, you get the right balance of strength and precision.
Pros
Unique blade shape for precise cutting
Usable as a cleaver or chef knife
Well-balanced and durable design
High-quality material and construction
Ergonomically designed handle for comfort and safety
Cons
Needs regular maintenance to avoid breaking down of blade steel
Not dishwasher safe
It can feel heavy for some users
Top brands to consider
When shopping for the best kitchen knives, you may be looking for a specific brand based on recommendations from others. If that's the case, then be sure to consider the following:
HDMD–Forged by hand and made with high carbon steel, each HDMD knife is designed to perfection. The high carbon steel is durable and has a fine edge that gives you control and precision during use.
Wusthof-With more than 100 years of experience making kitchen knives, the German company Wusthof is a popular choice for professional chefs and home cooks alike. It manufactures every kitchen knife from hand to perfection and is a popular choice among those looking for the best kitchen knives.
Global-Global designs stainless steel kitchen knives from the tip to the end of the handle. The edges are straight and sharp, and the balance between metal and handle is impressive.
Zwilling J.A Henckels– A German company, Zwilling J.A Henckels is known for its fine-edge blades and ergonomically designed handles. It creates premium kitchen knives for both home and commercial use.
Mac– Mac specializes in designing and manufacturing precision tools and blades made of high-grade steel. The knives are durable and sharp, while the handles feature secure grips for extra safety.
Shun-Probably the best Japanese brand due to its creative and innovative designs. Shun takes a different approach by creating beautiful patterns and upholding the ancient tradition of samurai swordsmiths.
Victorinox-It boasts razor-sharp edges with comfortable, ergonomically designed handles. Victorinox stands out as a low-cost option among other premium brands.
Lamson-The company designs its knives with the end-user in mind. Lamson carefully considers each blade's design, size, and shape to ensure ease of use, comfort, and safety.
Buyers Guide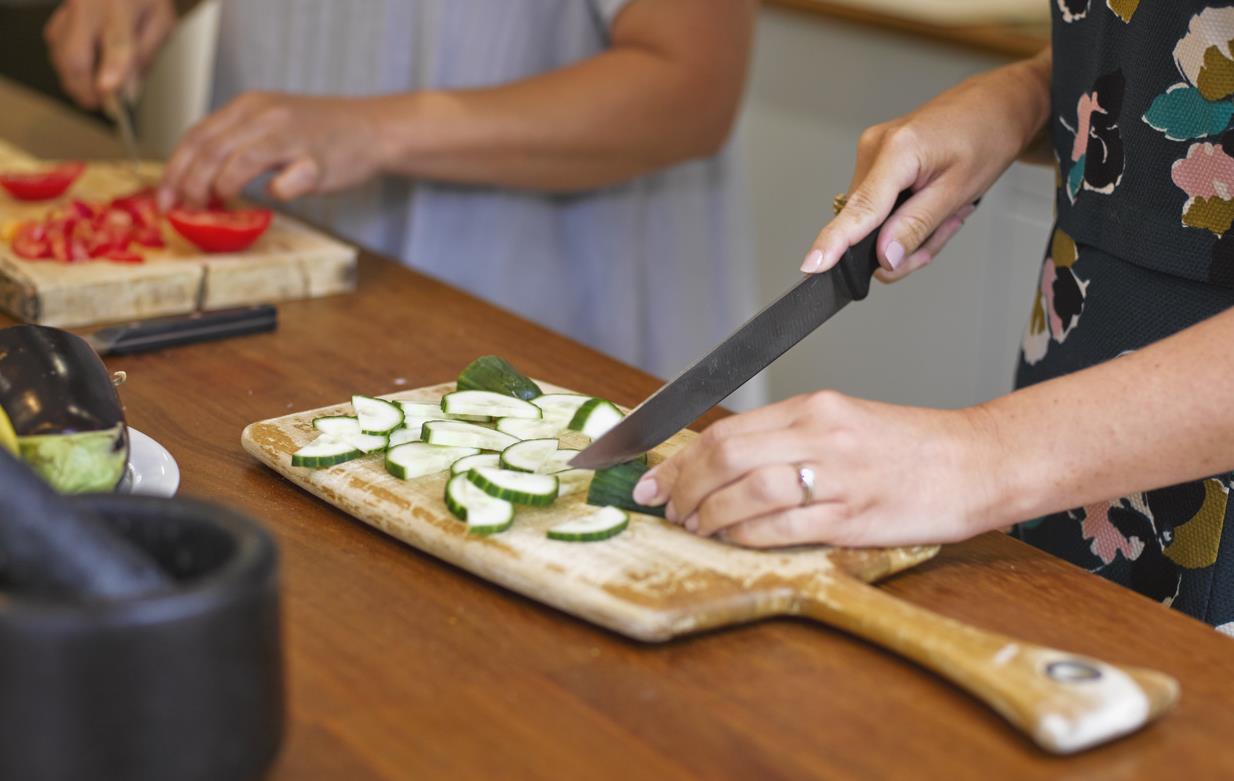 The best kitchen knives are dependable, sturdy, and sharp. They should also withstand abuse from the toughest of users while maintaining optimum performance levels.
Things to consider before buying a kitchen knife
Below are things you need to consider before you make a purchase:
Material quality
Most brands forge kitchen knives from high carbon steel, a tough alloy that holds its edge better than stainless steel. High-carbon steel is preferred over stainless steel because it retains its edge for longer and doesn't bend or flake as easily.
However, other materials such as Damascus steel or ceramic materials are perfect for those who want premium quality knives. Damascus steel combines two different types of steel, while ceramic blades offer a non-stick surface and rust resistance.
Weight distribution
A great knife should not be the heaviest or the lightest. Weight distribution is important to keep the blade on track, especially during a cutting motion. It should have just enough heft to be comfortable throughout various uses without being too heavy or lightweight.
Size
Size is just as important as weight distribution. A knife that is too small or large for its user is a recipe for disaster. A chef's knife should be about 8-11 inches long, a paring knife about 3.25-4 inches, and bread knives should measure 8-10 inches.
Handle material
A well-designed knife features a handle that provides comfort over extended use. Wood is superior to plastic, while rubber and metal handles are less ergonomic than the rest. Whatever your preference, it should feel comfortable in your hands.
Black pakkawood handles are resistant to various harsh chemicals and are not affected by changes in temperature. They require little care, just a simple washing with soap and water at the end of each day.
Balance
Balance is critical with a kitchen knife. A good knife will feel anchored in the hand without being unstable or wobbly. It should feel easy to lift and hold, with minimal effort required to keep it steady while cutting ingredients.
For optimum balance, pick a knife with a weight distribution of around 50 percent handle and 50 percent blade. The knife should balance right where the cutting edge meets the handle.
Design of construction
A kitchen knife should have a design that allows it to withstand regular use over time, either through strong bonding or durable materials. It should be well-constructed without sharp edges and seams, as those can nick your hands while you use the knife.
How to care for a kitchen knife
Knife care is important to ensure it performs optimally when in use. Failure to clean and dry the knife can result in rusting, affecting blade performance and safety.
General knife care tips
Below are some general care tips:
Cleaning
Start by removing the food particles stuck on the blade using a brush. If there's still grime, soak it in hot water for about 15 minutes and use dishwashing soap to remove everything thoroughly. Once done, dry the blade with a clean kitchen towel and stow it away in a knife block or drawer.
Sharpening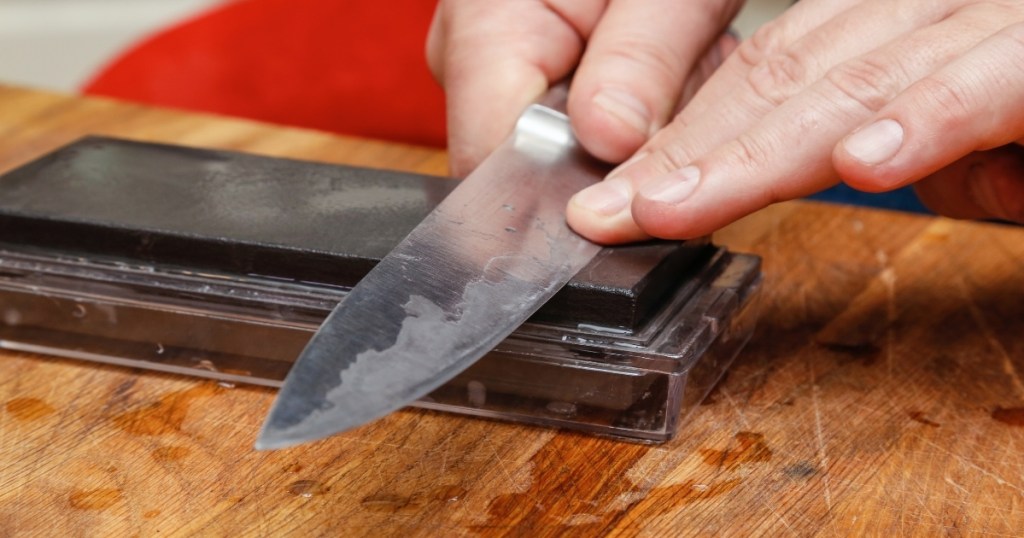 Regular sharpening and honing keep the blade in excellent condition. Sharp knives are safer than dull ones because they require less force and pressure. It's also easier to cut food with a sharp blade, reducing the risk of accidents.
You can use a knife sharpener to sharpen a blade or use a honing rode to straighten its edges. Most chefs recommend using a whetstone to sharpen knives because it works well with high-carbon blades. Use oil when sharpening to facilitate the process and wipe off any residual oil once you finish.
Storage
The best way to store your knife is in a knife block or drawer insert. There are other knife storage solutions available in the market, but using a block to hold your knives will let you store several simultaneously while keeping them visible and accessible.
Do's and don'ts with kitchen knife care
Below is a list of dos and don'ts for kitchen knife care:
Don't dishwash your knives
Use the appropriate kitchen block when storing knives
Don't use your knives as screwdrivers
Don't leave knives submerged in water for long periods
Use wooden or plastic cutting boards to avoid dulling the blades
Don't store knives alongside other kitchen utensils
Kitchen knife FAQs
Takeaway
The best kitchen knives have a good balance between design, functionality, and performance. They should feel comfortable to grip and have quality construction materials that can withstand regular use. You should also consider the storage options available for your knives to keep them clean, sharp, and safe from accidents.
Visit our store for high-quality kitchen knives that will change the way you cook.