Hand-forged kitchen knives may sound like very exotic and expensive items that you can never own. Thankfully, these types of knives are becoming more accessible to people with tighter budgets. There are plenty of models to choose from, but what makes them so special anyway?
Hand-forged knives are generally hard, sharp, and remain effective for a long time. They require good care but little maintenance. Handmade knives also generally have bolsters and full tangs which makes them very balanced and comfortable to hold.
We will discuss the pros and cons of using a hand-forged kitchen knife to help you decide if you would benefit from owning one. We will also mention some of the best brands that sell these fantastic knives. Now let's get started!
What is a hand-forged knife?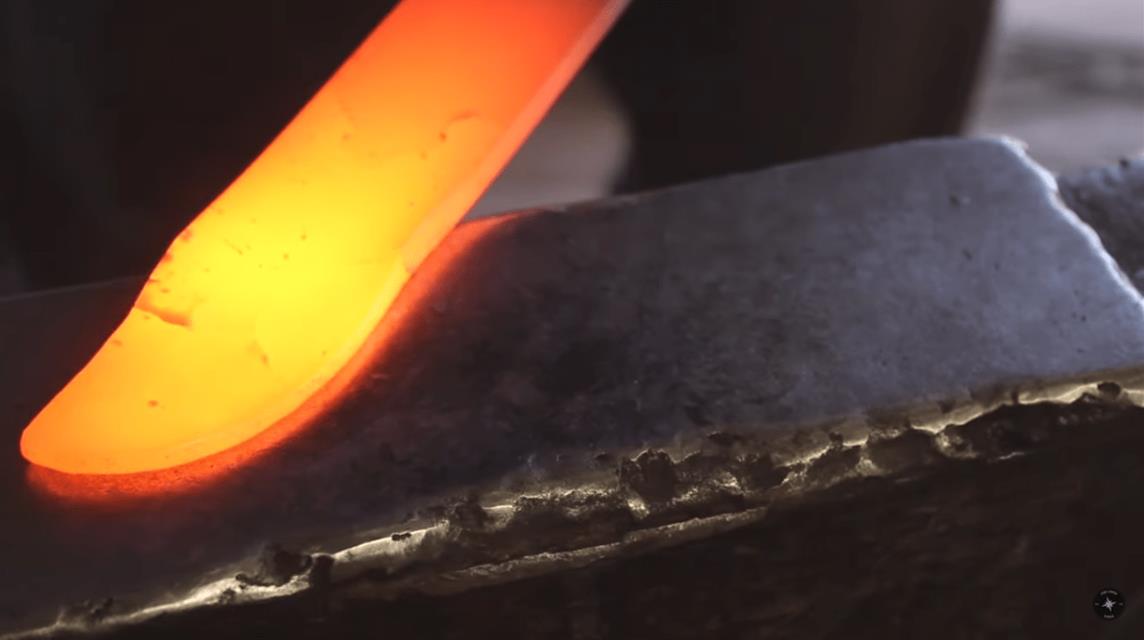 A hand-forged knife has a different manufacturing process to mass-produced knives. Knives made in a factory are also known as "stamped knives" because they are cut out of a sheet of metal (typically stainless steel) using an automated machine. This produces thousands of blades with virtually identical dimensions and properties.
Hand-forged blades are different because each one is unique. Every knife made with the forging process is hammered and shaped by skilled craftsmen with years of experience, though some craftsmen use a pressing machine for assistance. The hammering increases the blade's hardness. After this, the blade can receive special heat treatment and grinding to create an especially hard and sharp edge.
Defining features of a hand-made blade are a built-in bolster and a full tang in the handle. In addition, hand-forged knives can have beautiful individual finishing touches such as a surface finish, etching, or engraving. Overall, each knife is the product of hard work and careful attention.
The amount of effort required to produce a premium forged knife is often reflected by the price. The best knives are not cheap, but you can expect them to last for generations. This does not mean that stamped knives are of poor quality ― rather, that a forged blade is a piece of individual craftsmanship and sometimes even art.
Do you need a handmade knife?
As we explained above, the difference between a handmade knife and a factory-produced knife is not just quality. A hand-forged knife, with its large bolster and full tang, is often heavier and more balanced. With more of its weight in the handle section, your hand will not tire as easily when using this knife. Some people enjoy the balanced feel of a forged knife, while others prefer using a lighter stamped knife.
Another key aspect is flexibility. Mass-produced knives tend to be more flexible since they are cut out from thin metal sheets of stainless steel (mostly, but not always). While they can be hardened somewhat with heat treatment, these knives are usually a bit flimsy compared to a hand-forged equivalent. If you wish to cut tough ingredients without the knife flexing, you might like a more rigid handmade blade.
There is also the matter of edge retention. The best-quality hand-forged knives are made with carbon steel, which stays sharper for longer. Sometimes handmade knives are produced with other alloys instead. Either way, a knife from an assembly line typically needs more frequent sharpening to perform well.
Today you can choose from more knives and more companies than ever before. That means that even if your preference is hand-forged, you can probably find a stamped knife that fits your hands and cooking style. Thus, you may not absolutely need a hand-forged knife.
However, there are clear physical and visual distinctions between hand- and factory-made knives. If you like the solid build of a handmade knife with its durable and sharp edge, nothing can replace it. Also, a hand-forged knife represents a unique piece of work from a skilled knifemaker. Buying a knife off the shelf simply gives you a standard factory-produced tool.
Product recommendations
If you are looking to buy your first handmade knife and wish to experience superior cutting quality (without breaking the bank!) we think you might like one of these options.
HDMD hand-forged chef knife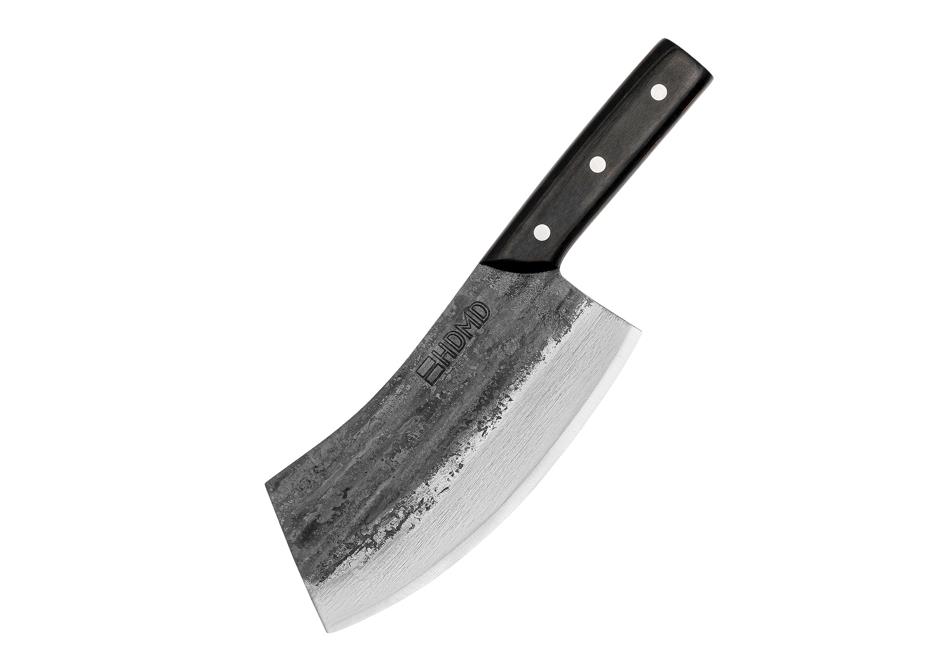 The signature product of HDMD Knives features a blade that measures 3.7 x 7.3 inches long, yet it is only 0.1 inches thick. While it is called a "chef knife" you could use it to prepare food during hunting or camping too.
Features
The high-carbon steel blade is hammered into shape by blacksmiths, which makes it sturdy, sharp, and ensures it will last for decades.
This chef's knife has a handle made from black pakkawood. This is hardwood impregnated with plastic resin to make it waterproof, resistant to cracking, and easy to polish.
Do not be fooled by the sturdy construction of the hand-forged chef knife from HDMD. It weighs less than a pound, so you will experience no trouble when trying to cut through ingredients at a high speed.
The full tang ensures an even weight distribution to save your hands from fatigue.
The curved edge will help you to roll the knife along your cutting board to slice through meat, fish, or vegetables.
Overall, this is a versatile carbon steel chef knife that looks and works superbly in many indoor and outdoor settings.
Downsides
The curved edge and hard blade material make this knife tricky to sharpen.
The unconventional blade shape can make storage a challenge. It is not easy to find a sheath or knife block that can accommodate this type of blade, although there are other options.
HDMD Serbian chef knife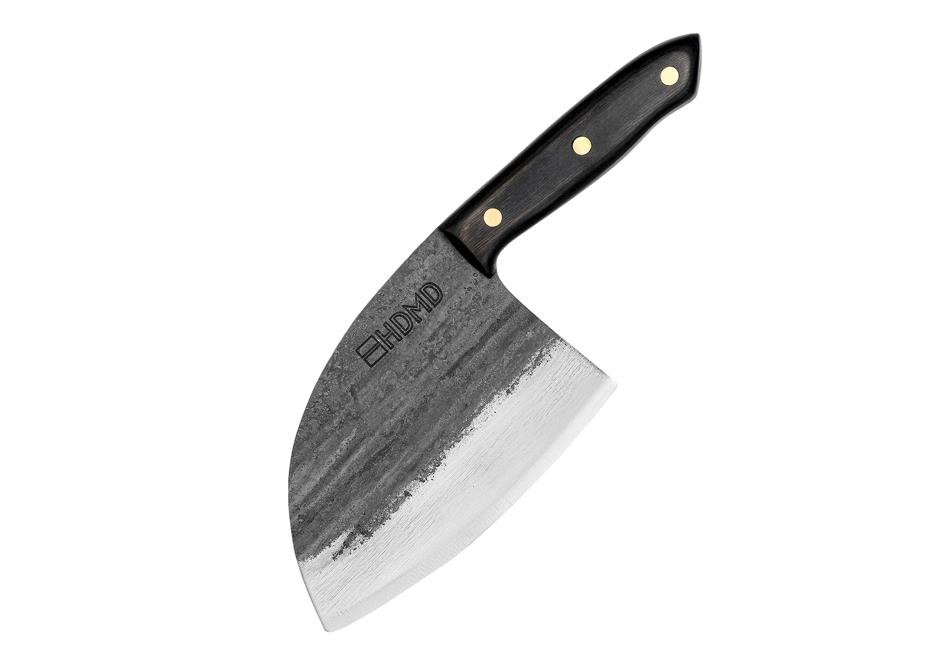 The Serbian chef knife from HDMD is a beastly addition to your kitchen. The blade's dimensions are 6.3 x 3.7 x 0.1 inches. Its compact build and flat edge allow you to put lots of pressure on tough ingredients and chop through them with little effort. However, it's not suitable for bone cuttings on animal carcasses.
Features
Much like HDMD's hand-forged knife, the blade is the result of skilled knifemakers hammering and finishing high-carbon steel for hours.
You might be distracted by the bulky appearance of the knife, but it is sharp enough to cut through wood. Also, the hard blade material ensures that the edge will stay sharp for longer than on most knives.
While this rugged knife packs a punch, it too is lightweight. In fact, it is slightly lighter than the hand-forged chef knife.
This knife features black pakkawood on its handle which will not crack or degrade, even after hundreds of washes.
The blade has a similar shape to a Japanese santoku knife (albeit wider). Its flat edge is perfect for a vertical chopping motion, while the tip section can make more delicate cuts.
Downsides
The blade of the Serbian chef knife is relatively short. The short cutting edge makes it less useful for slicing large pieces of meat.
Since the blade is very wide, it experiences more friction than other knives and could damage ingredients while cutting. Therefore, you must be careful when preparing delicate foods like cheese or fish with this knife.
What to consider before purchasing a hand-forged knife
Feel & appearance
Even if you definitely like the handmade style of knife, you need to be sure that it feels good in your hands. It's pointless to invest money in a new tool, only to find that it does not fit your hands and is unpleasant to use. Before buying, you should ensure that the knife's handle is comfortable and that its weight distribution suits your style of cutting. In particular, the handle material should feel pleasant to touch.
Furthermore, if you have to wash, maintain, and look at your knife every time you cook, it helps if you find the knife beautiful.
Price
It is no secret that some of the more expensive knives on the market are hand-forged. Nowadays though, handmade knives do not have to be extremely expensive. Craftsmen can use hydraulic press machines to help them with the hammering process. The faster and easier manufacture reduces labor costs and therefore the price of the knife.
On average though, hand-forged knives are somewhat more expensive than those from a factory, so bear this in mind before you start shopping.
Maintenance
If you own a hand-forged carbon steel kitchen knife, you will not have to sharpen it very often.
An important feature of a handmade knife is the blade's beautiful surface finish. Unlike with a shiny stainless steel blade from an assembly line, you need to take extra care to preserve the original markings on your handmade blade.
Caring for a hand-forged knife
Sharpening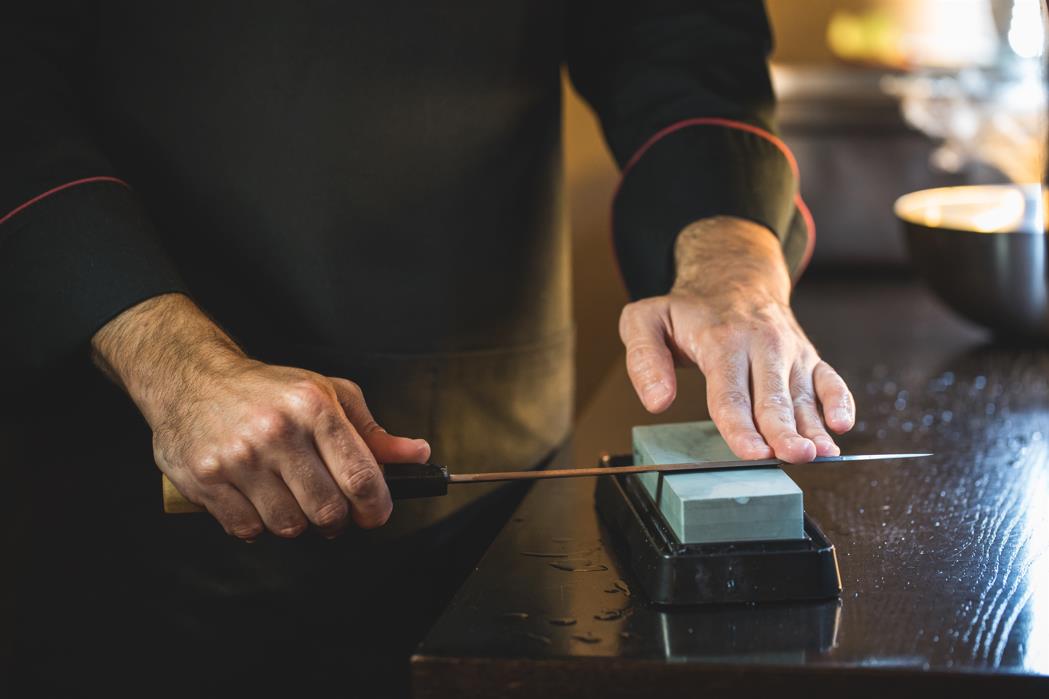 Your knife is only truly useful when its edge is sharp. More importantly, a sharper knife is a safer knife. You do not want to take any chances with a stunning hand-forged blade. Avoid sharpening "hacks" or low-quality sharpening devices, and learn how to sharpen it with a whetstone instead.
The basic whetstone sharpening process involves first sliding the edge of your knife carefully along the rough side of the whetstone (at the correct angle). Once you have done this several times, you can refine the edge by switching the finer side of the whetstone. Your knife probably has a double bevel edge, so you will need to sharpen both sides of the edge.
When sliding your knife along the whetstone you must always keep your fingers out of the way and never point the knife towards yourself. After sharpening, give your knife a thorough clean to remove any metal fragments.
For more detailed instructions on using a whetstone be sure to check this guide out.
Cleaning
The most hygienic, gentle, and effective way to clean any kitchen utensil is with hot water, soap, and a soft sponge. Once you have finished preparing your ingredients, disinfect your knife by rubbing it with a soapy sponge under hot water. Do not soak your metal knife in boiling water for too long because this can distort the blade.
While carbon steel has some beneficial mechanical properties, it is more prone to rusting than its stainless steel counterparts. Therefore, once you have cleaned the blade, you must make sure that you dry it promptly to prevent rusting. Do so with a clean towel or tissue and return it to its storage location.
The appearance of rust does not mean that your blade is completely ruined but it is not easy to remove. Furthermore, taking rust off your blade will no doubt harm the finish.
Storage
As with any kitchen knife, you want to preserve the sharp edge and prevent dents from forming on the flat faces. As such, you must avoid temptations to place your hand-forged knife into drawers with other cutlery, which will likely damage the blade.
Instead, opt for a more secure option like a knife rack, block, or sheath. If space in your kitchen is limited, you can consider under-cabinet storage options too.
Top brands to consider
Shun: Shun knives are known for having success in Western markets due to their lightweight build with sharp edges that cut precisely. Despite selling knives in huge numbers, Shun has not compromised the quality. Therefore, each knife is handcrafted and undergoes 100+ production steps before going on sale. Shun is proud of its Japanese knifemaking traditions but makes use of modern manufacturing techniques and materials to deliver premium kitchen knives.
Misono: Misono started by making blades for vegetable peelers. Now it is one of Japan's best-known manufacturers of Western-style kitchen knives. Their products are made mostly by hand by a small team of expert workers and are then inspected thoroughly.
Global: Global is a Japanese knife manufacturer whose methods are based on the original techniques used to forge Samurai swords. Their knives are made from high-chromium stainless steel for excellent rust resistance. The handles and blades are welded together, then sharpened and finished (both by hand).
Find a hand-forged knife that suits you
We hope that you have some idea of the best brands for handmade knives. If you are interested in our range of knives, you can browse them here.