Is your knife tough enough to take on abuse when handling raw meat? Having a good quality knife makes all the difference in the culinary world. This is especially true when dealing with special tasks such as boning, butchering, trimming and even slicing meat.
For this reason, it is high time that you elevate your culinary game and buy the right knife to add to your kitchen toolset. Having the best knife for cutting raw meat will allow you to get the most out of your tool and prepare delicious, meaty delicacies each time.
Best knives for cutting raw meat
The three best knives for cutting raw meat are the mighty cleaver, the all-rounder chef knife, and the ferocious butcher knife.
Cleaver-best for hacking meat and bone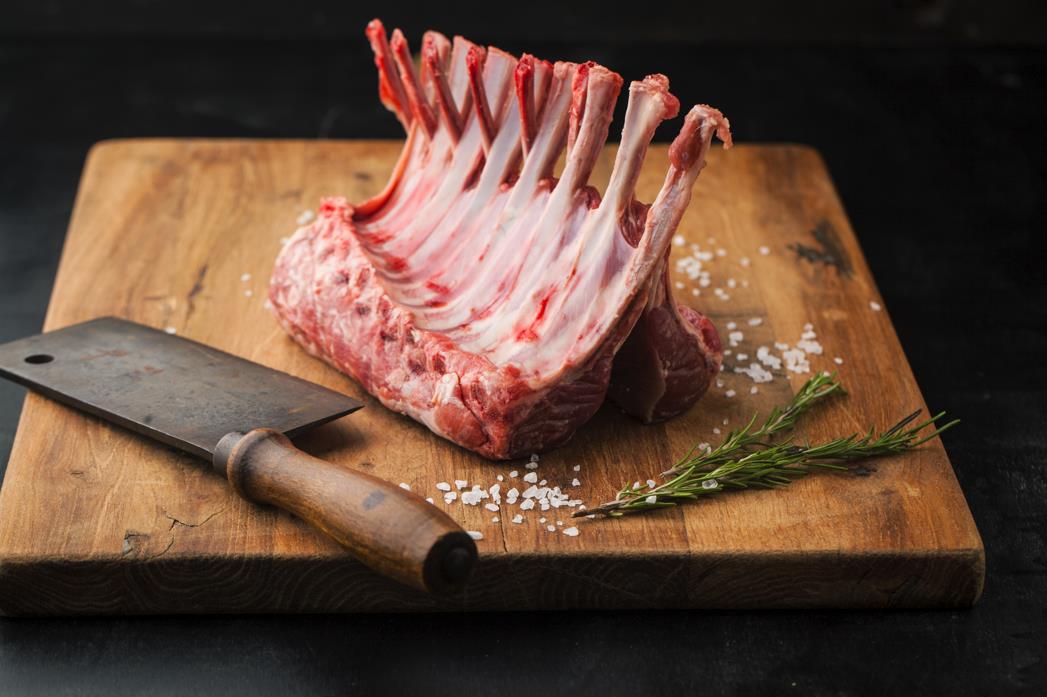 The cleaver is one of the largest as well as heaviest knives in a chef's arsenal. Resembling a square or rectangle-bladed hatchet, the knife has a thick, tough metal that relies on its utter momentum and weight to tackle any ingredient that comes its way.
The cleaver knife is mainly used to hack through meat, bone, and cartilage. Its flat side can help pound and tenderize meat as well. Moreover, it can also take down hard-shelled fruits and vegetables. As evident, the possibilities with using a cleaver are unlimited.
Chef knife-best for slicing raw meat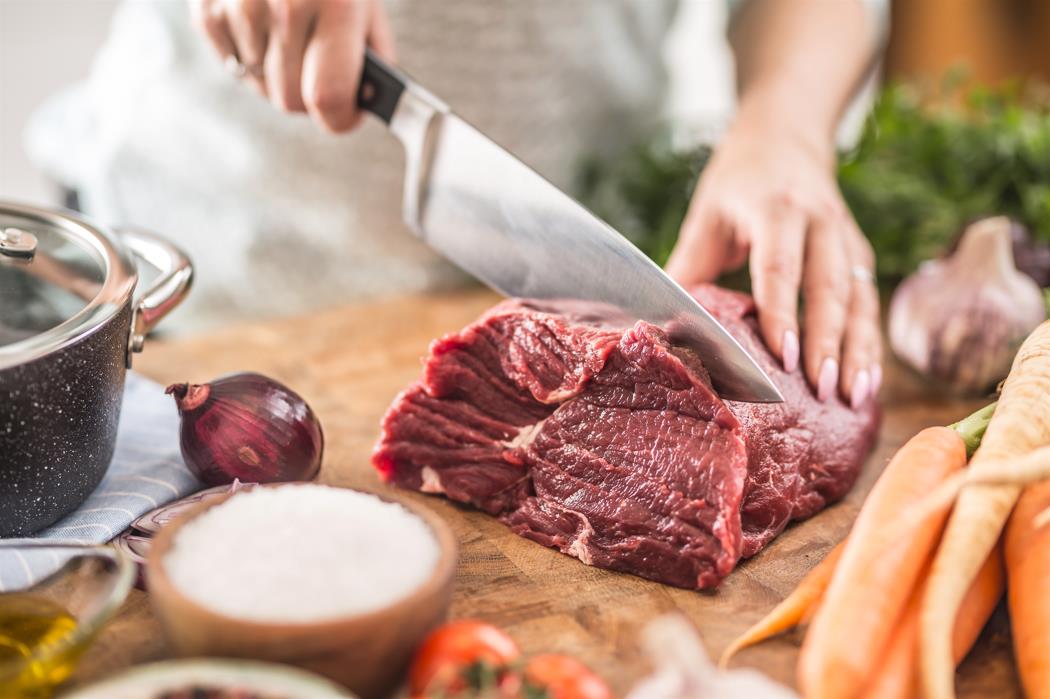 The chef knife is an all-purpose tool that has a broad, curved blade along with a pointed tip. The knife is generally 8-10 inches in length and is designed to handle a wide array of tasks.
Large tasks, medium-sized tasks, and even prep work are all possible with a chef knife. Its curved blade and pointed tip are best used for slitting and slicing through raw meat and even tiny bones. However, prolonged use for these tasks may chip the knife edge. Therefore, sharpen and maintain your knife as needed.
Butcher knife-best for dressing and butchering animal carcass
Often confused with a cleaver, a butcher knife is an extremely sharp and thick knife with a tapered design for durability and flexibility. A butcher knife often comes with a granton edge that allows easy meat slicing without tearing or shreds.
There are many uses of a butcher knife, one primarily being to butcher animal carcasses. Being one of the best knives to cut meat, the thick and durable blade can break down tough meat and bone and make its way easily through skin, fat and bone. It is used by butchers, chefs, and hunters alike.
Product recommendations
In order to get the most out of your meat, here is a list of best knives for cutting raw meat that we would recommend:
HDMD Serbian chef knife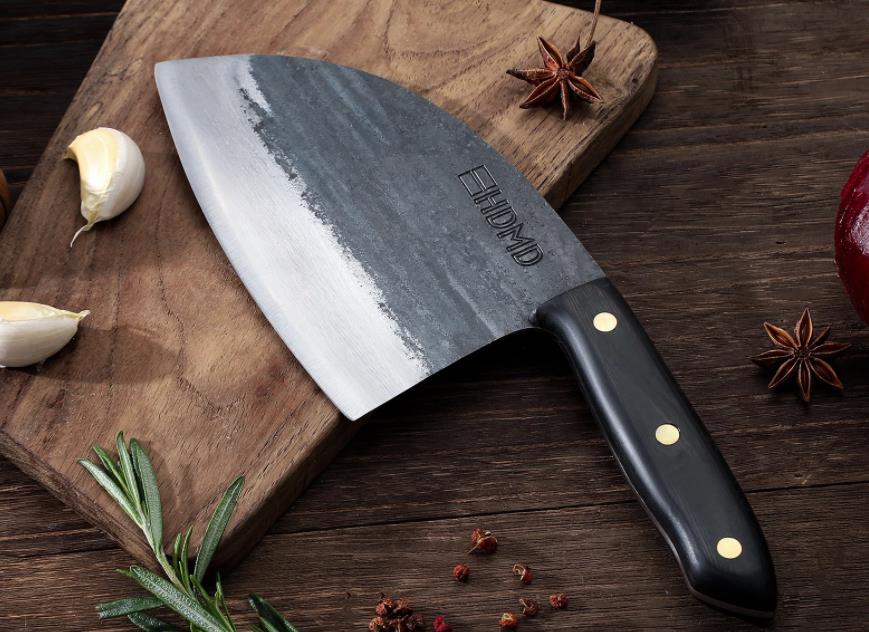 The HDMD Serbian chef knife hones the performance, heft, and durability of a premium-priced chef knife but comes at a better value. It isn't just a conventional chef knife. Its 6-inch curved, sturdy blade comes with a pointed tip that has been wisely articulated to achieve heavy-duty tasks with superior ease, even cutting raw meat.
The knife is heavier than traditional chef knives, with a hardness level between 56-58 HRC. This makes it an extremely durable knife that won't break your trust in the midst of your important meal preps. Thanks to the repeated hammering process it undergoes, this beauty will last you for years to come.
Main features
The HDMD Serbian chef knife has been hand-forged from high carbon steel to provide the user with a razor-sharp, durable blade that won't chip or crack midway while they whack through raw meat.
What's more-the knife comes with a pointed tip to help make perfect incisions and slits through meaty ingredients as well as fruits and veggies. Also, the blade comes attached with a wooden black pakkawood handle that is not only comfortable to hold but prevents fatigue while working long hours.
Pros
Budget-friendly
Versatile tool that can accomplish a wide variety of tasks
Bulky build with a thin blade to make precision slits and cuts
Hand-forged carbon steel blade that is ultra-sharp and durable
Wear-resistant, durable handle designed for comfortable use
Cons
Large build may not be ideal for small hands or the novice user, pair it with a paring knife for smaller tasks
Requires careful maintenance to avoid oxidation
Heavier than a traditional chef knife
HDMD hand-forged chef knife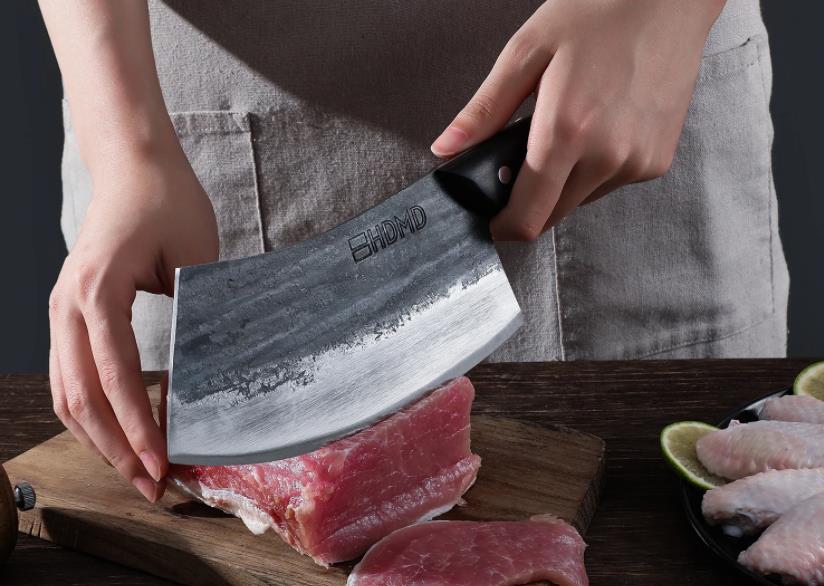 The HDMD hand-forged chef knife is a high-performance, ferocious piece of metal that can obliterate any culinary ingredient that crosses its path. This 12-ounce sturdy tool is crafted with the artisan black hammering technique and hand-forged to provide optimal sharpness for your meaty endeavors.
Main features
HDMD chef knife is a 7-inch multi-purpose tool designed to function both as a cleaver and a chef knife. Crafted with a unique design, its blade construction has been carefully calculated to provide maximum control and sufficient knuckle clearance to make clean cuts of meat.
The versatile tool isn't just handy with meat, but can tackle fruits and vegetables with similar ease. Its high-carbon steel blade is just as durable as it is sharp, engulfed in a black, pakkawood handle that provides superior comfort and handling ease.
Pros
Durable blade construction that can resist chips and cracks while making blows
Hand-forged, precision blade that is ultra-sharp and doesn't demand frequent sharpening
A versatile tool that can be used indoor for regular meal preps, as well as outdoor for camping
Moderate-weight knife to easily accommodate both a home-cook as well as the culinary expert
Cons
Sharpening and honing may seem tricky due to the curved blade design.
Prone to oxidation if not maintained. Learn how to care for your carbon steel knives here.
Requires hand-wash and drying after each use.
Top brands to consider
TUO: TUO makes some of the most durable and high-quality knives in the market. Some of the best German steel and Damascus steel chef knives and cleavers are found under this brand.
MAC: Knives under MAC are precision knives made by Japanese craftsmen known for their razor-sharp edges, good balance, as well as comfortable handle designs.
Victorinox: Victorinox provides some of the best-value knives of both stamped and forged varieties. Moreover, it boasts razor-sharp edges, unique designs, and comfortable handles as a part of its brand.
Wusthof: Wusthof is one of the premium German knife-making brands in the market that makes precision-made, high-carbon stainless steel knives.
Dalstrong: A relatively new brand, Dalstrong has made a name for itself with its high quality, aesthetically pleasing professional knives that come in different varieties at good price points.
Zwilling J.A Henckels: This knife brand uses Friodur ice-hardening process to make high carbon stainless steel knives of extensive varieties at premium price points.
Global: you can get some of the most unique knives at Global characterized by high-quality steel with sleek designs, light-weight, and razor-sharp edges.
Shun: Shun is a Japanese knife-making brand that boasts articulate blade designs with unique patterns and made from refined stainless steel.
Buyer's guide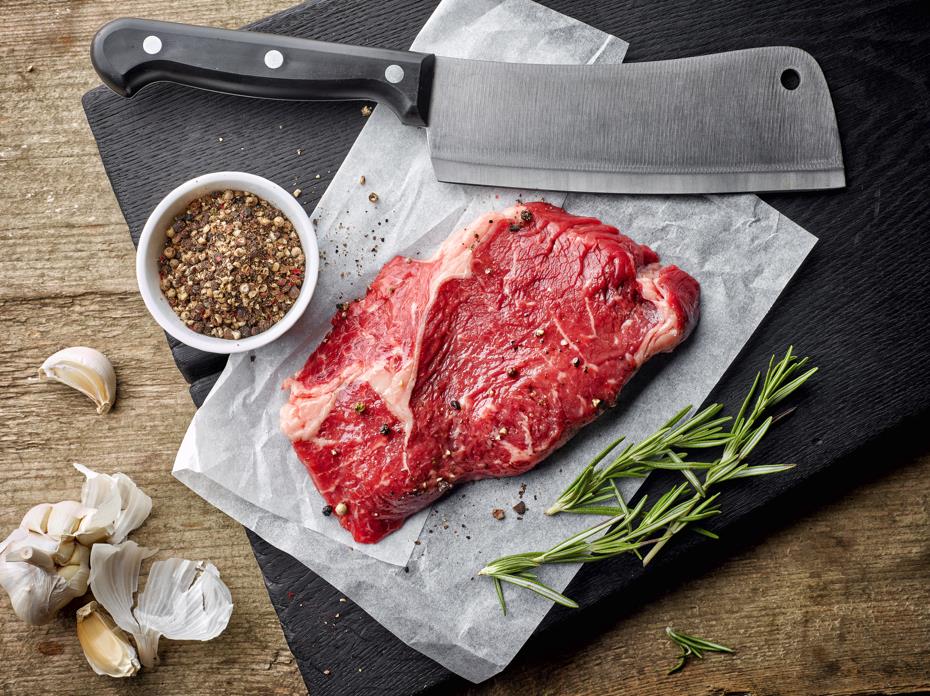 We hope that our product recommendations will help you narrow down the decision regarding choosing the best knife for cutting raw meat. If you still feel a tad bit indecisive, go through this detailed buyer's guide to make a clearer decision:
Considerations before buying the best knife for cutting raw meat
Weight and balance
While sturdy and heavy knives make the heftiest blows, they mustn't be too heavy that they cause you discomfort or uneasiness. If a knife is too heavy, you won't be able to properly lift it and make the right precision cuts on your raw meat. For this reason, choose a knife that you can use comfortably without straining your wrist.
Maintenance
If you want your knife to last longer, it is utterly important for you to maintain it. Choose a knife that you can maintain easily. Some knives require hand-washing and drying only. Others are dish-washer friendly, and some require oiling with food-grade mineral oil.
Look for the instructions by the knife manufacturer related to knife maintenance and follow them religiously. This will allow you to use your knife for many years to come.
Handle
Knife handles must be chosen carefully as they determine holding ease and comfort. Moreover, they protect you from fatigue during long hours of use.
You can choose a knife handle based on your budget, preference, and requirement. The choices you have include natural materials such as wood and leather which may wear out faster. You can also choose from synthetic options such as metal that are strong yet lightweight.
Blade
It is noted here that meat cutting knives have longer blades, typically 7-12 inches in length. The edges of the blades hone grooves to prevent the meat from sticking. Moreover, they are characterized by razor-sharp edges and rounded tips. You may look for these features when choosing your knife blade.
Function
The best knife for cutting raw meat also depends upon what kind of meat you will be handling, as well as the specialized task you ought to perform with it.
Cleavers are best used for hacking through meat and bone. Chef knives are great for slicing and making slits and incisions through meat and joints. Lastly, butcher knives are used professionally for butchering and dressing animal carcasses. They can also work through meat, bone, skin, and cartilage.
Price
Last but not the least, price is also an important determinant of your purchase decision. Buy a knife that provides important functions at good value. HDMD is one such brand providing splurge-worthy product features at an affordable price.
FAQs
Final verdict
When choosing the best knife for cutting raw meat, there is no one size fits all. What may work for you may not work for someone else. It all depends on your preferences and requirements.
After going through this guide, we are sure you must have figured which knife will serve you best. What are you waiting for? Go ahead and buy that knife!