The culinary world worships the chef knife. Truly, it is an all-rounder kitchen tool that deserves all the respect it can get. From slicing and dicing to chopping, pitting, and smashing, the possibilities are unlimited with this all-purpose kitchen tool.
The chef knife, generally 6-12 inches in length, is a versatile tool characterized by an upward curved blade and a pointed tip. The knife can handle nearly all sorts of kitchen tasks, as well as help with small prep work.
Due to the versatility of the tool, it is important for a chef to have a good quality chef knife in their arsenal. The chef knife must be comfortable to hold, aesthetically pleasing to look at, and durable enough to last you for years.
For this reason, we have crafted this guide to help you buy the ultimate chef knife that is within a reasonable enough price range. Premium chef knives can cost you anywhere in the range of $500-$1000. However, you can buy the best chef knife under $200 that will be good enough to combat the expensive variety, yet doesn't cost you an arm and leg.
Product recommendations
HDMD Serbian chef knife- $79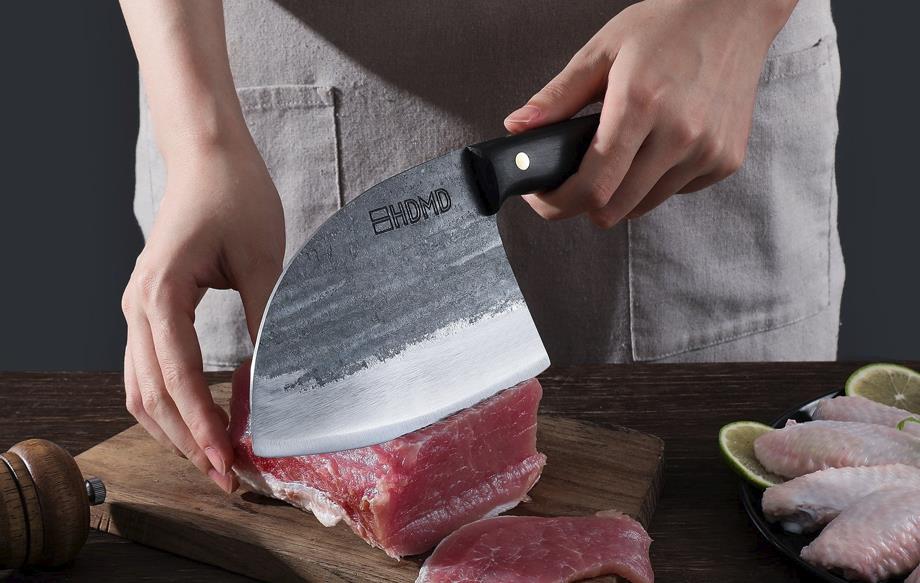 The HDMD Serbian chef knife is the ultimate chef knife that you can buy well under $200. Forged from a single piece of high carbon steel, the knife is hammered repeatedly into shape. Truly so, its ruggedness is a reflection of these rigorous hours of labor.
This chef knife is the powerhouse of any kitchen that can perform nearly all sorts of tasks. Heavier than the traditional chef knife, it can handle much bigger tasks than conventional knives and comes at a very affordable price point as well.
Main features
The HDMD Serbian chef knife comes with a 6-inch compact knife blade along with a pointed tip for greater maneuverability as well as easier control. The knife is an extremely versatile tool that can handle all chopping, slicing, dicing and mincing tasks with superior ease.
The curved knife blade is made from high carbon steel to offer razor-sharpness and durability. This in turn helps to handle the toughest of ingredients and glide through them effortlessly. Due to its blade material, it can also retain its edge for longer.
Pros
Premium product features at an affordable price point.
Compact knife blade along with lengthy handle for easy control and anti-slip hold.
Razor-sharp and durable blade that can resist cracks and chips.
Black pakkawood handle is wear-resistant and durable, also provides holding ease.
Hand-forged chef knife with a thin blade to help make precision based cuts.
Cons
Requires maintenance for longer use
Honing and sharpening need caution and practice
Heavier than traditional chef knives.
HDMD hand-forged chef knife- $79.00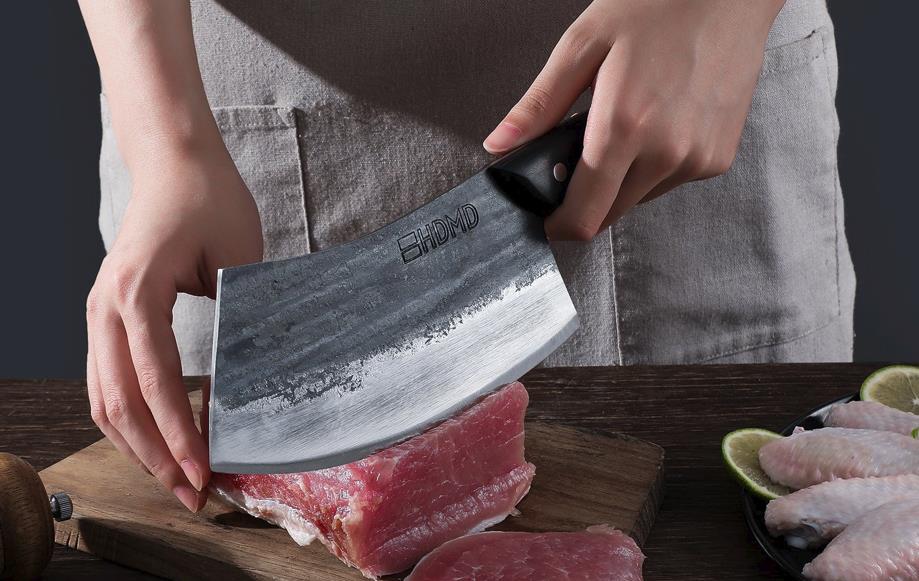 The HDMD hand-forged chef knife is a bigger and better version of the HDMD Serbian chef knife that you can get under $200. Forged from the best steel i.e. high carbon steel- it is designed to provide optimal durability, sharpness and edge retention to home-cook and professionals alike.
Characterized by a curved blade and a pointed tip, the chef knife can perform a wide array of tasks from chopping and dicing to slicing and mincing fruits, vegetables and meat.
Main features
The HDMD hand-forged chef knife is an all-purpose, versatile tool that can be used indoors as well as outdoors. The great thing about our star product is that it is handy enough to take on the role of a chef knife and ferocious enough to make cleaver-like blows through meat and soft bone.
It has been crafted with the artisan black hammering technique to provide razor-sharpness with edge retention that will last users for many years to come. Honing just the right weight and balance, the knife will provide a smooth cutting experience each time it is used.
Pros
Sharp cutting edge with superior edge retention that requires minimal sharpening sittings.
Works as both a chef knife and a cleaver.
Durable enough to resist cracks and chips while making blows.
Bulky build to tackle denser ingredients.
Cons
May feel heavy on the hands.
Can be hand-washed only and isn't dishwasher safe.
The shape of the blade makes sharpening a critical task.
Top brands to consider
HDMD: HDMD makes some of the best hand-forged knives from high-carbon steel at the most affordable price points.
Mac: Mac is a Japanese knives brand that specializes in making precision tools and offers a wide array of chef knives to choose from.
Zwilling J.A Henckels: Zwilling J.A Henckels is one of the oldest and largest German knife-making brands providing premium, high-quality knives.
Shun: Shun is a relatively new knife brand that has earned a name for itself for aesthetically pleasing, Japanese style knives in different varieties and price points.
Messermeister: German knife-making brand that makes premium quality, handcrafted chef knives and other cutlery as well as tools.
Wusthof: Another popular, German knife-making brand that makes premium chef knives and tools.
Global: A Japanese knife-making brand committed to Japanese knife-making techniques, offering razor-sharp edges, unique designs as well as high quality material.
Zelite Infinity: Premium knives are made at Zelite Infinity at competitive prices.
Dalstrong: Dalstrong has earned itself a name for making good quality, pleasant-looking knives at good value
Buyer's guide
Considerations when buying a chef knife under $200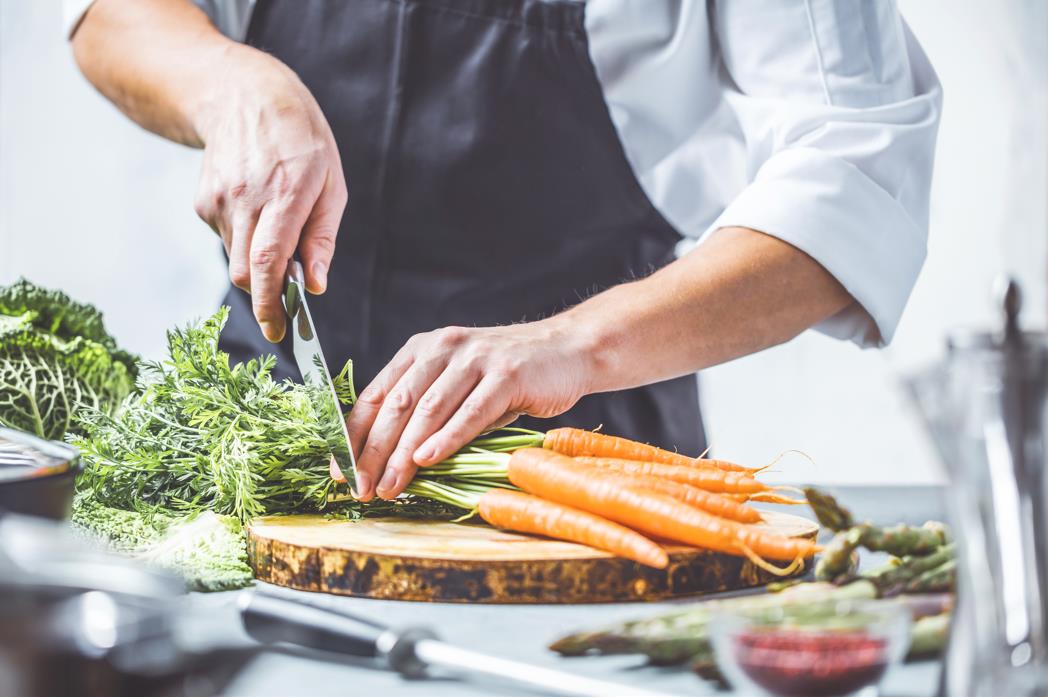 Blade length
Blade length determines how easy it will be to maneuver the knife. Chef knives are ideally 8 inches in length.
Knives longer than 8 inches are great for working on larger volumes of ingredients but tend to cause discomfort with use. On the other hand, anything under 8 inches will be agile to work with and easy to maneuver, but a hassle to use on ingredients of larger volumes.
Blade material
If you're going to spend almost $200 for a good quality chef knife, it pays to give considerable attention to the blade material. This is because the blade material determines its sharpness, durability, as well as edge retention.
Weight and balance
Weight and balance are subjective to personal preference. Many chefs prefer using heavier knives to get that extra heft and control, while many others prefer lighter tools for easier use.
Moreover, a knife must also be properly balanced and not feel heavier on either side of the blade or the handle. If it does, it will be uncomfortable to use. For checking both weight and balance, pick a knife and see what works for you.
Sharpness
A chef's knife is preferred because of the versatility it offers with different ingredients. Its frequent use can take a toll on the knife edge. This is why it is important that you choose a chef knife that is sharp, and stays sharp whilst requiring minimal sharpening sessions.
Many brands such as us at HDMD are using high-carbon steel in making knives that offer superior durability, sharpness, as well as edge retention.
Handle
Choose a handle that feels comfortable to hold and use. Consider the knife tang as well. Partial tangs work better if you're looking for a lightweight knife that is easy to maneuver, while the full tang is better if you ought to use your chef knife on tougher materials.
For a more effective grip such as the pinch grip, consider buying a chef knife with a sloped bolster. Alternatively, you can buy a full bolster knife or one with no bolster at all. Again, this factor is a matter of personal preference.
Knife care and maintenance
Knives need careful maintenance in order for them to last longer. Stainless steel can stain, carbon steel may discolor and rust if exposed to humidity, while stainless steel may also chip or crack if not properly taken care of.
As a general rule of thumb, always wash your knives with warm soap and water and pat dry. Store knives properly in blocks, sheaths, or other viable knife storage options.
How to care for your chef knife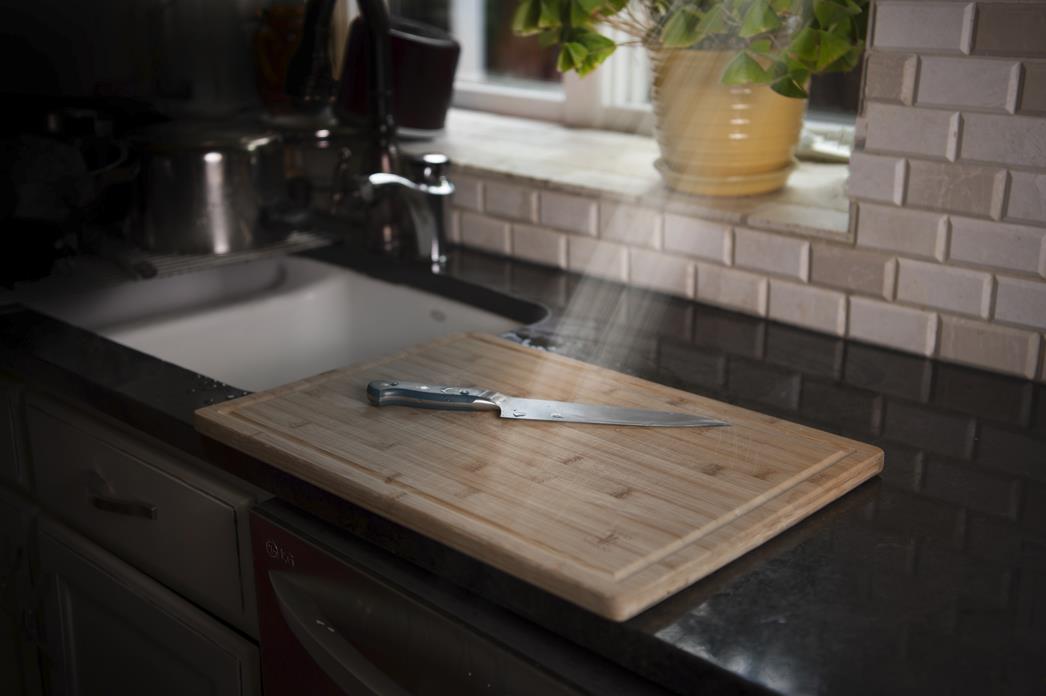 Caring for your chef knife will allow it to last longer. Follow these cleaning, sharpening and storage tips to protect your chef knife and enable it to last you for years to come:
Cleaning
Any knife worth buying requires washing it with warm soap and water only. Putting them in the dishwasher is usually not safe. This is because the dishwasher along with using harsh detergents dulls and damages the blade. Even if a knife manufacturer says otherwise, avoid putting them in the dishwasher at all.
Sharpening
Knives need to be sharpened regularly. Some knives require more sharpening than others. Sharp knives not only help improve the speed and precision of your cuts but also allow you to perform tasks safely. Dull knives are dangerous knives as they are prone to slipping.
The best sharpener for a knife is a whetstone. However, there are other knife sharpeners that you can learn how to use such as a manual sharpener and electrical sharpener. Alternatively, there are methods available to sharpen knives without using a knife sharpener at all.
Storing
Lastly, knives need to be stored properly in order to avoid damage to the blades. There are a number of knife storage solutions that you can employ for storing your knives, such as knife blocks, magnetic strips, and even in drawers and under cabinets.
FAQs
In conclusion
We hope that this article has helped you decide the best chef knife that you can buy for yourself under $200. Let's get going and buy that chef knife right away. Chop chop!