Wood has been a popular choice for handle material since the invention of knives. There are many explanations for slapping a wooden handle on a blade, whether functional or aesthetic.
When we say wooden knife handles, there isn't a single variety, and that's the beauty of it. There are plenty of trees giving us different types of woods that add characteristics to the knives we build.
Maple, oak, ebony, walnut, teak, and all the other different woods have their own qualities. With so many options, it's hard not to find the right wood for the perfect handle you anticipate.
This article will explain everything you need to know about wooden knife handles, summarize what to look for in a knife that comes with one, and things to keep in mind when shopping.
What is a wooden handle knife?
As simple as it gets, wooden handle knives are kitchen knives or other cutters that come with a handle made from wood, whether full or semi tang. For centuries, wooden handles have been the most accessible option – the variety of options and chemical compositions that harden the wood create the perfect handle material.
Nowadays, wooden knife handles are still a popular option, and most kitchen knives come with one, especially handmade knives. Here are some of our recommendations for knives with wooden handles.
HDMD Serbian Chef's Knife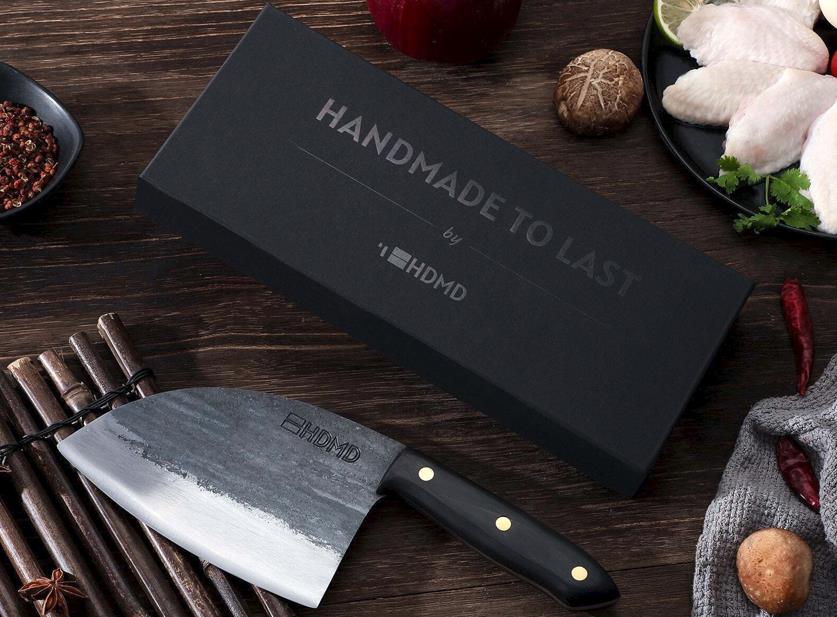 The HDMD Serbian Chef's Knife comes with a handle made from pakkawood. Although this type of wood isn't 100 percent produced from lumber, it's one of the well-performing wooden handle materials.
Natural wood is prone to warping and splitting when moisture and water come into play. Considering your knife will often get wet throughout its life, and some of the moisture will come from citruses like oranges and lemons, these would be inevitable with natural wood. That's why reinforced woods like pakkawood make a great handle material.
Undoubtedly, polishing the wood makes it nearly waterproof, but the polish tends to fade away with use and time, making the handle more susceptible to moisture damage.
Here are some of the HDMD Serbian Chef's Knife's wooden handle features.
Water-resistant: The pakkawood handle is essentially waterproof. No matter how wet it gets or covered in juices, it won't warp, split, or crack. The handle won't lose its polish and true color as long as it's not washed in the dishwasher.
Weight: Although there isn't a really accurate way to measure only a part of the knife's weight, the handle overall feels light in hand as it's balanced right.
Shape: Western and Japanese handles are the two primary handle types. While Japanese handles are unique to Japanese knives and are almost always made from wood, Western handles come in a wider variety. If you're looking for a Japanese handle, your options will be limited as there are only a handful to pick from, like santoku, gyuto, kiritsuke, and a few others.
Grip: The handle isn't entirely flat. It has subtle grooves that will fit your hand perfectly, giving you comfort and bringing accuracy to your cuts.
Size: The HDMD Serbian Chef's Knife comes with a rather long handle measuring 4.7 inches. The lengthy handle is made this way to ensure it delivers a firm grip with a tad bit of extra remaining to guarantee you don't drop it when using it with force.
Other features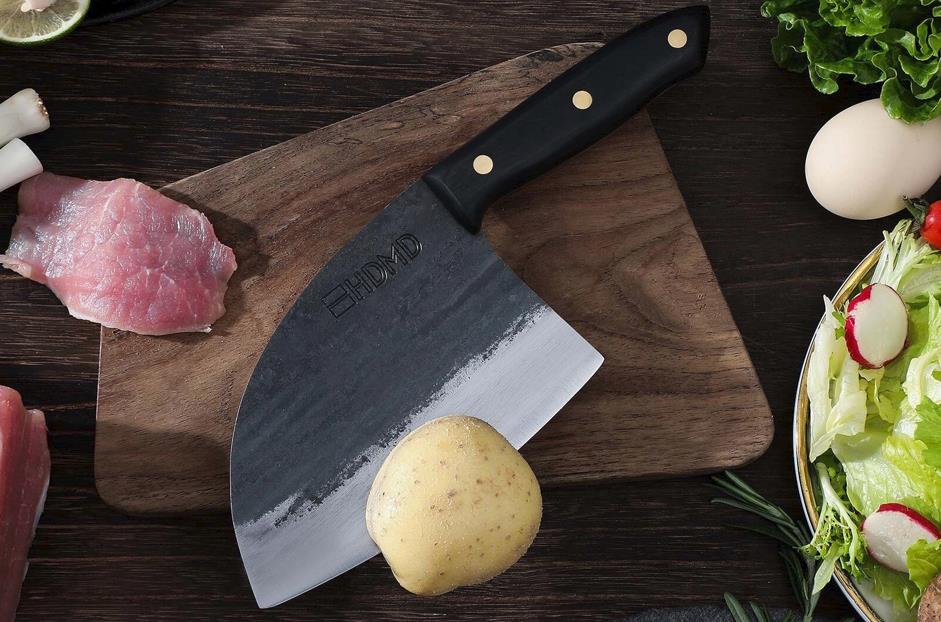 The HDMD Serbian Chef's Knife is an all-purpose handmade kitchen knife built with arguably the best steel for knife making: high carbon steel.
It features a wide yet thin blade that's pretty much adequate for cutting everything from vegetables to large fruits to meat. The narrowly curved edge makes it possible to cut ingredients in different ways, making it a versatile knife for everyone.
With the handle, the knife measures 11 inches. Cooks who aren't used to cutting ingredients with a blade profile like this might find it a bit too big. Still, the learning curve is pretty shallow, and many find it more enjoyable to slice ingredients to prepare dishes as it has a distinctive feel.
What you might not like about this knife, in particular, is the size. Not everyone is familiar with operating a big blade like this, and it can take some time to get used to the broad profile. Additionally, carbon steel requires more upkeep, and when overlooked, it can result in terrible oxidation like rusting.
Best brands to consider for wooden handle knives
Many knife manufacturers utilize wooden knife handles. Although it's hard to pinpoint them exactly, popular brands like Victorinox, Zwilling, Shun, and many others have knives with wooden handles in their collections.
Buyer's guide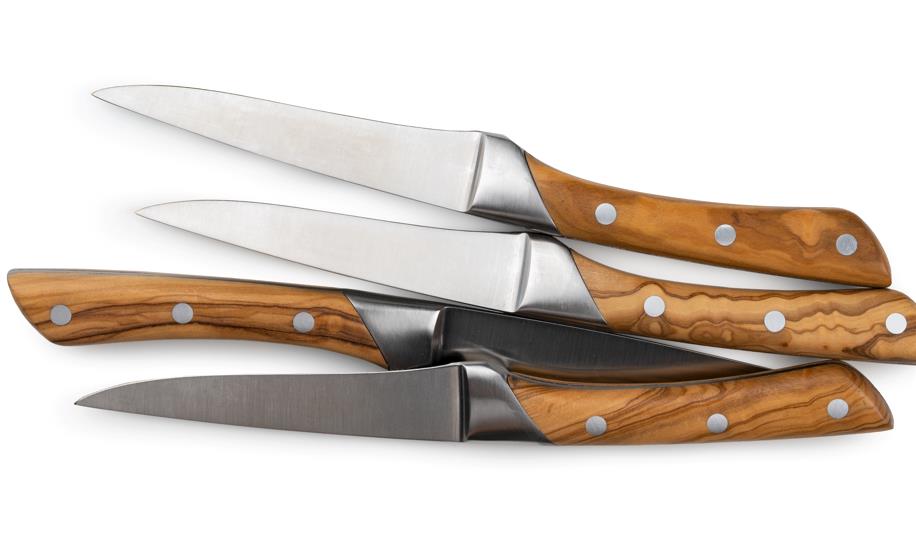 The following summarizes everything you should consider before buying a wooden handle kitchen knife.
Things to consider before buying a wooden handle knife
So you want a knife with a wooden handle – that alone will eliminate many of the options that come in your direction, but it doesn't mean that should be the only thing you consider.
A kitchen knife should be complete with everything you anticipate. Pay attention to where and how you're going to use the knife to make the right choice.
As for what type of wood to look for in a knife handle, you'll have many options. Generally, the wood used adds more aesthetic appeal to the handle than practicality as it's sanded and polished to endure moisture better.
For knife making, hardwood is favored for being dense, less porous, and having fine grains. Common hardwoods like oak, teak, meranti, and ebony are used for making handles, with ebony being an exceptional choice as it's one of the densest woods – so dense that it doesn't even float on water.
Nevertheless, your knife will get old with use and time, and the additives that make it more durable will lose their strength.
When that happens, the type of wood used is going to determine how long the handle lasts before replacing it. Although this process happens over an extended period, it's still worth considering.
Wood vs. other materials in knife handles
Other than wood, there are various knife handle materials. If you want your handles natural, leather is an option, but it's prone to decaying and shrinking in moist environments. It surely doesn't sound like a good one for kitchen knives.
In non-natural knife handle materials, though, metal is becoming a favored option lately. Some knife manufacturers don't even make their handles separately. Instead, they forge the handle as they're forging the blade.
A knife like this undoubtedly looks great, but it often comes with a high price tag. As for others, balancing is a big issue, but this isn't as much of a problem with stamped knives.
There are also common handle materials like carbon fiber, but these handles are more for tactical knives, and those that found a place in kitchen knives – like all things carbon fiber – are significantly more expensive.
It's not to say that wooden handles are better-performing than other alternatives, but they bring more value for the money. You can read this detailed article to learn more about different knife handle materials.
Caring tips for wooden handle knives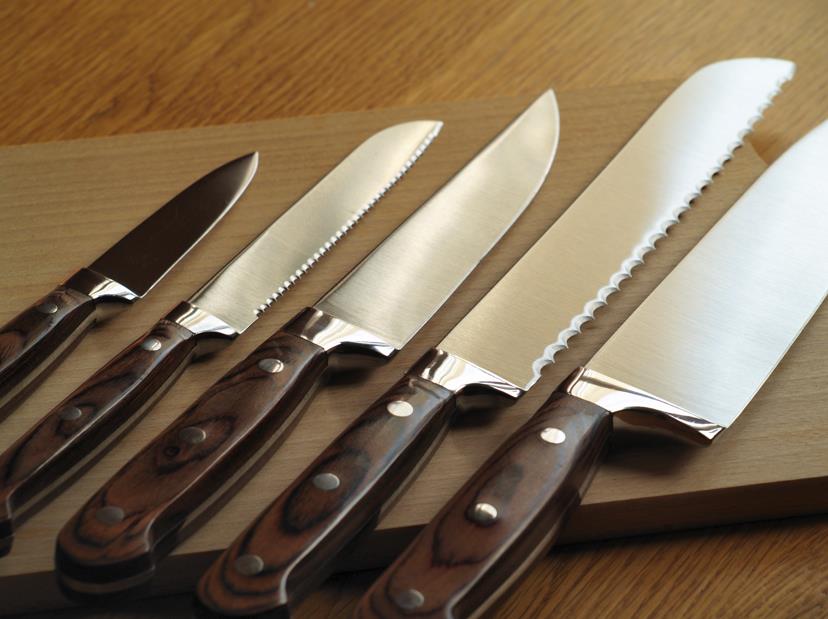 Although wood is sturdy, especially with many procedures it undergoes to make a handle, they are still fragile against certain things. Exposure to water for long periods can result in making the wood softer. This makes the wood less enduring to further moisture, and the repeated wetting and drying process can cause the handle to warp or crack.
To avoid these, always hand-wash your knives and ignore the dishwasher no matter how dirty. The high heat and chemicals are not only bad for the handle but also damage the blade.
Since moisture is the main problem for wooden handles, applying the same mineral oil you use to cover a high carbon steel blade will get in the way of water penetrating the surface. However, this is often not required if you have a relatively new knife.
The paint and polish already act as a barrier preventing moisture from penetrating the wood. If you spot the polish wearing down, bringing it back to life with mineral oil or another choice of oil that's right for the wood is one of the best actions you can take.
As for applying the oil, just a tiny drop is enough. Spread the oil evenly throughout the handle using a paper towel. Apply the oil as many times as it takes until the wood is saturated. You can also leave the handle soak in a cup of oil. Other than these, you can repaint or repolish the handle.
FAQs
In conclusion
Wooden handle knives are just as practical as they are aesthetically pleasing. With so many varieties, a wooden handle gives additional characteristics to a knife, making it a finer kitchen tool overall.
Take a look at our handmade collection to see knives with wooden handles, and read more on the HDMD blog to get more insights into everything about kitchen knives.