Kitchen knives come in different shapes and sizes. The more you spend time in the kitchen preparing dishes, the need for various other cutters will be more apparent. Although a chef's knife's intended purpose is for all tasks, some cuts are more manageable with a bigger kitchen knife.
Sure, you can get around cutting through a large piece of bone with a chef's knife, but how convenient is that? Your chef's knife may not handle the stress of cutting larger and dense ingredients like this, which can potentially damage the edge. That's where a bigger kitchen knife can help you tackle some of these challenges.
This buyer's guide will help you figure out which big kitchen knife is best for you, whether or not you need one, and if it's a good idea to purchase one.
Do I need a big kitchen knife?
Big kitchen knives are there to make cutting certain ingredients easier. They're not intended to be used for everything like a chef's knife. It's important to identify what type of dishes you cook and the ingredients required for them to get an answer to this.
In most cases, you don't really need a big kitchen knife, but in many situations, you'll wish you had one. Take any type of squash as an example. They are thick, dense, often big, and require more power to cut than most other vegetables and fruits. Looking at the characteristics of these types of ingredients alone doesn't make it sound like it's the perfect job for a small knife.
Where to use a big kitchen knife?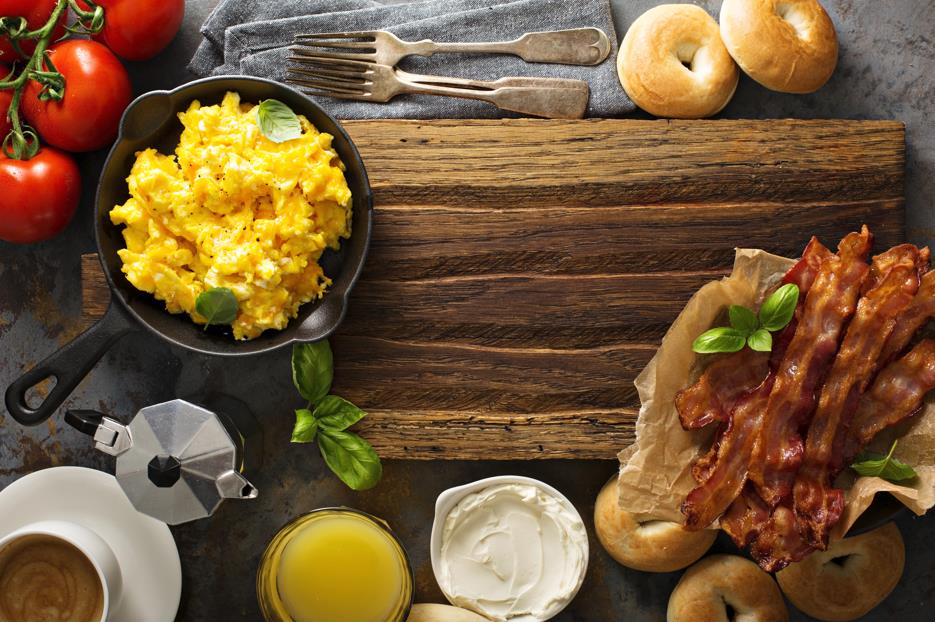 The single best use of a bigger kitchen knife is being able to cut ingredients that require more force a lot easier than a smaller knife. The bigger knives also make cutting these types of fruits, vegetables, meats, and any other ingredient a lot more manageable. In a way, they are much safer to utilize than any other knife considering the characteristics of the foods you'll be cutting.
Here are some additional considerations to help you figure out if you need to add a bigger kitchen knife to your supply.
Buy a big kitchen knife if you:
feel your chef's knife is small for the job when cutting certain foods.
often cut ingredients that require more force than a smaller knife can handle.
buy meats as a whole, like ribs or legs, and cut them into pieces later to preserve.
prepare dishes for a large number of people as you're able to cut a higher volume at once with a longer blade.
Reconsider buying a big kitchen knife if you:
are a novice cook and don't have enough cutting experience under your belt.
don't cut things that require you to have a larger knife – like ever.
have a tiresome experience when operating with big, heavier knives.
find sharpening knives difficult as it's harder with a bigger blade, but these problems are less prominent with high carbon steel.
Overall, unless you've never found yourself needing one, having a big kitchen knife will make cutting large and dense ingredients a lot easier. We highly recommend including a bigger kitchen knife in your collection just in case you need it.
It's not like your knives will go bad when they're away, but it's vital to utilize proper knife storage methods to keep the blades and everyone who walks through the kitchen safe.
Product recommendations
If you've made up your mind to add a bigger knife to your collection but can't decide what kind to buy, the following product recommendations can help you make the proper choice. Additionally, read more below on the differently built knives to enrich what makes the best big kitchen knife for your circumstances.
HDMD Hand Forged Knife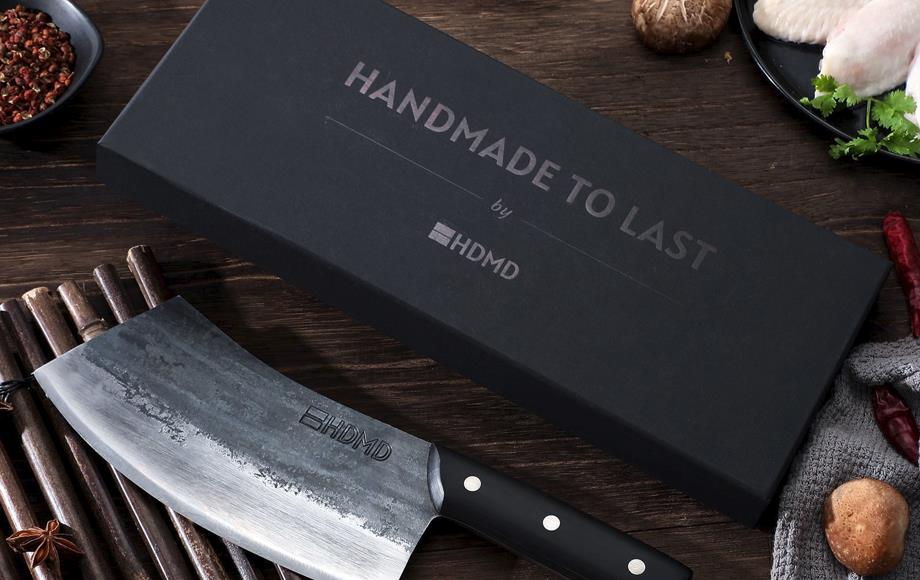 In many ways, the HDMD Hand Forged knife is a cleaver but with some perks that make it a special tool.
Unlike a regular cleaver that comes with a straight edge, this knife has a curved blade that makes chopping vegetables, fruits, and herbs effortless. Take your favorite ingredients and finely chop them in a matter of seconds by rocking the blade – chopping with the HDMD Hand Forged Knife is as easy as that.
The biggest advantage of this big knife is its versatility. It's not just for cutting hard ingredients that a smaller knife has trouble with. You can also make more delicate cuts like dicing and mincing. Nevertheless, here are some of the pros and cons to keep an honest perspective.
Pros
The blade design opens up a lot of different use cases, allowing you to employ the same knife throughout the preparation.
Despite the wide blade, it's perfectly balanced and is easy to control.
The blade is made from high carbon steel – extremely durable and keeps a sharp cutting edge for extended periods.
Cons
The blade requires a bit more maintenance than a stainless steel knife.
The knife's total weight (353 grams) can feel heavy at first, especially considering the bulky design as opposed to a long, thinner blade.
HDMD Serbian Chef's Knife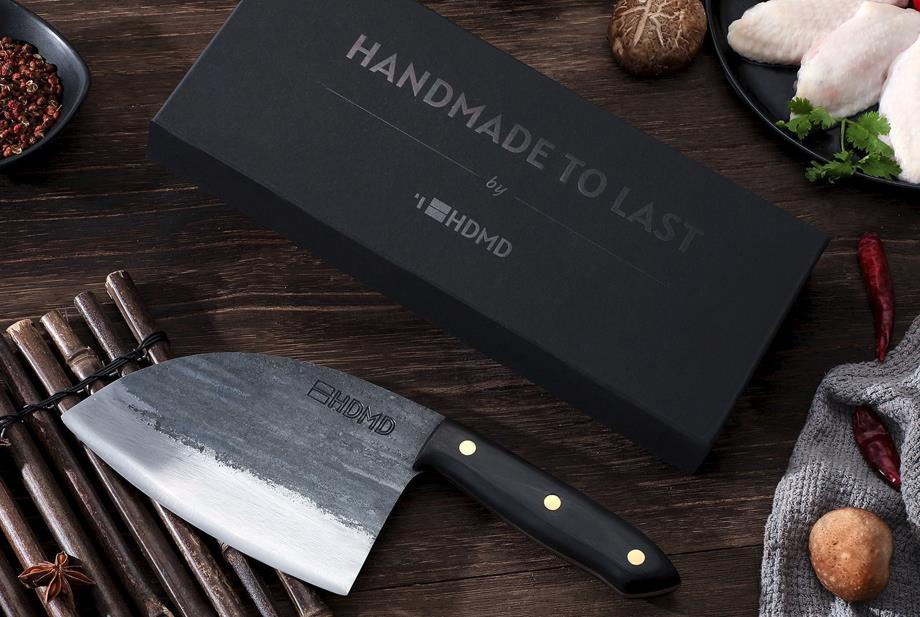 The HDMD Serbian Chef's Knife is a better choice if you're looking for something more compact. It features the best of two worlds of a cleaver and a regular chef's knife. Not only can you cut ingredients the same way as any other knife, but you can also use it to break denser ingredients like chicken bones.
This knife has a pointy tip that easily creates slits on ingredients and helps disjoint poultry. If you're looking for something more than just a big kitchen knife to use in every aspect of preparing dishes, the HDMD Serbian Chef's Knife may be it.
Pros
The narrowly curved edge allows cutting ingredients in different ways. Whether you're used to rocking the blade while you chop or move the knife up and down, you'll get used to it in no time.
The long wooden handle provides a manageable firm grip for everyone from beginner to experienced.
Hand-forged using high carbon steel, the edge retention is phenomenal compared to other kinds. If you've only used stainless steel knives, how well the blade keeps an edge will be a shock.
Overall, a versatile kitchen knife that comes in handy for all cutting needs.
Cons
It can take time to get used to how you cut due to the blade design, as your hands will be further out on the cutting board.
Although you'll be able to get many uses out of this knife, you'll most certainly need to pair it with a smaller one to handle lighter tasks like peeling and coring vegetables.
Top brands to consider
There aren't well-known knife manufacturers that only deliver big kitchen knives. If you have a favorite knife manufacturer, it's best to look if they offer the big knife you have in mind.
The chances are you'll find the one you're looking for in our handmade knives collection.
Different types of big kitchen knives
The idea of a big kitchen knife is different for everyone as there isn't a universal one that everybody is familiar with. It's a broad term, and for this reason, we need to identify different types of big knives to better help you make the right purchase.
Cleavers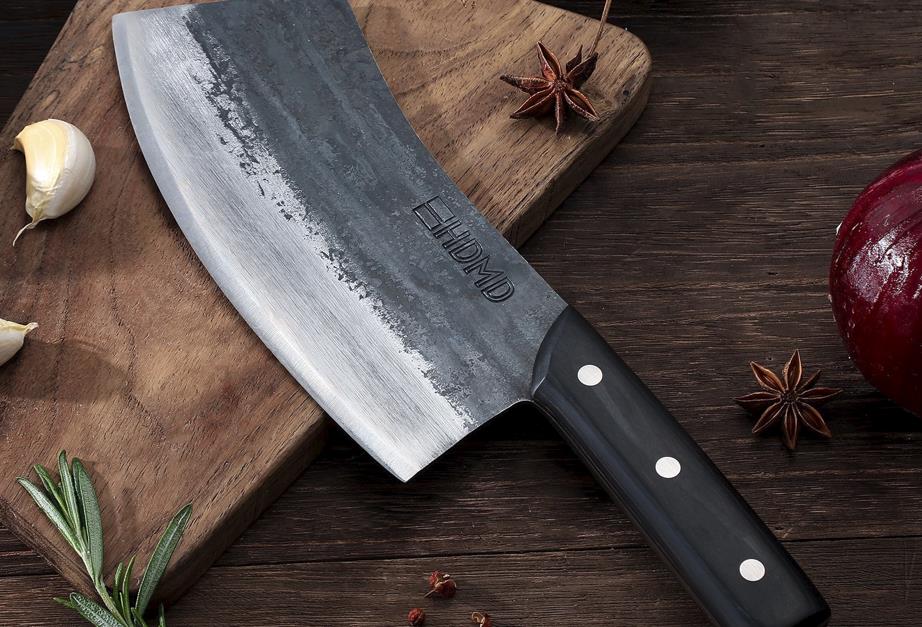 Most commonly used to cut through meats, cleavers are used for cuts that require exceptional power. While it's typical to use a cleaver for cutting large pieces of meat with bones, they also come in handy when cutting squash and root vegetables that often need more force. The wider blade may be intimidating at first, but cleavers make life a lot easier in the kitchen once you get the hang of it.
Slicing knives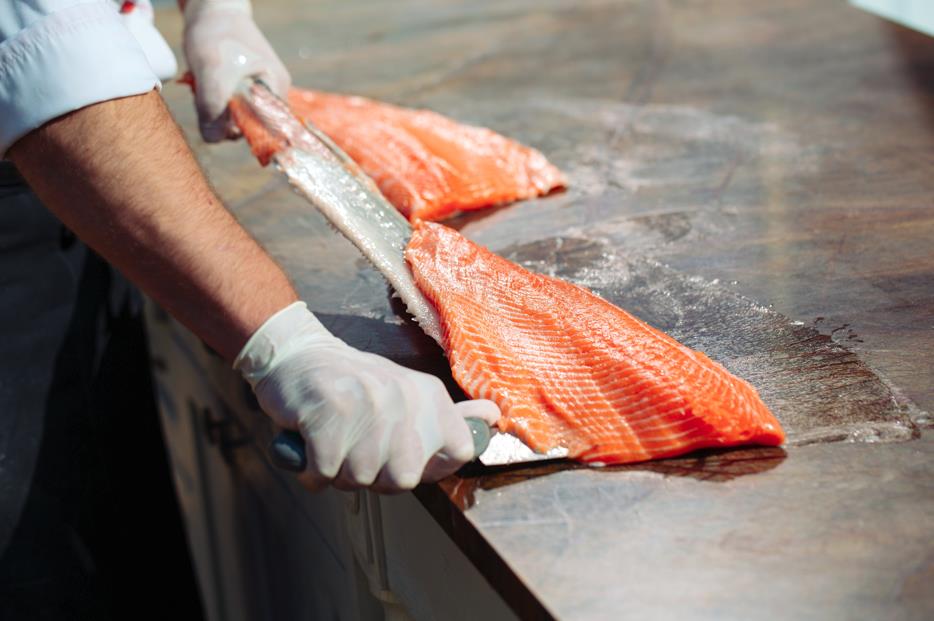 As the name suggests, slicing knives are used just for that – slicing. These knives are perfect tools for creating thinly sliced meats, vegetables, and fruits. The long blade ranging from 8 to 14 inches is narrow and flexible enough to slice through small and large ingredients that are otherwise difficult using different knives. They can have serrated edges similar to a bread knife or Granton edge to remove slices from the blade quickly.
Carving knives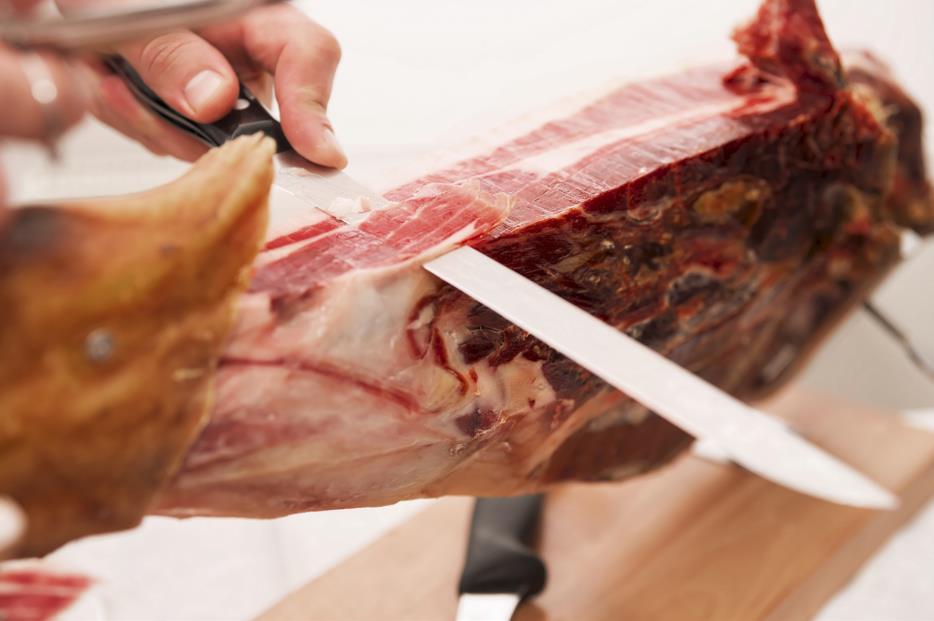 Carving and slicing knives are commonly mistaken for each other, but notable differences make these two knives distinct. A carving knife's blade tapers to a sharp tip. After all, these knives are made for slicing and carving dense meats, and the pointy tip helps make slits to further break them down into pieces. On the other hand, slicing knives often come with a rounded tip.
Big chef's knives
The category of chef's knives is extensive, with blades ranging from six to twelve inches. A lengthier chef's knife may handle most tasks, but at the same time, you might find them to look odd because of the blade design and shape. This is primarily due to the blade width, as most chef's knives taper down to the end, creating a pointy tip. With a longer blade, you'll get a steep width difference from the heel to the tip. If you're looking for a more even edge and a pointy end, a large santoku or a Serbian chef's knife is going to be a better option than a traditional alternative.
Big kitchen knives vs. small kitchen knives
This article went over the uses of big kitchen knives where it may sound like we've underestimated the uses of smaller ones.
That's not the intention here, as all kitchen knives have specific purposes that make them the best for a particular job. Sure, you won't be able to cut through a large piece of bone using a paring knife, but at the same time, you won't be able to peel a cucumber that easily with a cleaver. That said, all knives, regardless of the size, have specific uses that make them best for that intent, not that any is superior to another.
Verdict
Big knives can make any cook's life easier with so many things to offer. If your chef's knife doesn't feel enough, that's a strong indication to add one to your arsenal of knives. Grab yourself one from our handmade collection and read more on the HDMD Knives Blog.