When looking for a high-quality chef knife, it's crucial to consider how it fits. We often emphasize the material of construction, design, durability, and aesthetics of a knife but forget that size is just as important. A knife that is too small will feel awkward and uncomfortable in your hand, while one that is too large can be unwieldy.
While there's no one size fits all solution, the best chef knife for big hands should have a relatively long blade than average. It shouldn't be the biggest blade, but it should be long enough to provide comfort and ease of use. The handle should also be proportionately larger without sacrificing balance. Ideally, the knife should feel like an extension of your arm.
Given the abundance of choices on the market, finding the best chef knife for big hands can be daunting. As you read on, we'll help you narrow down your options and find a knife that meets your specific needs.
How to choose the length of a chef knife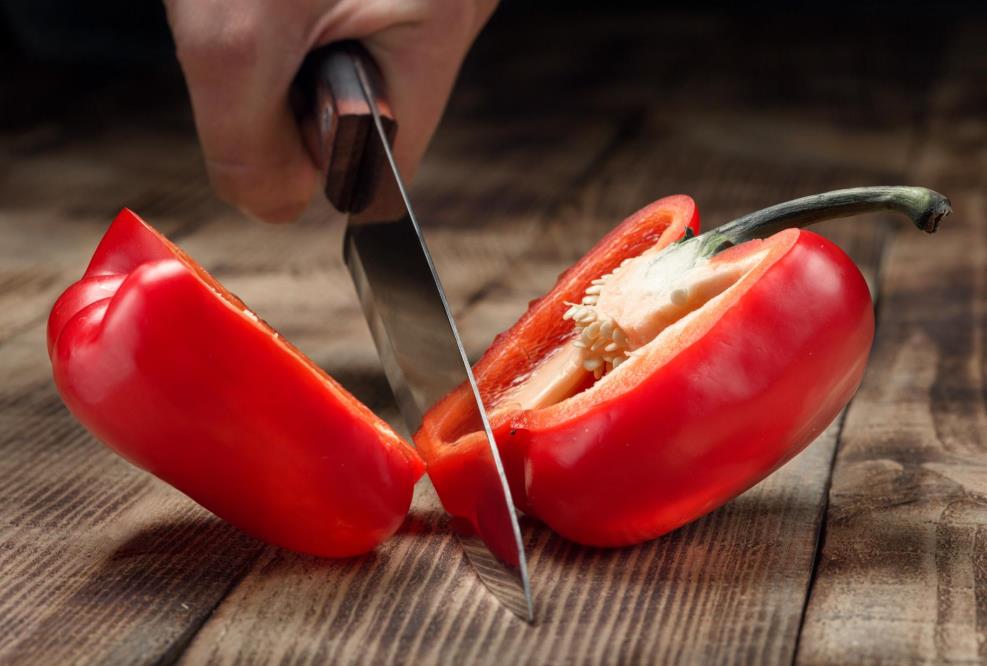 The two most important factors to consider when choosing the ideal chef knife size are comfort and practicality. A knife that is too short will feel cramped in your hand and make it difficult to perform basic tasks such as chopping vegetables. On the other hand, a knife that is too long can be unwieldy and difficult to control.
The blade length and handle length are two of the most important aspects of knife size. Blade length is the measurement from the tip of the knife to the bolster (the thickest part of the blade where it meets the handle). The handle length is the measure between the butt of the handle and the bolster.
Chef knives measure 6—14 inches. While we can categorize the size as either short or long, it's more accurate to think of it as a spectrum. The ideal size for you will depend on the specific tasks you'll be using it for and your individual preferences. A typical short knife measures 6—8 inches, while a long knife measures 8—14 inches.
How to test knife length
If you shop for a knife online, it can be difficult to gauge the size without physically holding it in your hand. If that's the case, you should look at the product specs to get an idea of the blade and handle length. Another option is to find a similar knife and use that as a reference.
Physical shopping requires a more hands-on approach. The best way to test the length of a knife is to use the forearm test for knife length:
Bend your elbow at a 90-degree angle with the forearm perpendicular to your body but parallel to the ground. Use your non-dominant hand to position the heel of the knife such that it rests on your wrist and the tip of the blade extends to your elbow joint.
If the length of your forearm equals the length of the blade, then the knife is the ideal size for you. It should feel comfortable and well-balanced.
Suppose the blade is too long. In that case, it will extend beyond your elbow. Such as a knife will be challenging to control and maneuver.
If the blade is too short, it will not reach your elbow joint. In that case, you'll have to compensate by gripping the knife closer to the blade, which can lead to fatigue and discomfort.
The forearm test is a quick and easy way to get an idea of your ideal size. However, it's not a perfect science, and you should always try different-length knives before making your final decision. You must also consider the handle length when testing the knife. A knife with a long blade but a short handle can be just as challenging to control as one with a short blade and a long handle.
What knives are good for big hands?
The following are some of our top picks for the best chef knife for big hands:
Serbian Chef knife
The design construction of the Serbian chef knife depicts a perfect harmony between form and function.
If you have big hands, the Serbian chef knife is an excellent choice for many reasons. While the length may vary from manufacturer to manufacturer, the average blade length measures between 6 and 10 inches. The long blade provides ample space for your fingers, giving you more control over the knife.
Since the knife features high-quality construction, it can withstand heavy-duty use. The curved spine brings out a natural rocking motion that is more comfortable for big hands. Moreover, the wide and flat edge is ideal for big hands as it provides more surface area and makes chopping easier.
Product recommendation: HDMD Serbian chef knife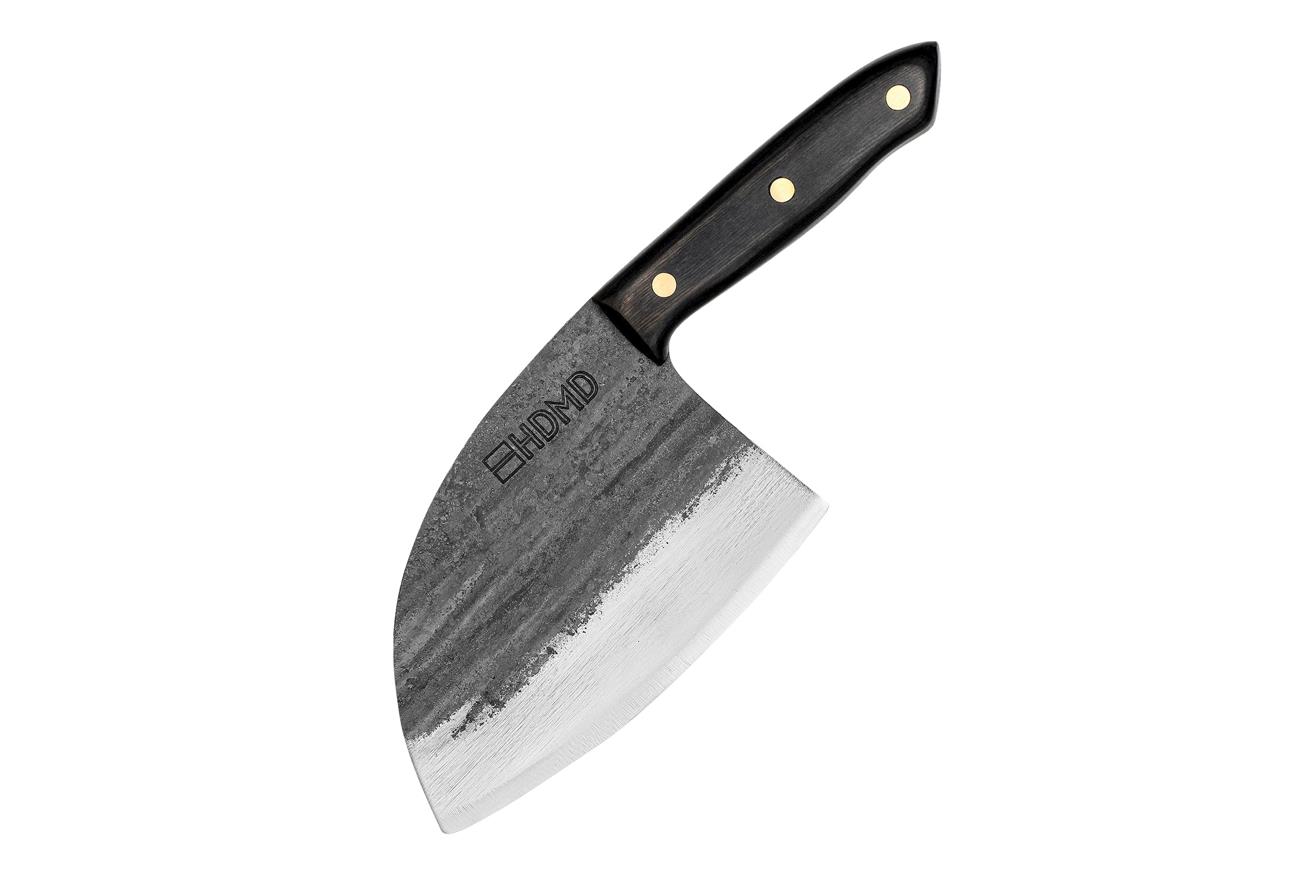 HDMD's Serbian chef knife is the perfect description of quality craftsmanship. If you have big hands, this is the knife for you. A comfortable grip and a balanced weight provide the perfect amount of control.
The high carbon steel construction ensures the blade holds its edge for longer, while the beautiful pakkawood handle gives it a rustic look and feel. At 6.3 inches long for the blade and 4.7 inches for the handle, it's the perfect size for anyone who wants more control over their slicing and dicing.
Main Features
Hand forged blade from high carbon steel
Full tang construction
56-58HRC on the Rockwell hardness scale
Total length (11 inches; 6.3 blade length, 4.7 handle length)
Pros
The razor-sharp blade makes slicing and dicing a breeze
The knife holds its edge for longer due to the high carbon steel construction
It has a large surface area which ensures more control for big hands
The pakkawood handle features a resin coating that makes it water-resistant, thus preventing warping, rotting, or cracking
Cons
The high carbon steel tends to chip when used on hard surfaces
High carbon steel commands more care and maintenance, like scouring after every use to prevent rusting
The blade lacks the agility of a smaller knife, which can be a drawback when dealing with delicate slicing
Chef knives bigger than 10 inches
The average chef knife measures between 6 and 14 inches, but if you have big hands, you may be better off with a blade longer than 10 inches. A longer blade provides more knuckle clearance, which can be important when chopping large quantities of ingredients. While it doesn't offer the same agility as a smaller knife, it makes up for its precision and cutting power.
Product recommendation: HDMD Hand forged chef knife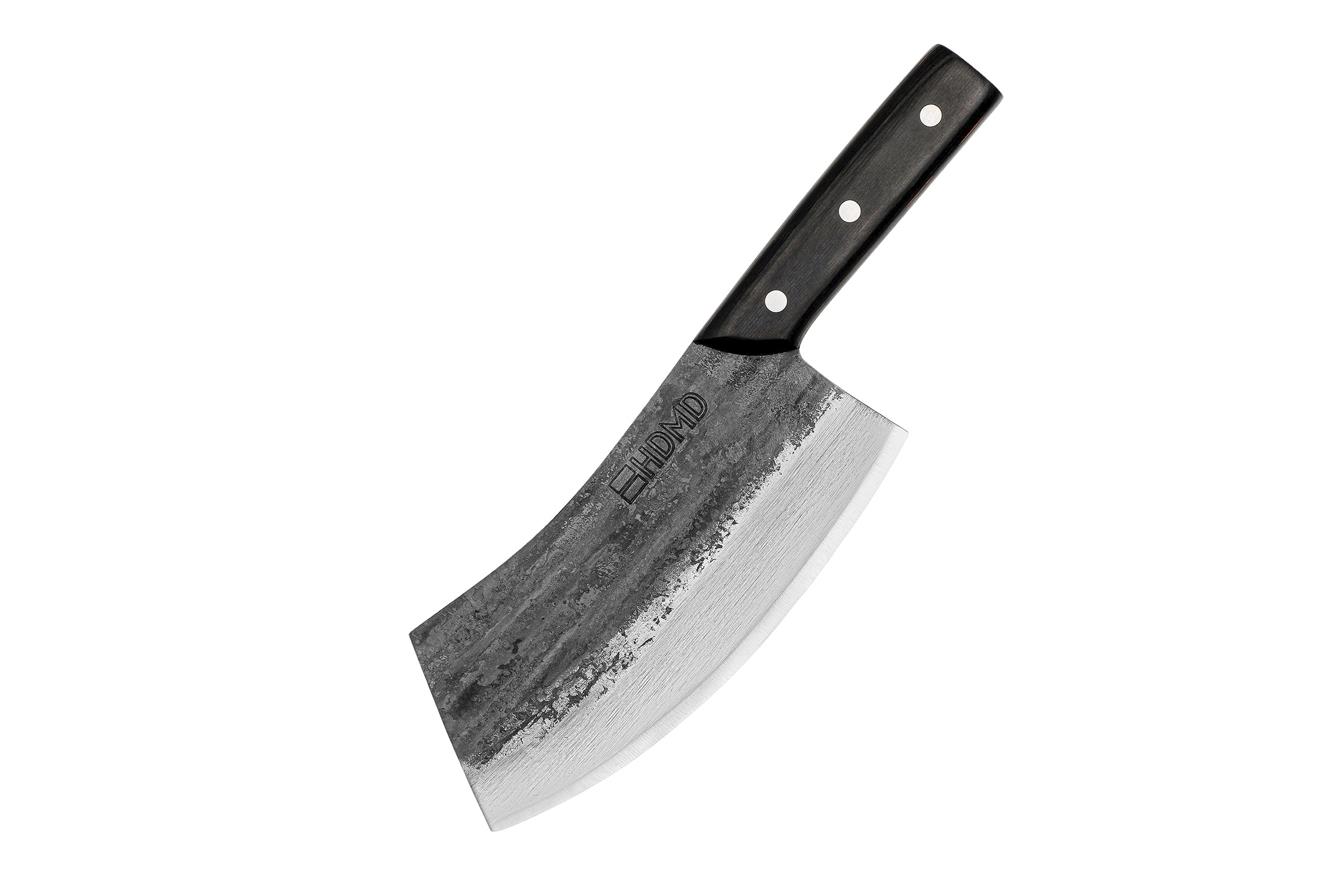 The HDMD hand-forged chef knife is a workhorse in the kitchen. The design features a hand-forged, high-carbon steel blade with a full tang construction. It doesn't have a pointed tip, and its broad blade curves outside the edge, which gives it a rocking motion that is perfect for chopping. It's long enough to make quick work of big jobs but not so long that it feels unwieldy. Like all HDMD knives, it features a black pakkawood handle that is comfortable to hold.
Main features
The knife measures 11 inches long (Blade length 7.3 inches, handle length 4.7 inches)
56 – 58HRC Rockwell hardness
The blade is made of high-carbon steel; thus, it holds its edge well
Hand-forged construction with a full tang
Pros
The high carbon steel blade holds its edge for a long time; hence it requires less frequent sharpening
The curved blade provides a rocking motion that is perfect for chopping, dicing, and mincing
While it's a big knife, it doesn't feel too unwieldy or heavy
Cons
The lack of a pointed tip can be limiting if you like to do a lot of precision work in the kitchen
High carbon steel requires frequent scouring and drying to prevent rusting
While it won't flex or bend easily, it may be susceptible to chipping if used on hard surfaces
Chinese cleaver
A Chinese cleaver is a must-have for any professional or home cook with big hands. The knife features a broad rectangular blade and a flat cutting edge perfect for varied kitchen tasks such as chopping, slicing, dicing, and mincing.
Most common blade lengths for Chinese cleavers range from 6 to 9 inches. Those with smaller hands often gravitate towards the lower end of the spectrum, while those with bigger hands usually prefer larger sizes.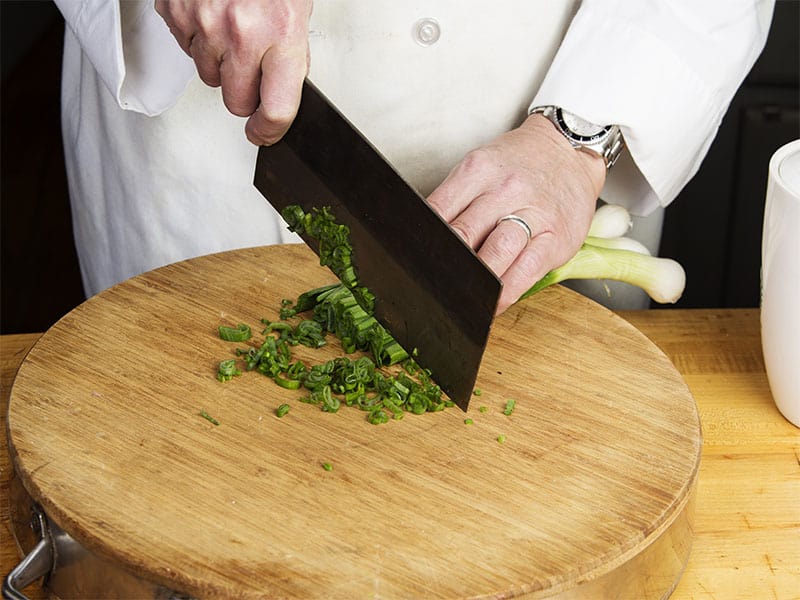 To brands of Chinese cleavers
Below are some of our recommendations for the best Chinese cleavers:
Shun: This Japanese knife company is the epitome of quality and craftsmanship. The modern finish and sleek design make this knife a real beauty, but the razor-sharp blade and incredible edge retention will make you fall in love. Shun's Chinese cleavers feature high-carbon VG-10 steel blades with a Rockwell hardness of 56 to 60 HRC.
Winco: Winco stands out as a more price-friendly brand. But don't mistake their budget-friendly prices for low quality. The company designs and sells different Chinese cleavers of highly corrosion-resistant stainless steel.
Zhen: Zhen brings forth over 30 years of knife-making experience. The durability of their Chinese cleavers is second to none. The full-tang construction and high-carbon stainless steel blades ensure that your knife will withstand the rigors of daily use.
TUO cutlery: TUO is a new kid on the block, but it's quickly making a name for itself in the world of knives. By combining an attractive design and functionality, the company created a line of Chinese cleavers that are hard to beat. Well, unless you use it for heavy-duty tasks such as chopping bones.
Buyers guide
The reasons why you need a good chef knife are many and varied. But the reasons become even more apparent when we narrow the focus to big chef knives.
Why do you need a big chef knife?
The first and most obvious answer is that big chef knives can handle big jobs. For instance, if you're cooking for a large group of people, then a big chef knife will make quick work of all the chopping, slicing, and dicing.
Other reasons include:
Big knives provide a more comfortable grip for those with big hands. When your hands are comfortable, you're more likely to have better control over the knife.
A bigger blade also provides more heft. Heft is the weight of the blade itself and is often used to describe how a knife feels in hand. When cutting through tough ingredients, a heavier knife will feel more substantial and authoritative.
Big chef knives also have a larger sweet spot. The sweet spot is the blade area most effective for chopping, slicing, and dicing. With a bigger sweet spot, you can work more quickly and efficiently. For instance, if you're chopping a head of cabbage, you'll be able to chop more cabbage with each stroke of the knife.
FAQs
Closing Thoughts
The best chef knife for big hands combines comfort, performance, and durability. While there's no one size fits all solution, those with big hands will benefit more from a knife with a relatively long blade. Some of the best options on the market include our HDMD Serbian chef knife and HDMD hand forged chef knife.
If you have small hands, this article on the best chef knife for small hands is worth a read. You can also check our store for a wide selection of high-quality kitchen knives and other products.