Does your friend circle include a knife enthusiast or a culinary chef in the making? You might consider gifting them a knife instead of the usual gifts that they might never end up using anyway.
Knives are perfect gifts that are practical and can last the receiver for years to come! You can also get them engraved to add that customized touch to make the receiver feel extra special. There are countless knife gifts out there for you to choose from.
For your ease, we have crafted the ultimate guide for choosing knife gifts so you can make the perfect choice for your loved ones.
Is it bad luck to gift knives?
Wait. You search for knife gifts and half of the search results tell you that gifting knives might be bad luck! You sigh as your hopes of getting the perfect gift go down the drain.
Many cultures in Europe, Asia and South America believe that gifting knives and other similar sharp objects are bad luck since they can sever ties between the giver and the receiver.
Many people further claim that gifting them to your significant other or as a wedding gift will cause their love towards you to end. There's more. If there happens to be a death in the family, you ought to handle knives carefully or you might end up stabbing the poor dead person's soul.
Don't get superstitious though, these are only knife myths that keep you from gifting the perfect gift to your near and dear ones.
Include a coin
If you find yourself feeling even a tad bit superstitious, simply include a coin.
Legends say that if you include a coin when gifting the knife, the receiver can take the coin out and give it to the sender, thereby "paying" for the knife instead of being gifted. This way, you can evade bad luck and also gift a super cool item that is bound to serve their master for many years to come.
We know it seems weird, but this way you'll have an interesting way of giving the perfect gift to the receiver. So what are you waiting for? Search for that pocket knife, cleaver, or even the chef knife your loved one has been drooling over and buy it for them on their special occasion.
Factors to consider when gifting knives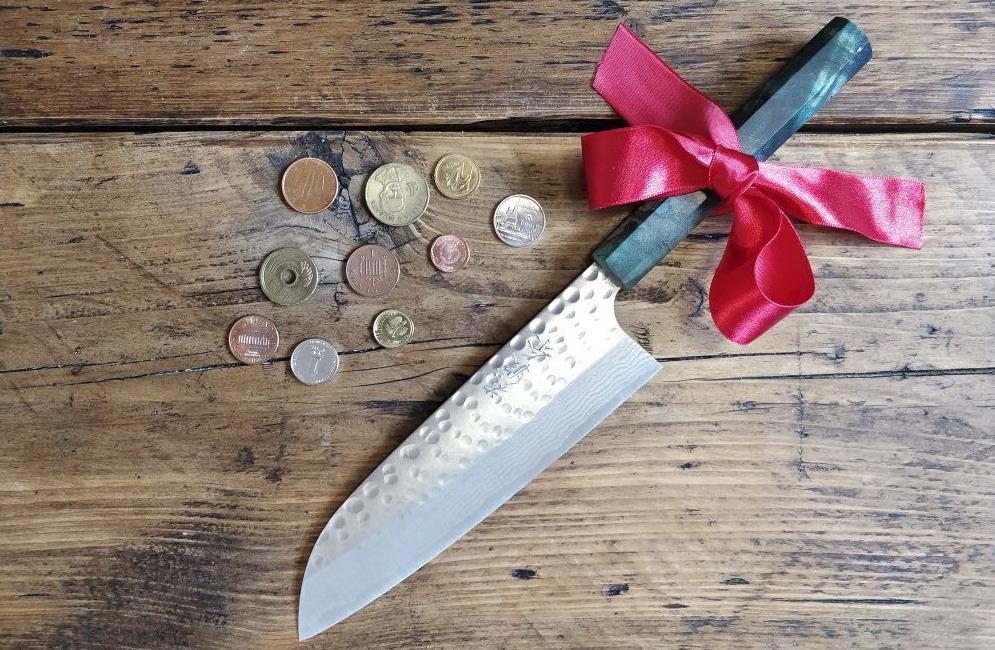 It's decided. You're buying a knife for a gift. Here are some factors you should consider before actually making the purchase:
Versatility
When choosing a knife for gifting, make sure it is versatile. Ask yourself a few questions. Can this knife mince parsley? Make juliennes? Carve a melon, perhaps? Dice onions, too. If the answer to most of these questions is a yes, then your knife is probably good to go.
A few knives that provide sheer versatility are the utility knife the chef knife, and the cleaver:
Utility knife
The utility knife, as the name implies, is a kitchen all-rounder that is great for a variety of tasks. Cutting and slicing fruits and veggies is a breeze with this tool, and is ideal for meal preps as well. You might want to consider buying a blade that is anywhere between 5-6 inches in length, with an ergonomic handle as well as good blade material to complement it.
Chef knife
The chef knife (preferably of 8 inches) is another handy tool that works well with fruits, vegetables, even meat and is suitable for use by just about anyone. Not only can it handle small ingredients such as garlic but can work its way through onions, tomatoes, and the like.
Vegetable cleaver
Vegetable cleavers are also versatile kitchen tools that can take on nearly any vegetable that comes its way. Also referred to as the Caidao or Chinese cleaver, it is a great tool for mincing, dicing, and even slicing vegetables as well as meat. You might want to consider the culinary needs of your receiver before buying any of these knives. An experienced chef will most likely already have these tools.
Culinary needs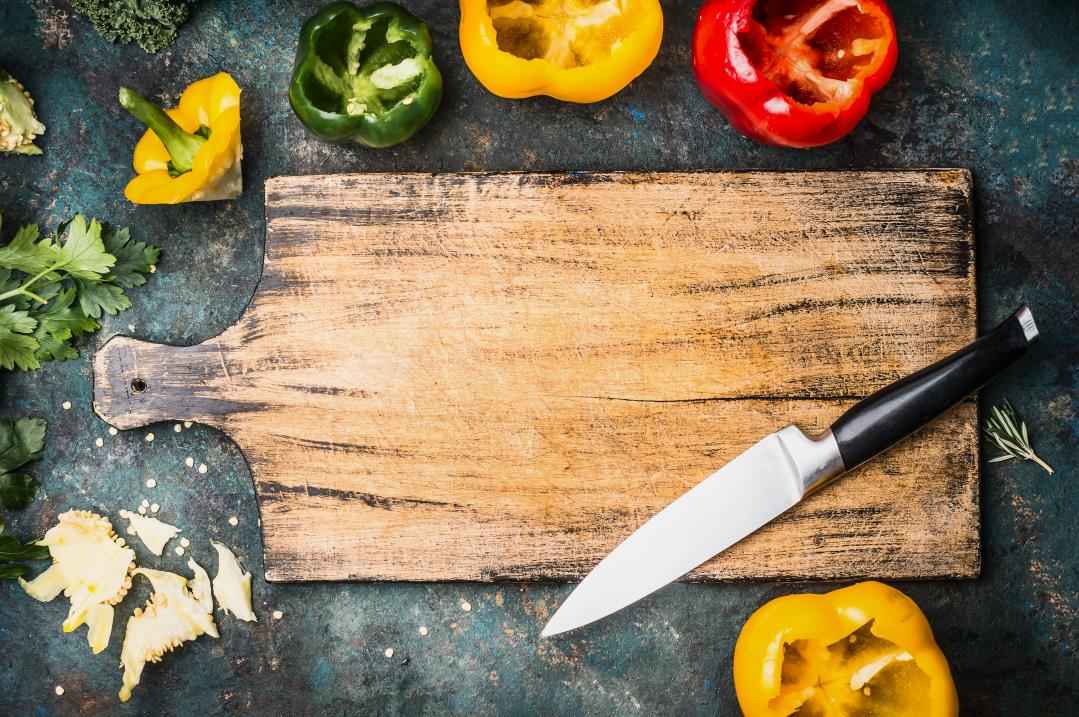 Buying a knife should also depend on the receiver of the knife gift. What are the culinary needs of the receiver? Do their culinary endeavours require specialized tools? Or are they a novice who just started out?
The knife you will buy for an experienced chef will vary greatly from the one you will buy for the novice cook. An experienced cook will already own basic knives such as a paring knife, chef knife, and utility knife. These people require specialized tools that help them tackle tasks they spend most of their time at.
A chef who loves handling meat is better off being gifted a cleaver, while someone who loves to barbecue can also be gifted a sujihiki (slicer). Then again, a knife enthusiast may have it all. Consider giving them specialized gifts such as a hand-forged knife that they have been eyeing for a while.
Maintenance
Another factor to consider when giving someone a knife gift is maintenance. When considering a knife to gift someone, make sure they are game enough to maintain it. This is because some knives are more prone to rusting and corrosion than others.
If you believe your receiver is someone who can handle cleaning and drying tasks with ease, you may go ahead and gift them any knife of their needs. Otherwise, consider buying a knife that is less sensitive to corrosion such as those made out of stainless steel.
Also, some knives require occasional sharpening in comparison to other knives. If the receiver is someone who would rather avoid this task, then you are better off buying them a knife that can stay sharp longer.
Ease of use
The knife you are gifting must be easy to use for the receiver. Consider the handle material, the weight of the knife, blade material etc. when choosing a knife. Wooden handles are easier to grip and comfortable to use, heavy knives work best for rocking motions, while stainless steel doesn't corrode easily.
It is important to note here that sharp knives make culinary adventures easier and more enjoyable, while a handle that is comfortable to hold will enable the user to work for longer without getting tired.
Considering the culinary needs of the receiver will also enable you to buy the right kind of knife for them. In turn, they will be able to tackle kitchen tasks more easily with the specialized knife that you intend on giving them.
Is a knife set necessary?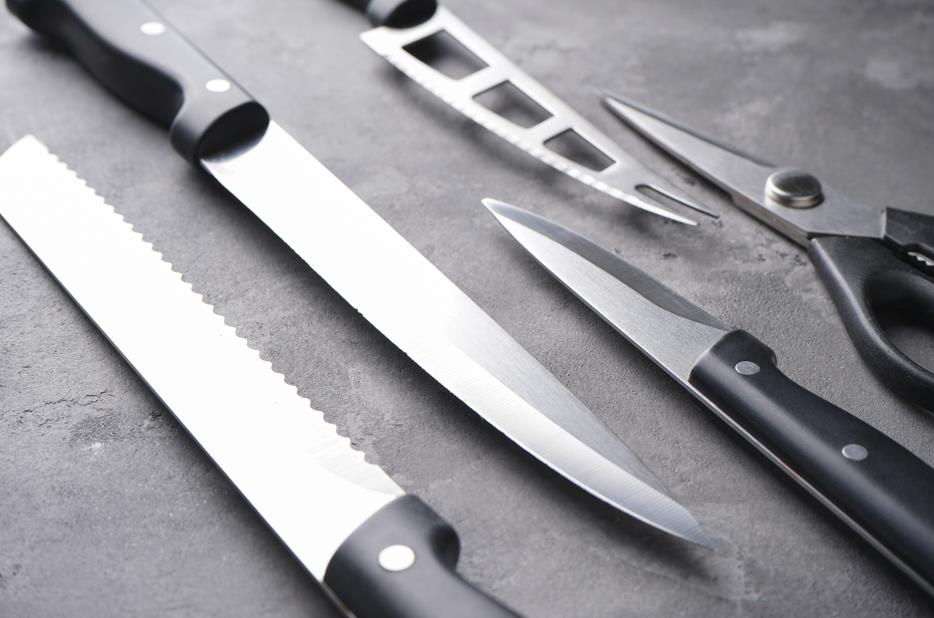 There is a large variety of knife sets available that can be perfect gifts for your dear ones. However, is a knife set necessary or are you better off gifting individual knives?
Experts say that while it may seem better to gift entire knife sets, most of the knives in them end up not being used at all. Therefore, consider buying individual knives or smaller knife sets that you believe will be useful for the receiver.
You might want to consider the factors we mentioned above before you make your final purchase.
Types of knives to gift
Although there are many types of knives out there, it is a good idea to purchase a gift knife that will prove to be a useful product for the receiver. Three types of knives that are crucial to have in the kitchen include the chef's knife, paring knife, and serrated knife. Other knives that often come in handy include a carving knife, bread knife, or the amazing cleaver.
If you are looking to add variety to someone's knife collection, to make their cutting experience more enjoyable, you may consider getting them nice-to-have knives like the Santoku or the Nakiri.
Knife gift recommendations
The best knife can last a user for several decades to come, and will be treasured and honored forever. Here are the top products that we recommend you to buy for gifting your loved ones:
HDMD™ – Hand Forged Chef Knife
The HDMD hand-forged chef knife has been meticulously engineered with versatility, durability, and exemplary sharpness in mind. The sturdy knife is an ideal tool for all kitchen tasks, and is tough enough to work as a cleaver. This is why it tops our list of recommendations.
Crafted with the artisan blacksmith hammering technique, the knife blade hones impeccable sharpness that can last you a really long time. Not only is this tool extremely versatile, but it is also bound to meet the culinary needs of your gift receiver, is easy to use, and requires low maintenance.
Basically, it meets all the factors that one should consider when gifting a knife.
The novice user might feel overwhelmed using this intimidating tool. However, rest assured that its sheer versatility makes it great to be used by housewives and chefs alike.
Main features
The HDMD hand-forged chef knife is the ultimate kitchen workhorse that has been meticulously crafted to work both as a chef knife and a cleaver. What's more- the tool can work as effortlessly in the hands of a novice as it can in the hands of a culinary expert.
Made out of high carbon steel, it exemplifies durability at its finest. This is because it can maintain its edge for longer as well as resist cracks and chips while you make those hefty blows through meat. Don't worry, though. Your chopping, dicing and mincing tasks will also be handled by this very tool.
What's great?
The HDMD chef knife is hand-forged with high carbon steel which allows it to maintain its edge for longer.
The classic tool equates to a cleaver knife, working well with all sorts of ingredients, especially meat and vegetables.
The curved edge design allows the user to make any kind of cut as they rock their way over ingredients smoothly and with minimal effort.
Its handle is made out of black pakkawood, a durable wood designed to ensure a smooth and comfortable grip to the user.
What's not so great?
The HDMD hand-forged chef knife may not be an ideal tool for tiny hands, owing to its sturdy build and weight of over 350 grams.
Maintenance requires hand washing and drying after every use otherwise it will be prone to oxidation.
HDMD™ – Serbian Chef Knife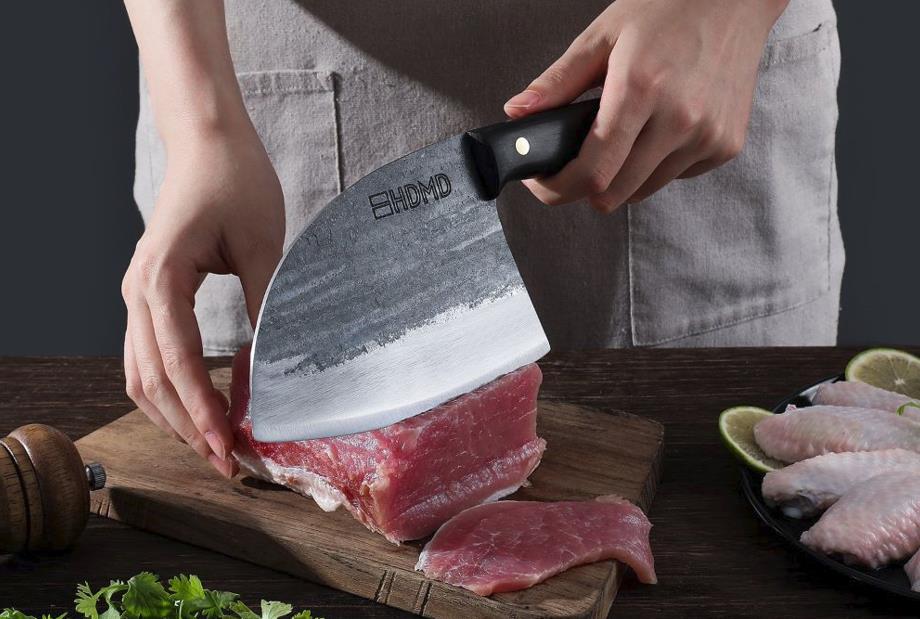 The HDMD Serbian Chef Knife is another hand-forged knife that makes for a great knife gift. Made out of carbon steel, the knife claims durability to an extent.
No doubt, the knife is extremely sharp. One can easily spot the intense hammering process it has been through by looking at its exceptionally rugged exterior. This tool hones a flatter knife edge Overall, this sturdy tool is a good choice and is bound to last for many years to come.
Main features
The HDMD Serbian chef knife is the ultimate kitchen tool perfect for chopping, dicing, slicing and mincing tasks of all kinds. Hand-forged from high carbon steel, it has been tempered to 56-58 HRC for maximum sharpness.
It also features a flatter blade and a pointed tip, giving the user superior cutting ease so that they can make the right slits and cuts for faster cooking times.
What's great
The 6.3 inch high carbon steel knife is one durable tool that will last for a long time with minimal sharpening.
Its handle is made out of engineered black pakkawood that ensures the user a secure and comfortable grip so that they can work longer without fatigue.
It has a sturdy build yet a thin blade of 0.3 mm which helps to make precise, intricate cuts with ease.
Being made out of high carbon steel, the knife will build up a distinctive personality due to patina buildup overtime.
What's not so great
It can't be claimed as a kitchen all-rounder due to its bulky build. This is why it must be complemented with a smaller knife such as a paring or utility knife for meal preparations.
Due to high carbon steel, it requires greater maintenance such as coating with food grade mineral oil along with comprehensive sharpening sessions when needed.
Final verdict
We are pretty sure that by now, you must be fully convinced to buy a knife gift. Invest in these knives today and surprise your loved ones with the perfect gift on their special occasion!