Stocking your kitchen with the RIGHT kind of vegetable knife can be a challenge as there are so many kitchen knives on the market today – and all of them offer a bewildering array of features and esoteric design information that can confuse the home buyer.
This article is going to clarify this topic for you and make choosing and shopping for your vegetable knives a breeze! We've whittled down all the hoopla and we're going to be focusing on the best vegetable knives: the chef's knife; the Nakiri knife; the Usuba knife; the vegetable cleaver or cai dao; and the paring knife.
First, let's compare the different vegetable knives so that you have a clear overview of this class of knives.
These knives are made in various materials, but the most common knife materials are stainless steel, carbon steel, Damascus steel, titanium alloys or ceramic polymers.
Vegetable knives compared
| | | | | | |
| --- | --- | --- | --- | --- | --- |
| | CHEF'S KNIFE | NAKIRI KNIFE | USUBA KNIFE | VEGETABLE CLEAVER | PARING KNIFE |
| BLADE LENGTH | Average of 8 inches | 5 – 7 inches | 7 – 8 inches | Average 6 – 7 inches | 3 – 4 inches |
| BLADE WIDTH | Around 1 ½ inches | Around 2 inches | Around 2 inches | Around 3 ½ inches | About 1 inch |
| SHAPING | Broad, thicker blade tapering towards the tip | Thin blade, straight edged and rounded off at tip | Thin blade – straight edged with a blunt tip and rounded point | Broad, thin blade straight edged and squared off at tip | Short blade tapering towards the tip |
| BEVELLING | Single or double bevel | Double bevel | Single bevel | Single or double bevel | Typically, double bevel |
| FUNCTION | Multi – purpose | Raw vegetables prep | Raw vegetables prep | Raw ingredients prep | Peeling & slicing fruit & veg, detail work |
| BEST AT | Chopping & slicing of raw ingredients | Chopping, slicing, and dicing veg | Thin shaving of vegetables for garnish | Chopping of vegetables and cutting of meat without bones | Fine and meticulous tasks on smaller items |
Best knives for cutting vegetables
HDMD™ Hand Forged Chef's Knife – sail through vegetables AND meat!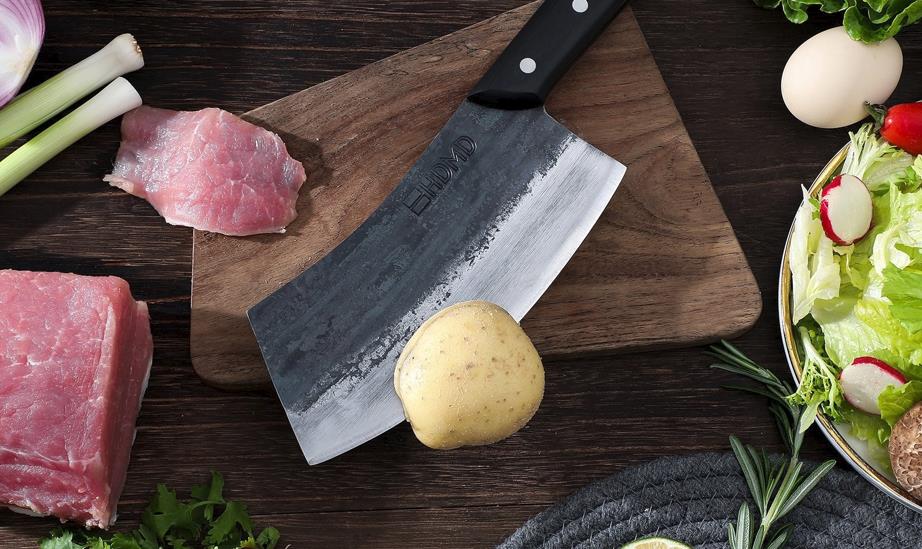 This HDMD beauty is artisan hammered out of high carbon steel and appropriate for use in a range of settings – either kitchen or for outdoor cooking. It's a super 'all round' chopper for your veg and other food prep tasks.
Tough and durable, it's a knife made to last for years to come.
Main features
Unique design offers European cutting control with Eastern blade shape and superlative sharpness. Although a larger knife, this knife isn't overly heavy or cumbersome – it weighs in at only 0.78 pounds!
An HRC rating of 56 – 58 for this knife gives sound manufacturing quality and everyday usage workability.
Advantages
Tough and damage resistant blade can handle even tougher tasks like jointing of meat as well as the usual 'all round' duties of a chef's knife. The blade is both chip and wear resistant, assuring you of longevity and good value for money.
Disadvantages
As a good quality blade and knife, this item requires maintenance and care as any good quality knife does. We've provided knife care and maintenance information further on in this article.
HDMD™ Serbian Chef's Knife – artisan forged craftmanship for superior performance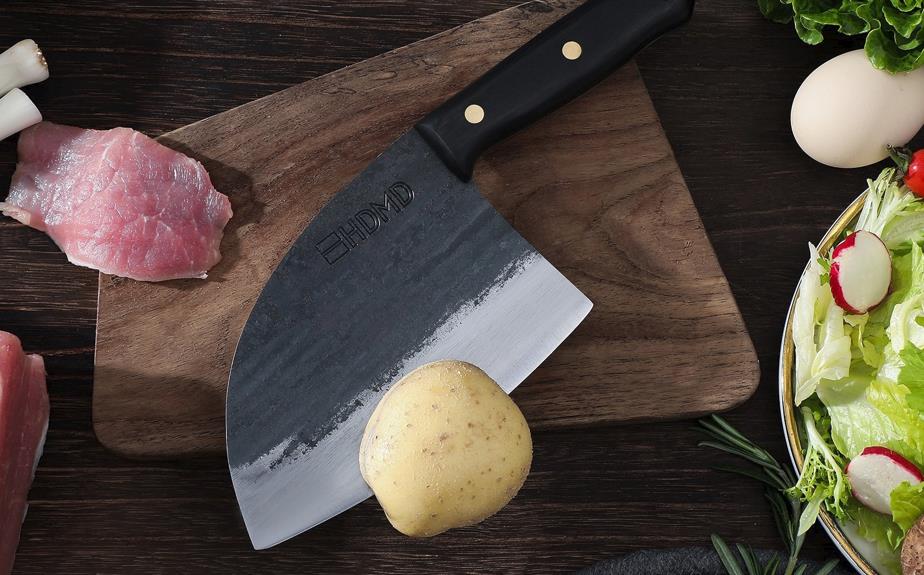 This versatile offering from HDMD Knives is uniquely shaped but offers all the performance of a typical chef's knife, and then some.
Main features
Made from hardened carbon steel and by a time proven artisan process it's a long – lasting addition to a knife collection and perfect for a wide range of vegetable chopping and dicing jobs.
With a heat and moisture resistant pakkawood handle that's ecologically friendly, you can be assured of long – term performance.
Advantages
It offers so much in the kitchen with a highly capable carbon steel blade that can take on chopping, slicing, dicing, mincing and more with ease.
At its price point it's also a very economical 'all – rounder' for vegetable prep that won't break the bank.
Disadvantages
The unique shape of the knife and blade may take some time and usage to get used to. As with most worthwhile things though, this Serbian chef's knife is totally worth the effort and will repay your attention many times over.
Other knives to consider
Shun Knives – These Japanese made knives are industry leaders for quality. They're a more expensive brand compared to many other knife retailers. The Shun Classic 6.5 – inch Nakiri knife offers a weighty but well – balanced blade in Damascus steel. It's pricey, so be warned!
Wusthof – If only German engineering will do, Wusthof specializes in laser cut steel knives at a mid – price range. The Wusthof Classic 3.5 – inch paring knife comes from a reputable and well – respected knife maker. It's forged stainless steel blade handles fine detail work on fruit and veg beautifully. It's towards the middle end price wise.
Zwilling – this German range of high carbon steel knives is pricey but regarded as an industry leader.
MAC – This Japanese range of stamped knives is worth a look for high carbon steel knives. The MAC Japanese series vegetable cleaver is made of molybdenum steel alloy and is a sound product at a fair price range. It'll tackle veg prep without any issues. This knife does stain if exposed to acid, so it needs to be rinsed immediately after use.
Tuo – 'new kid on the block' Tuo has only been around for about 20 years, but their competitively priced high carbon steel knives are proving popular particularly with consumers who have no bias against Chinese made products. The Tuo 6.5 – inch Usuba Usuba knife is a very sharp Usuba made in China. It offers a very reasonable price point for budget conscious buyers.
Vegetable knife buyer's guide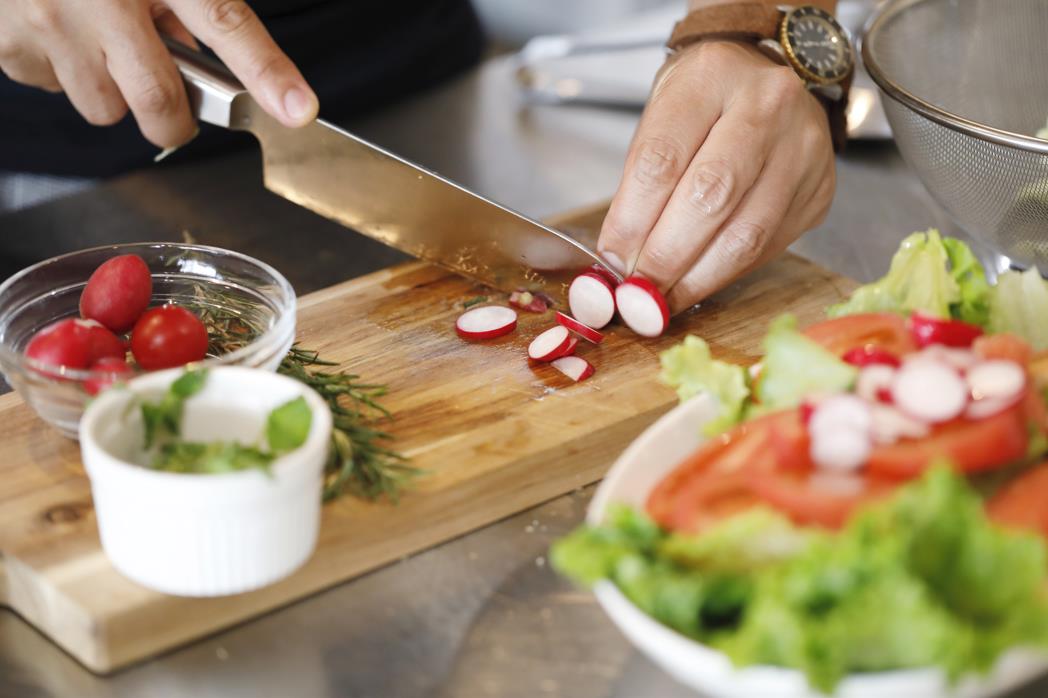 Now that we've given you some ideas on what products are out there, let's look at some guidelines for shopping smart when it comes to vegetable knives.
Here are our pro tips:
Budget – 'You get what you pay for' is true when it comes to quality knives or any other quality product that you want to last. Budget wisely, do a lot of homework on the products available, and look out for sales on your favorite vegetable knives. Spending a bit more may mean the difference between a knife that'll last a year and a knife that'll last a lifetime.
Test where possible: If you get the opportunity, handle and test the knife before purchase. Assess the comfort level and the balance in YOUR hand. Any reputable retailer will be happy for you to 'test run' sample knives so don't be afraid to ask.
Be conscious of your knife needs: Have a good think about your eating habits and 'go to' recipes. What is the knife you'll get the most use out of? Once you know what your cooking habits are, you'll find it easy to find a knife to suit.
Pick a 'primary' knife to start off with: Your 'primary' or foundation knife will get about 75% of your kitchen cutting and chopping done. For most people, the proper foundation knife is a good quality chef's knife, as it handles a wide range of kitchen related tasks over many different types of ingredients. Once you've started your knife collection with a good 'primary' knife, you can broaden out into other knife specialties.
Avoid knife sets: Generally speaking, you'll spend less money and get better quality by buying your knives singly and building up your own knife collection. By doing this you can also spend a bit more in areas where you'll see more usage.
Looking after your vegetable knives

Your knife collection is WELL worth looking after. Let's cover the fundamentals of proper care to protect your slicing beauties from abuse!
Blade edge protection
Instead of using the blade edge to scoop food off your chopping board, rather use the spine edge of the blade – this protects the knife edge and will mean less wear and tear.
No sharps in the sink rule
Don't leave knives soaking in the sink, they're unseen under all that foamy water and you will cut yourself if you stick your hand into the sink. The long exposure to water can also lead to rust.
Wash knives soon after use on their own and dry thoroughly before putting them away.
Sharpening
Invest in a whetstone for sharpening your good knives. Anything under 3 000 grit is a sharpening stone, anything above is a polishing stone. Buy a double – sided whetstone that covers both those needs and use strictly according to the manufacturer's instructions.
The recommended angle for sharpening is around 15 degrees for most blades.
Mineral oil blade care
Buff your knife blades regularly with a soft cloth and a tiny amount of food grade mineral oil. This will repel corrosion, give the knife a protective coating, and add years to its life and performance.
Storing your knives
Whether using a block, magnetic strip or knife drawer, knives should be stored separately and not touching each other. Knives rubbing together or thrown together into a drawer compartment will get damaged and chipped. For your best knives, invest in knife sheaths to protect their blades.
Vegetable knife FAQs
In conclusion
Vegetable knives are an essential component of your knife kit, and we hope that this article has given you loads to think about when considering your purchase of high quality veg knives.
For vegetarians, vegans, and healthy eaters especially, a good complement of vegetable knives can be the mainstay of a kitchen.
Do join us again soon, as we look further at other knife types and explore kitchen fun with lots of well researched and informative blog posts!