All kitchens need a good-quality chef's knife. It's the most practical tool for preparing ingredients. Since you'll use your chef's knife more than any other knife, from slicing to mincing to deboning meat, you'd want to make sure that it can handle the job.
While there are many options in the market, investing in a good-quality kitchen knife doesn't have to cost a fortune. You can get a decent chef's knife for around or less than $100. With many options in this price range, it can be hard to pick one. This article will help you on finding the most suitable chef's knife.
Why a chef's knife?
Most kitchen knives are designed with a specific purpose in mind. Take a paring knife as an example. It has the right blade size and thickness for peeling and slicing vegetables and fruits. 
The same goes for serrated knives – which are used for cutting bread. These knives are good for specific cutting needs. A chef's knife offers the most versatility when you need a knife to tackle all the challenges.
You will find everything you need in a chef's knife. Use it to slice, chop, and break down large ingredients like a whole chicken into pieces or disjoint any other large cuts of meat. With so many use cases, a chef's knife is a must in every kitchen.
Product recommendations for chef's knife under $100
We want you to get the most out of your money when buying a chef's knife. With chef's knives, there isn't a one-size-fits-all. Every cook has their preferences, and one chef's knife that fits you may not suit another person.
With that in mind, it's better to outline what you're looking for in a chef's knife first.
Things to consider before buying a chef's knife
A chef's knife should be able to handle most of your cutting needs – if not all. Considering you'll cut the majority of the ingredients using a chef's knife, it needs to be sturdy and have great edge retention so that you don't look for a sharpening tool every few hours.
Here are a few key points to consider before buying a chef's knife.
Care: Some knives require more maintenance than others. If caring for a knife is something that sounds too much for you, look for one that requires minimal upkeep. For example, stainless steel knives will be easier on cooks in this matter, though they may lack in other areas.
Your other knives: Take a look at your kitchen knives. If you have different kinds of knives that serve different purposes, that's great! You may not need an all-purpose chef's knife that can do everything. In that case, you have more to sacrifice from what you're looking for in a chef's knife.
Sharpening: When you open the packaging, all chef's knives, even the $10 ones, will have an extremely sharp edge. However, it will wear down over time; how fast this happens and how easy it is to sharpen it will mean a lot. The steel's hardness and content are critical indicators of this. Look for hard steels with high carbon content so that you won't need to sharpen the knife as often, such as high carbon steel knives.
Comfort: Before you purchase a fancy Japanese knife with an octagon handle, see if it's comfortable for you in the first place. Most cooks have familiarized themselves with western handles. Picking up a Japanese knife with a wa-handle may not feel as comfy, making it difficult to grip, which leads to wrist pain and inaccurate cuts.
After making these considerations, you can look for an appropriately priced chef's knife that will serve you well. Here are our top picks.
HDMD Serbian Chef's Knife – $79.00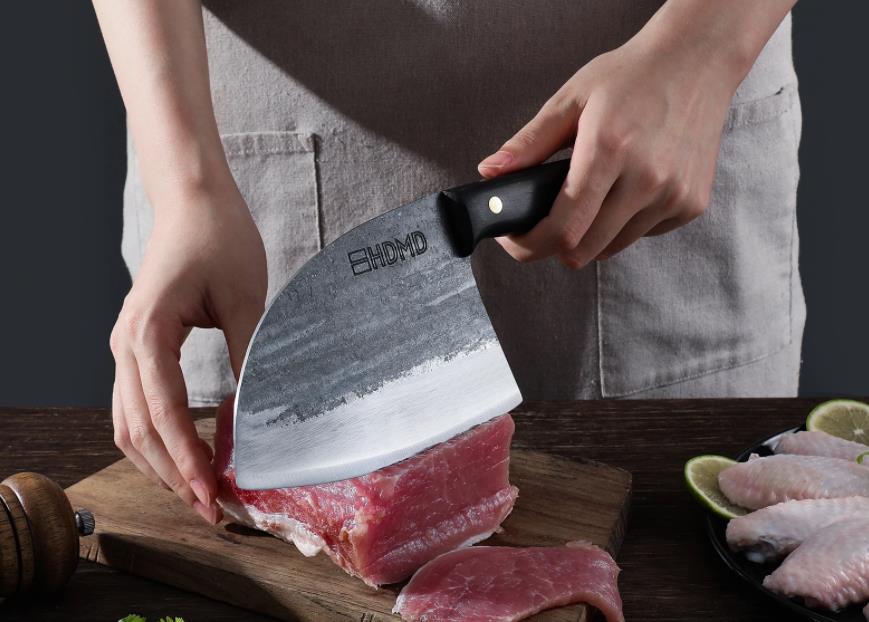 The Serbian chef's knife features a 3.7-inch blade width that makes it excellent at heavy-duty work like cutting through bones. Don't let its size make you think otherwise; it's suitable for everyday cutting needs like chopping onions, slicing apples, other fruit and vegetables, and other daily cuts, as well as delicacies.
This chef's knife also stands out with its durability. Powerful cuts and chopping small and mid-sized animal bones aren't a challenge. The hardened high carbon steel in its build enables the blade to keep a sharp edge for a very long time, narrowing the time frame you need to sharpen it. This chef's knife is an overall great choice for cooks looking for something a little extra in their primary knife.
Main features of HDMD Serbian chef's knife
HDMD Serbian chef's knife is made to use for everything. It's an all-purpose chef's knife you can use to chop, slice, debone, and work with dense ingredients.
The slightly curved blade allows for turning ingredients into smaller pieces effortlessly, and the pointy tip helps make incisions. You can also utilize the blade to crush ingredients that don't need cutting without any other tool, like garlic and nuts.
HDMD Serbian chef's knife advantages
Made to last and with reasonable care, it will perform as if it was brand new every day.
The lengthy handle (4.7 inches) provides a comfortable yet firm grip.
The keen cutting edge and the blade's weight naturally aid with slicing. You won't have issues cutting through problematic ingredients like corn on the cob, ice, nuts, and more.
The 0.3cm blade thickness allows for making delicate, thin cuts.
100 percent handmade.
HDMD Serbian chef's knife disadvantages
It may not be the best choice for cooks with smaller hands. 
Peeling fruits and vegetables poses a challenge due to the wide blade. Matching it with a paring knife to prep vegetables and fruits is highly recommended.
Due to the high-carbon steel, the blade demands care from the user, such as applying food-grade mineral oil every now and then and storing it fully dry.
Weighing 331 grams, some may find it a bit too heavy. On the flip side, it can be an advantage with the heavy blade assisting in cuts.
HDMD Hand Forged Chef's Knife – $79.00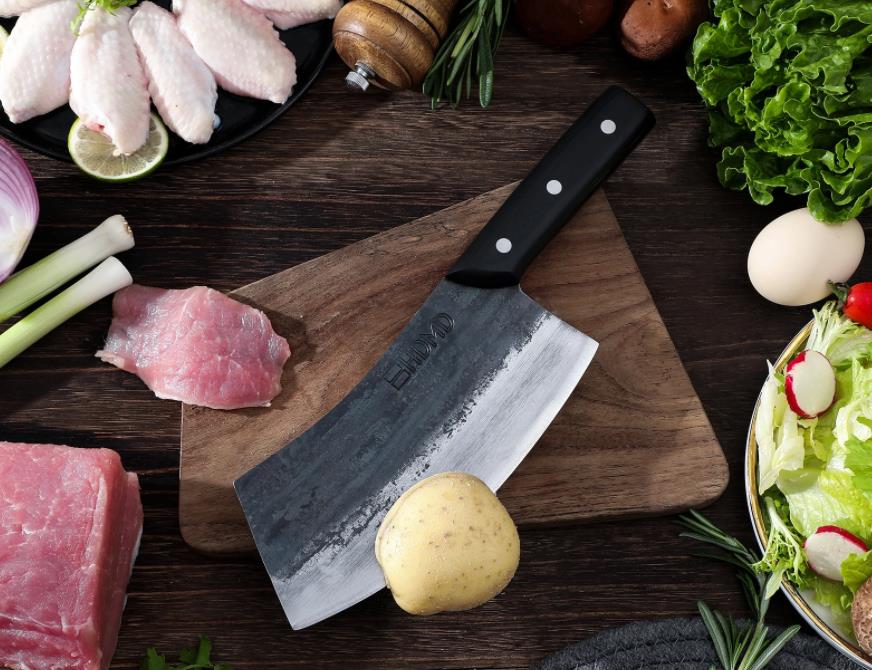 The HDMD Hand Forged chef's knife is the ultimate choice for those looking to get everything from their chef's knife. The large blade allows it to be used as a cleaver to cut through large pieces of bones and other dense, hard-to-cut ingredients.
Despite the size of the blade, you can use it to chop, slice, and mince ingredients easily. You can even utilize rock-chopping with its slightly curved cutting edge. This feature comes in handy when preparing ingredients for family gatherings. Need to chop a basket full of tomatoes? No problems – you can get it done effortlessly. 
The artisan blacksmith hammering technique that goes into the making of the HDMD Hand Forged chef's knife equips it with a superb edge retention that won't wear down even after a substantial amount of use. The edge isn't only good at keeping its sharpness for long, but it will also resist cracks and chips when used with force to cut dense ingredients.
Main features of HDMD Hand Forged chef's knife
The HDMD Hand Forged chef's knife is an all-purpose heavy-duty chef's knife that is designed for all intentions. As long as you have something to cut on your cutting board, it will slice.
It features a high-carbon steel blade that is heat-treated and hardened to ensure that it lasts for many years to come. The western handle made from black pakkawood delivers a safe, firm grip that leads to precise and anticipated cuts.
HDMD Hand Forged chef's knife advantages
The high-carbon steel is highly durable and resists chips and cracks when cutting dense ingredients.
The 353 grams of total weight helps with cutting, especially against bones and other dense ingredients.
The blade retains its sharpness for a very long time as if it always was new. It will need a lot of hard work before it needs to see the face of a sharpener.
It's versatile and suitable for every cook, whether at home or in a restaurant.
HDMD Hand Forged chef's knife disadvantages
Like the HDMD Serbian chef's knife, you may find it too heavy and oversized for your hands.
You can't let it stay in the sink for extended periods or wash it in the dishwasher. It must be hand-washed and dried thoroughly before storing, or oxidation may occur.
Due to the shape of the blade, you may find honing an exhausting task, but thanks to its fantastic edge retention, you won't need to do it as often compared to other kitchen knives.
Top brands to consider
HDMD Knives: HDMD Knives specialize in manufacturing handmade high-carbon steel kitchen knives designed to last long at an affordable price.
Misen: Misen is a well-known brand that manufactures knives and cookware. They have great-functioning 8-inch chef's knives that suit most cooks.
Wusthof: Wusthof is a German knife manufacturer with ergonomically designed chef's knives.
Shun: Shun is a handmade Japanese knife manufacturer. Although most of their products sell for over $100, some are sold for around this range.
Global Knives: Known for their unique handle designs, Global Knives is another recognized brand selling chef's knives with different lengths and sizes.
Zwilling: Zwilling is one of the oldest knife manufacturers globally, specializing in German-style chef's knives. They also sell different kinds of cookware.
Buyer's guide for chef's knives
If you can't quite decide on what chef's knife to buy, this part of the article can guide you toward the right decision.
Uses of a chef's knife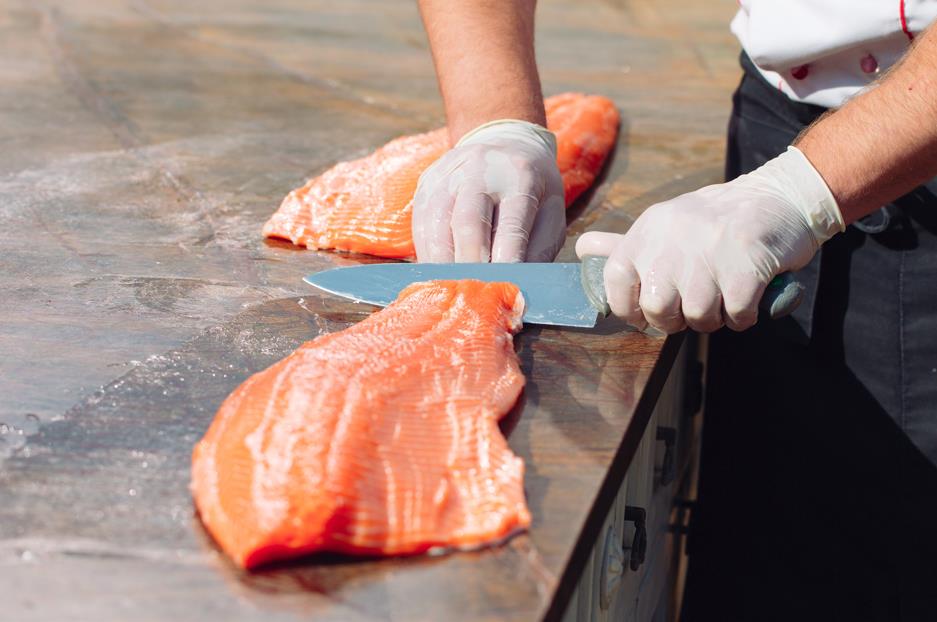 A chef's knife is used for pretty much everything. As long as it involves cutting, your chef's knife should be able to get the job done. Here are some of the common uses of a chef's knife.
Chopping
Slicing
Dicing
Mincing
Deboning
Separating
Carving
The above list is just a representation of what you can do with a chef's knife, but it's certainly not limited. After all, it's the chef's knife – if one can tackle most of your needs, it's underperforming.
Make sure to purchase a chef's knife that can do most of your cutting requirements so that you don't wander off to look for another tool. That's, of course, excluding specific situations like peeling tiny fruits and vegetables.
Chef's knife vs. utility knife
Utility knives and chef's knives are compared the most often. Having both is better, but if you're looking for something to use in almost everything, a chef's knife will be a better choice, especially one that comes with a blade design like the Serbian chef's knife we have in our stores.
A utility knife's blade only allows for slicing ingredients in different ways. Rather than thinking of these kitchen knives as smaller chef's knives, it's best to treat them as big paring knives. You can do many of the things you can do with a chef's knife using a utility knife, but crucial tasks like mincing, rough chopping, and any robust use are impossible. That said, chef's knives offer more uses than utility knives.
Chef's knives are also a lot sturdier and offer more. That's why we recommend a chef's knife over a utility knife. Nonetheless, having both is better and will make you a lot more productive in the kitchen.
FAQs
Conclusion
The bottom line is you don't need to spend a lot on a chef's knife to have one that performs competently. As mentioned at the beginning, around $100 is a pretty good range for a good-quality chef's knife. With enough care and frequent sharpening and honing, you'll have a blade that doesn't sweat you out for a very long time.
For more buyer's guides and everything related to kitchen knives, read more on the HDMD Knives blog.