The first thing we say to ourselves when we see a warped, cracked, or otherwise damaged cutting board is: how did that happen? Several factors, including heat, moisture, and age, can cause damage to your cutting board, But one of the most common (and preventable) causes is improper storage.
Understanding how to store cutting boards is key to prolonging their lifespan and keeping them looking their best. Implementing these practices also helps prevent cross-contamination and contamination of other items in your kitchen. A cutting board stand or an organizer are two of the most common ways to store cutting boards.
Several other options exist, which we will explore in this article. Some are more practical, while others are more stylish. But all of them will help keep your cutting boards in tip-top shape.
The following are exciting ways to store cutting boards. Consider the your kitchen's layout and your personal preferences when choosing the perfect storage solution for you.
Cutting board organizer
Cutting board organizers feature slots or compartments of different sizes that can hold several cutting boards simultaneously. If you have an extensive collection of cutting boards, this might be your storage option.
Because they can hold several boards at once, cutting board organizers are ideal for smaller kitchens with limited counter space. An organizer is a great storage solution if you frequently use multiple cutting boards at once or want to ensure all of your boards are within easy reach.
Cutting board stand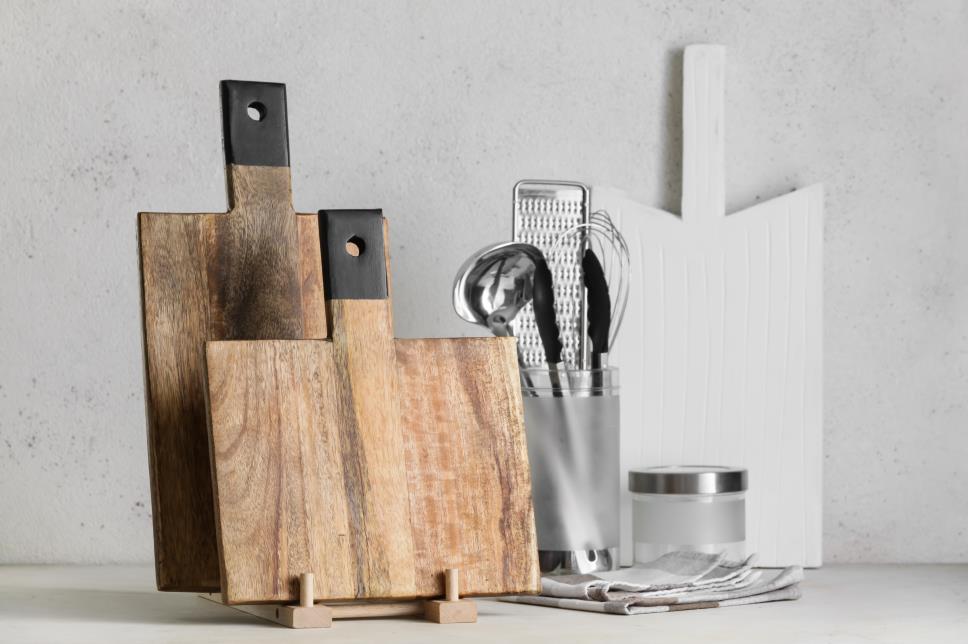 A cutting board stand is an excellent way to keep your cutting boards organized and within easy reach. These stands come in varied sizes, shapes, and materials, so you can find one that perfectly fits your kitchen's décor.
While the designs might vary, the general purpose of a cutting board stand is to provide a convenient place to store your cutting boards while keeping them elevated and easily accessible.
Keeping the boards elevated ensures that they drip-dry after washing. Therefore, you don't have to worry about water damage, mildew buildup, or bacteria growth.
Wooden cutting boards are especially susceptible to warping. If you frequently use a wooden cutting board, we recommend opting for a stand that will keep it raised off countertops and away from potential water damage.
A beautifully designed stand can make your cutting boards the centerpiece of your kitchen décor. Picture a sleek, stainless steel stand holding a colorful set of bamboo cutting boards. Or an elegant wooden stand that displays your heirloom cutting boards. You'll probably need some counter space for this option, but it's a great way to show off your beautiful cutting boards.
Hanging rack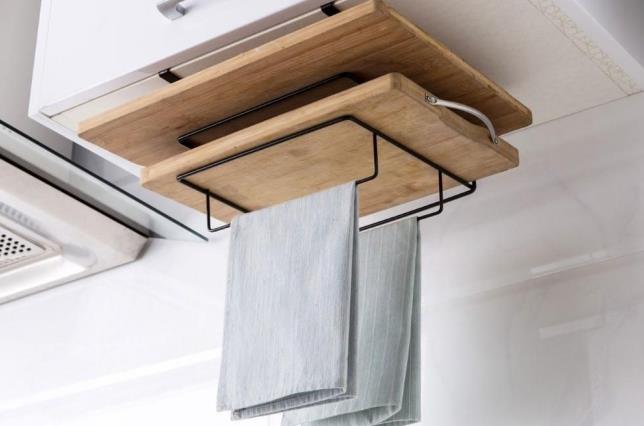 Hanging racks are a great way to keep your cutting boards off the counter and out of the way. The design is such that you can hang the rack under a kitchen cabinet with hooks attached along the edge of the cabinet. Hanging racks hold cutting boards in perpendicular slots, so they take up minimal space.
The only caveat with this storage option is that you must ensure the boards are dry before placing them in the slots. Storing boards in a perpendicular position like this can cause them to warp if they're not completely dry. If you frequently use wooden cutting boards, we recommend another storage option on this list.
Pull-out drawer
A drawer that pulls out from under the counter is an excellent option if you want your boards out of sight but still within easy reach. This storage solution is ideal if you have limited counter space or want to keep your cutting boards hidden away until you need them.
A meshed pull-out drawer, preferably designed with stainless steel, is ideal.The mesh ensures adequate air circulation, which is necessary to prevent bacteria growth. Stainless steel doesn't rust and is also easy to clean. If you choose this storage solution, ensure the drawer is large enough to accommodate all your cutting boards.
Cup hook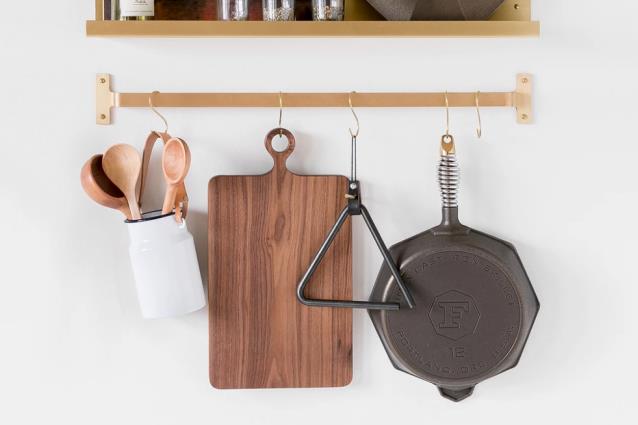 You can also use cup hooks to store your cutting boards vertically on a kitchen wall. This solution is best if you only have a few cutting boards and want to free up some counter space. Install the hooks at different heights to create a custom storage solution for your kitchen.
Make sure the hooks you use can hold the weight of your cutting boards. If you have heavier wooden boards, opt for sturdier metal hooks.
You can also use S-hooks explicitly designed for hanging pots and pans in your kitchen. These hooks are available in hardware stores and grip your cutting boards securely.
Magazine Holder
The most unusual storage solution on this list is perhaps using a magazine holder to store cutting boards. This option is excellent, especially if you have many cutting boards and little space.
Line the magazine holder with non-slip material, such as silicone or felt, and then place the cutting boards inside.
The magazine holder will keep the cutting boards organized and easy to access. If you have a lot of counter space, you can leave the magazine holder on the counter. Otherwise, store it in a cupboard or pantry.
Pegboard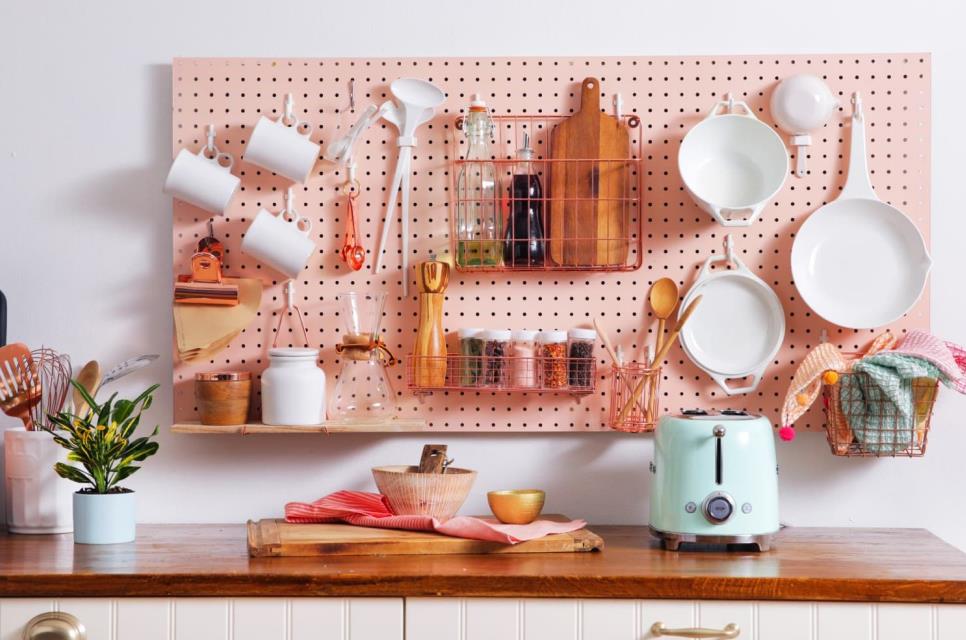 Pegboards don't just have to be for tools. You can use them in your kitchen to create a custom storage solution for your cutting boards. Install a pegboard on an empty wall, then hang your cutting boards using S-hooks. If you want, add other kitchen utensils to the pegboard for a complete storage solution.
Pegboards are an excellent way to free up counter space and keep your cutting boards within easy reach. You can paint the pegboard to match your kitchen décor or leave it as is for a more industrial look.
Use a basket
If you have a lot of cutting boards or want to keep them organized by size or type, consider using a basket. Line the bottom of the basket with a towel to prevent the boards from sliding around. Then, stack the cutting boards inside the basket and put them in a cabinet or shelf.
A woven basket can also double as decoration in your kitchen. Choose a basket that complements your décor and keep it out in the open to add rustic charm to your space.
How to clean a cutting board
A clean cutting board, whether wood or plastic, is essential for food safety. Bacteria can grow on cutting boards, so cleaning them after each use is essential. The recommended way to clean a wooden cutting board is to use hot water and soap. Scrub the board with a brush, then rinse it with hot water.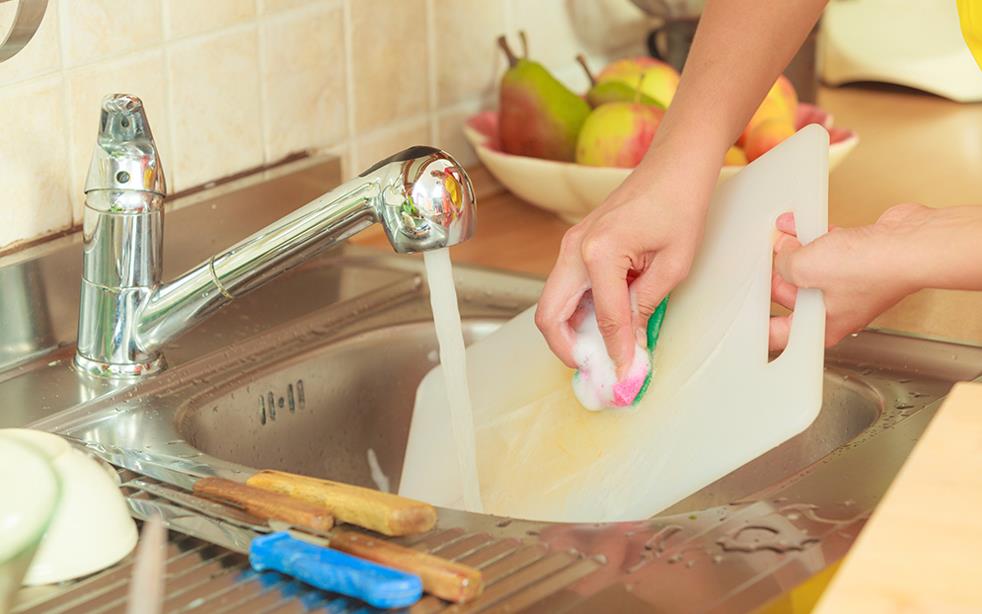 The exact process applies to cutting boards made from other materials. Use hot water and soap to scrub the board, then rinse it with hot water. If your cutting board is foul, soak it in a mixture of vinegar and water for a few minutes before cleaning it.
How to maintain a cutting board
Cutting boards, especially wooden ones, require regular maintenance to stay in good condition. Proper care of cutting boards involves taking into account several practices that will extend the life of your board. For instance, clean your cutting board after each use, never soak it in water, oil it regularly, and store it properly.
Also, ensure the knife you use is sharp. A dull knife will require more force to cut through food, putting unnecessary strain on your cutting board. With proper care, your cutting board can last for years.
Closing Thoughts
Cutting boards are a necessary kitchen tool, but they can also be a source of clutter if not stored properly. We've provided eight different storage solutions for your cutting boards; so you can find the perfect option for your needs and kitchen space. Ensure you clean your cutting board after each use and maintain it regularly to ensure its longevity.
A sharp knife is one way to keep your board in perfect condition. Our high-quality handmade knives at the HDMD store are an ideal addition to any kitchen. Don't forget to visit our HDMD blog for more exciting kitchen tips and tricks.