Social gatherings and fun events just cry out for sumptuous, eye – pleasing fare that negates the need for fussy crockery and plating. Cue the emergence of tactile and flavorsome 'grazing' options like the charcuterie board and the cheese board!
Simply put, a charcuterie board is a board or platter arrangement of mainly cured meats, with condiments and sides that complement the various meat flavors. In contrast, a cheese board is a selection of mainly different cheeses served on a board or platter, along with condiments and sides that bring out the unique flavors of the cheeses served.
This article will examine both charcuteries and cheese boards and give you total confidence in telling the difference between them, arranging them artistically, knowing what ingredients to include, and so much more. Let's dive right in!
Charcuterie board
The term charcuterie, pronounced shahr – ku – tuh – ree, is the culinary art of prepared meat products that are cured, aged, and retailed to make up spreads like charcuterie boards.
A charcuterie board is a selection of these meats (sometimes cheese is included) arranged in a fashion that tempts the eye onto a platter, tabletop, board, or similar arrangement. Most often these cured meats are served with condiments and starches that complement the meats themselves.
See the table below for recommended ways to pair and assemble your cured meat products for maximum enjoyment!
| | | |
| --- | --- | --- |
| MEAT | CONDIMENT | STARCH |
| Salami | Pickles and mustards | Ciabatta or Rye bread |
| Fresh Sausage | Caramelized onions, mustard, ketchup, or chutneys | Sourdough, Ciabatta or Rye bread |
| Smoked Sausage | Mustards, barbeque sauce, slaws & sauerkraut | Sourdough, Ciabatta or Rye bread |
| Pate | Foie Gras – honey or fig chutneyPork pates – pickles and chutneys | Firm crackers or artisan breads |
| Ham | Mayonnaise, mustards, and chutneys | Sourdough or Rye bread |
| Prosciutto | Dried fruit, fresh figs, olive oil and lemons | Ciabatta bread or soft artisan bread |
| Chorizo (Spicy Spanish) Sausage | Mild mustards and chutneys | Firm crackers and breads like soda bread |
| Fried Bacon | Jalapenos, mustards, or tarter sauces | Softer breads like white baps/rolls or rye bread |
| Pancetta | Pickles & tomato – based sauces | Softer breads or firm crackers |
| Pastrami | Sauerkraut, pickles, mustards, or horseradish | Rye bread |
| Roasted Chicken | Herb sauces, vinaigrettes, or mustards | Sourdough or rye bread |
| Smoked Chicken | Barbecue, chili, tangy or fruit – based sauces like cranberry | Sourdough or rye bread |
| Duck Meat Products | Pickles and fruit preserves | Toasted breads |
| Smoked Salmon | Cream cheese, pickles, dill sauce or horseradish | Bagels, rye, pumpernickel, or melba toast |
The traditional drinks served with a charcuterie board are champagne, sparkling wines or ciders. A non – alcoholic fizzy fruit drink would also be appropriate.
Slicing meats for a charcuterie board
The best knife for cutting cured or processed meats is your trusty chef's knife. Make sure that it's well sharpened.
A Granton edge (scalloped) blade is a good choice because it creates air pockets as it slices, meaning that the meat slices don't stick to the knife blade.
Assembling a charcuterie board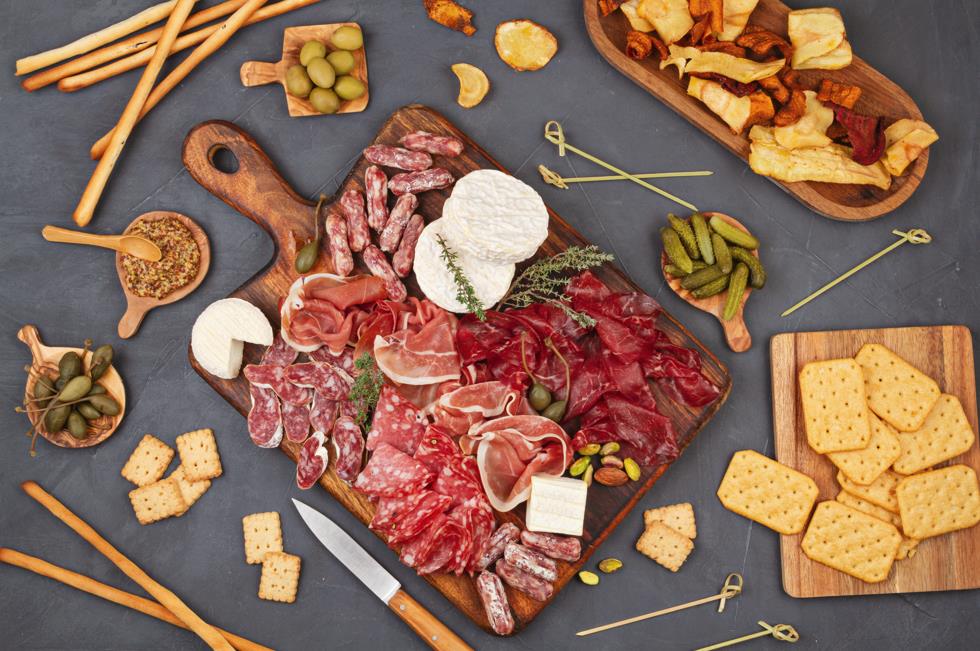 Here are some top tips:
Arrange the elements artistically, you can place them in spirals, mounds, or rows or whatever your taste is, but the placement must be neat, and the separation of ingredients kept defined
Serve a charcuterie board with toothpicks, mini forks or similar so that guests can serve themselves and have their own implement
Plates should be small and made of a durable material, so leave Granny's fine china in the china cabinet where it's safe!
Provide a serving size of 2 ounces of meats per person
Slice the meats thin as you can layer them more easily and the amount served will go further
Keep the meats the stars of the show – add condiments, cheese, fruit etc. but the meat mustn't be overwhelmed
Some cured meats can contain blood or are pork based, so check the religious/dietary restrictions of your guests very carefully to avoid disaster!
Cheese board
A cheese board is a selection of cheeses on any type of platter, board, or stable setting, placed artistically so that the colors and shapes look inviting, and guests are tempted to dig in!
Usually, a cheese board will feature both mild and strong flavored cheeses, and it's recommended that the textures offer variety too, the best cheese boards will offer pungent, mild, firm, and soft or spreadable cheeses to suit everybody's preference.
The list below will give you examples of cheeses to include and how to pair your choices for a mouthwatering cheese board!
Firm cheese types
Including Pecarino, Cheddar, Gruyere, Manchego, Fontina, Emmental, Gouda, Parmesan, Edam, Blue cheese and many others.
They are best paired with: Pesto, olives, nuts like hazelnuts or walnuts, chutneys, tapenade pickles, caramelized onions, crackers and breads.
Soft cheese types
Including mozzarella, monterey Jack, muenster, brie, cottage cheese, cream cheese, feta, roquefort, ricotta, camembert, and many others.
They are best paired with: Herbs, fresh fruit, yoghurts, smoked salmon, dill pickles, pickled onion, strips, dried berries, flaky toasted grains like oats, crackers and breads.
The traditional drinks served with a cheese board are wines, whisky, or beer varieties. For teetotalers, nonalcoholic beer would be a great choice.
Cutting cheese for the cheese board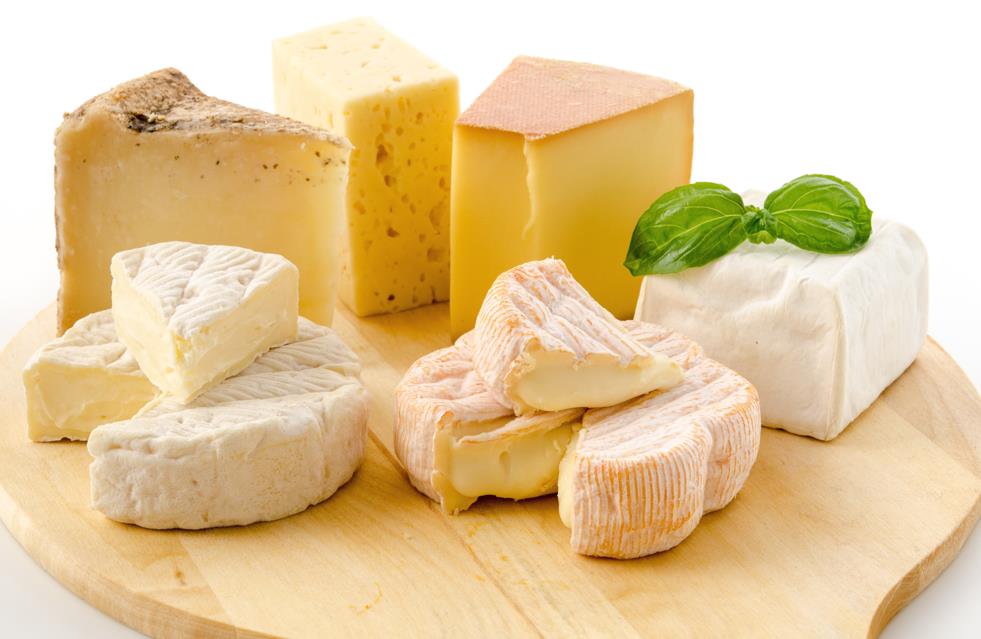 The best knives to use for slicing cheese are a cheese knife (pictured below) or a utility knife.
It's best to pre – slice the cheese shortly before serving or buy it pre – sliced. This means it won't dry out or sweat by sitting around and guests will find it easier to help themselves to the portion size that they want.
If you're going to serve whole cheeses that's fine, but each cheese must have its own dedicated knife, this prevents the flavors getting confused and is also more hygienic.
Charcuterie and cheese boards – ideas for serving with panache
There is absolutely nothing wrong with going the traditional route and serving either charcuterie or selected cheeses on a wooden chopping board. It's a method that's been around for ages because it works.
A chopping board is made to be display friendly and it'll protect your expensive surfaces from knife marks and mess.
If you want to jazz things up a little, or match to an event theme, you could also consider these options for slightly more unique and aesthetic presentation.
For charcuterie an assortment of butcher's blocks in different sizes
Smooth pieces of slate or other natural stone
A selection of shop bought tiles either patterned or textured slightly
For pre-sliced ingredients natural plant fiber mats or even large edible leaves such as banana leaves
Brightly colored or patterned polyethylene boards (plastic resin)
A variety of wood boards with different shading and colors
An artistic mix of platters or tea trays, brightly patterned or with eye catching textural detail
How are charcuterie boards and cheese boards similar?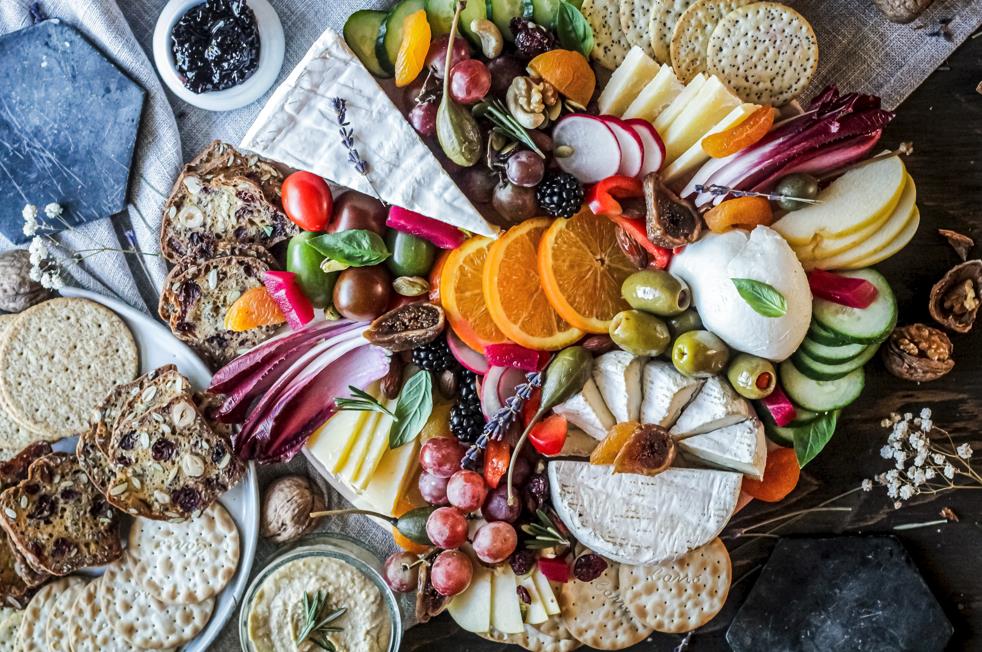 Both charcuterie boards and cheese boards are fun and different ways to eat and both serving options can feed a crowd depending on how liberal the quantities are.
Both allow for you to include options that suit picky eaters and a variety of personal tastes.
Also, both of these boards are prepared ahead – if guests are given tools like toothpicks and plates, your serving time is absolutely minimal and it's assembly beforehand, not waiting on people and dishing up with time constraints because you're worried about things getting cold!
Indeed, because of these similarities many snack lovers combine them into one large board or a selection of smaller boards with both cheeses and meats featured together and complementing each other.
Charcuterie & cheese boards FAQ
In conclusion
Charcuterie boards and cheese boards are such a fun, inventive and versatile way to entertain your guests. With these tips on assembling, serving and great complementary pairing options we're sure your next banquet of goodies is going to be the talk of the town.
Do join us again as we examine other serving and dining options that'll have you the envy of the neighborhood! Explore our handmade knives that are perfect to use for preparing charcuterie boards and cheese boards.